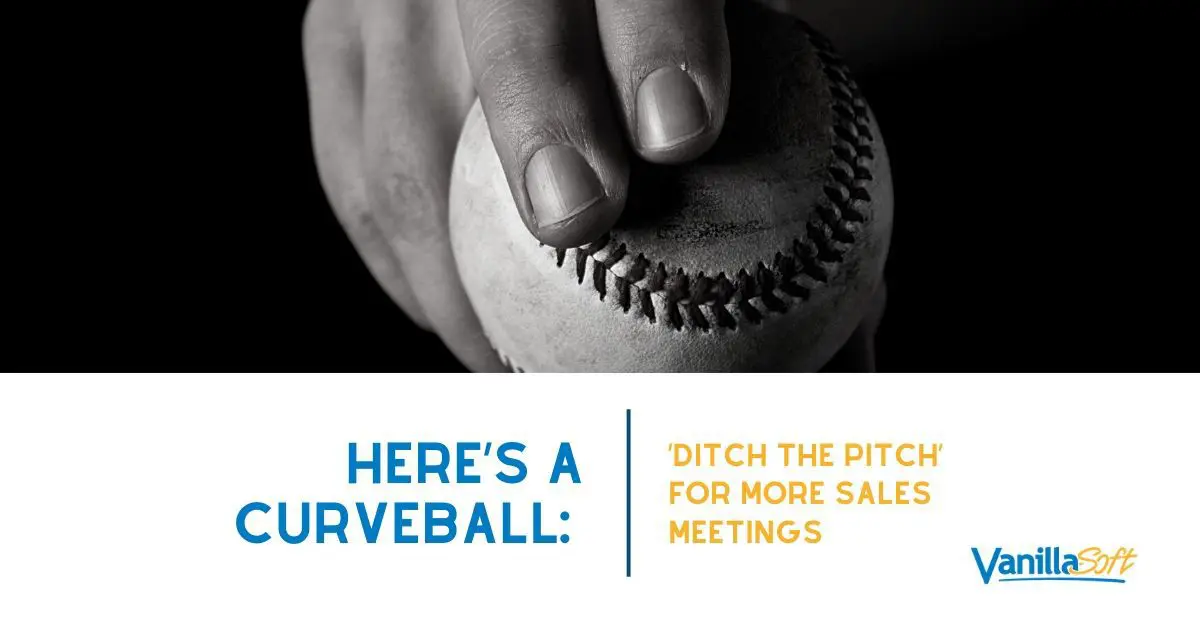 In social selling (and for that matter, in any sales scenario) a "give first" mindset is key. Sure, it's strategic, but it's also quite … human. Yeah, even better than a good sales pitch.
Sales expert Barbara Giamanco's mantra is "ditch the pitch" –– don't try to sell too soon; instead, focus on building authentic connections.
She offers simple, super-easy steps to increase the likelihood of booking meetings with buyers, including best practices for the all-important initial approach.
Social selling is on everyone's lips (er, fingertips) right now.
It's more of an art than a science, built around developing one-on-one relationships as an integral part of the sales process –– typically on social media platforms. Once dismissed as a buzzword and not a methodology, even the most old-school sales pros recognize that these platforms are one of the best ways to target and reach prospects today.
That's because although the tools and technology of social selling are relatively new, the fundamentals haven't really changed since the days of Dale Carnegie. (So, really old-school).
On an episode of INSIDE Inside Sales, the brilliant Barbara Giamanco, founder and CEO of Social Centered Selling, shares how to optimize social platforms to build relationships and book more meetings.
"Even long before we had social, that's how I sold," she says. "But people have convinced themselves that a give-first mentality means you're never going to ask for a sales opportunity."
Now that's an old-school assumption –– and not in a good way, like Nike Air Maxes or '90s hip-hop. Approaching prospects with heart and authenticity never goes out of style.
Raise your vibe, grow your tribe
"Give first" works because it resonates with our basic humanity. Or in other words, "Good vibes only."
When someone genuinely appreciates you and does something for you, it's natural to want to reciprocate.
Too often, Barb says she sees salespeople who contact prospects with genuine intent and then ruin it all by launching into a pitch right away. Slow your roll, bro.
Even worse: reps who skip any research and try to sell us something we'd never buy. "Darryl, I've got an ideal proposition for you: advertise with a media startup that specializes in humorless, anti-Canadian content!"
Equally shitty: asking for a meeting in your very first message. That's a fast track to being ignored by anyone who's influential –– and by extension, pretty damn busy.
TL; DR: "You rarely get a second chance to make a great first impression," Barb says.
'Ditch the pitch' and load the bases
Attempting to make a sale in the first contact with a buyer is wrong. Think about it: would you take the guy you just met on Tinder to meet your parents?
It's crucial to establish a meaningful human-to-human connection before getting serious.
Sales managers tend to beleaguer their teams to do more, more, more. But that's often at the expense of time well spent on what really gets results. Doubling down on outreach that's ineffective (or backfires) makes matters worse.
In other words, Barb says it's time to ditch the pitch.
More Than a Good Sales Pitch: Break it down, and step it up
Barb has a multi-step system for social selling:
Research. But don't use it as an excuse to go down a rabbit hole and not do the job of selling.
Look for one to three key insights that are applicable to everyone in that role or industry.
Use Google, Business Intelligence, or any number of tools to develop a target list of prospects you'll send that to.
Write a short message sharing these insights and asking their opinion on them –– no longer than four sentences, says Barb. Encourage the prospects to respond with their comments. You might also offer to video chat with them for 15 minutes instead.
No response? Send a brief follow-up, but tweak it a bit. ("If you send me one more email that says, did you get my last email?, I'll have to hang you," Barb adds.)
Send a third follow-up suggesting a short (<20 minute) meeting to discuss further.
If the prospect doesn't interact or engage directly, "put them off to the side and nurture," Barb advises.
She offers a few more tips:
Think about the impression you're making in all three of those instances and beyond.
The goal is to keep yourself on the prospects' radar, thinking about you in a positive way.
None of these messages should contain a sales pitch or even a mention of your product.
Barb recommends batching the work, doing each step in separate blocks of time.
The three messages can be created as templates in your CRM of choice.
She estimates that a campaign like this can be created from start to finish in about 45 minutes. It's quick and easy once you get into the habit of doing it.
Here's how one of Barb's (wicked successful) campaigns played out.
Market watch
A few years ago, a pair of articles came to Barb's attention. The Harvard Business Review published a series on the struggles of CMOs and at the same time, Adobe's blog covered the same topic with a different take on the CMO role. She thought the articles were compelling, and her instinct was right.
When she saw those two stories, she saw an opening: Share them with a targeted group of CMOs, add a quick compare/contrast commentary, then ask for their opinions.
She asked them to respond with their comments but also shared a meeting link for a quick 15-minute call. In less than 24 hours, 28 of 35 people she emailed booked a meeting.
During those calls, they discussed only the articles at hand. Again, no pitching.
"But invariably, every single one, near the end of our talk, asked me, 'what do you do?'" Barb notes.
Boom. That's how you do it, folks.
Addendum:
Just about six months after my interview with the incomparable Barb Giamanco, I was heartbroken to learn that she passed away –– suddenly and much too soon.
Her last blog post was titled "Why It's Okay to be a Big-Ass Failure." I'm not sure Barbara would want to be remembered with the phrase big ass, but it gives you a sense of her energy, her style, and her spirit. I loved that about her.
Barb was a lot of fun. She was helpful. She was energetic. And she was too young. She still had a lot to give. She is deeply missed by her family, friends, and the entire sales community.To learn more about Barb (and from her: she left behind a huge, insightful body of work), visit her website, check out podcast, "Women in Sales," and read the obituary (on Barb's favorite hangout, LinkedIn) posted by her colleague and friend Deb Calvert.