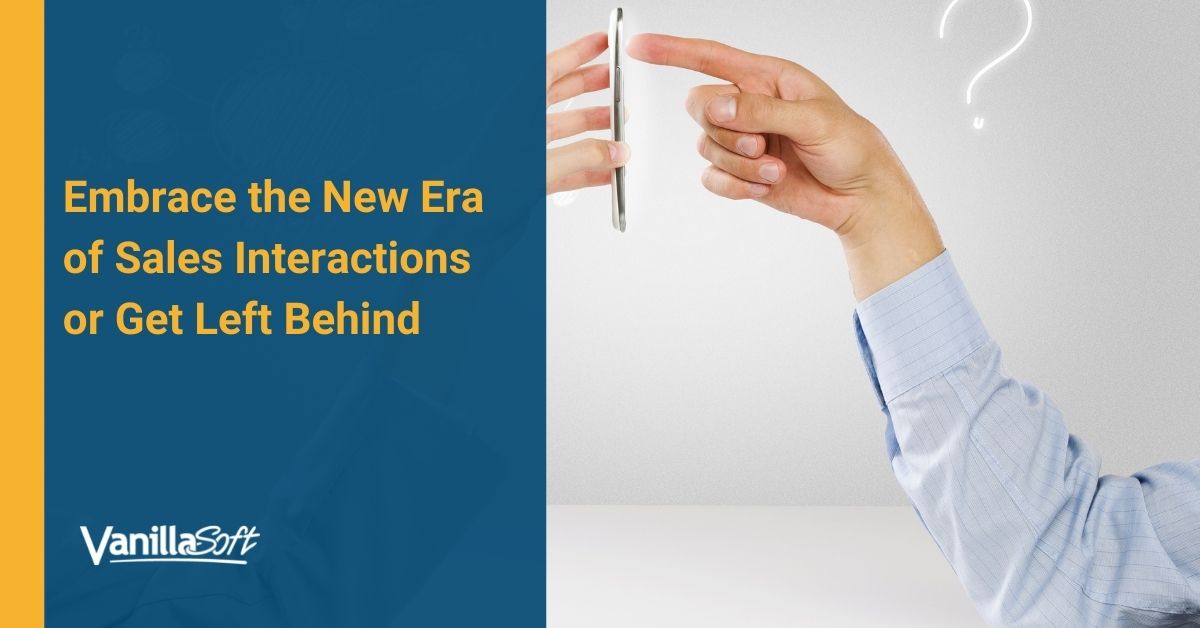 The modern digital age brings with it a new era of sales interactions. Text messaging, online chats, video chats, and other contemporary forms of correspondence now supplement traditional options such as phone calls, mailers, and in-person meetings. These modern-day means of communication to customers, especially texting prospects, can produce desired outcomes.
Millennials now fill more and more leadership roles in business and have the power to make major purchase decisions. OpenMarket reported that 76% of Millennials would rather receive text messages instead of calls from companies because of texting's convenience. Another survey conducted by Zipwhip revealed that 37% of adults (in general) agree.
Reasons to Adopt Online Chat and Text Messaging
Reaching out to your prospects and customers in their preferred manner only makes sense. Texting used to give businesses a competitive advantage, today it's the norm and is becoming less cutting-edge. If you're not texting prospects, you're falling behind, especially considering the average person looks at their cell phone 150 times each day. Still not sold? Here are a few key reasons why you should incorporate online chat and text prospecting into your sales strategy.
Text messaging:
25% of consumers don't listen to voicemails from callers they don't know.
Most people don't answer phone calls from numbers they don't recognize.
Customers find it more convenient to respond to a text message than have a phone conversation.
Businesses can see if a message has been delivered or read.
When integrated into the sales process, texting increases the conversion rate by 40%.
Online chat:
Online chat is an effective way to engage prospects early in the buying process. Individuals reading your articles or reviewing your website likely need a solution that you offer. In other words, they're hot leads that you can reach right then through online chat.
Armed with the ability to answer questions and eliminate buying objections, conversions increase by 20% with the use of live chat according to Insite Software.
Online chat improves customer satisfaction thanks to real-time response to questions, leaving the prospect with a positive impression of your brand.
Best Practices for Texting Prospects
Instructing your sales team to start texting prospects is not enough. Be sure to familiarize yourself with the best practices for sending text messages to leads.
Establish contact through another format before texting. The more familiar a prospect is with the rep, the more likely the individual will respond to a text. Texting should integrate into your current strategy.
Create templates. Save time for your sales reps by creating sample text messages that can customize and use in different situations. This also affords you some control over brand voice.
Don't ignore questions or replies. Develop a procedure for handling customer service issues in case the query is out of the salesperson's range of expertise. You're likely to see these once the prospect converts to a client.
Let the contact know who is texting them. In the first sentence, have the salesperson identify him- or herself by name, position, and company.
Deliver value. Have a purpose for each text message sent whether it's a reminder of an appointment or to ask a specific question.
Be professional. Instruct your team to avoid jargon and to use good judgment before sending emojis.
Measure your results and analyze data to understand where they need to improvements in their approach.
Integrate conversations into CRM to create a full picture of each account. VanillaSoft's SMS texting feature offers the ability to send and receive messages within the platform.
Best Practices for Live Online Chat
Online chat is in the same realm as texting; however, it requires its own set of guidelines for ideal use. Review the list of best practices below to see maximum return on your investment.
Humanize the approach. Don't be robotic. Ask the individual questions about the recently viewed content.
Be cautious with your language. Receiving a pop up for a chat can come off as intrusive or impersonal. The customer experience should be a top priority.
Be patient. Give prospects time to get interested and involved with your content. Avoid messaging them the second they enter the website.
Pull them in with a thought-provoking first message to engage them in a conversation
Be helpful. Recommend a relevant white paper or service based on the content they're viewing.
Maintain brand messaging. The brand's voice should shine through in all correspondence, including online chat.
Develop a procedure for customer service inquiries to be referred to the appropriate team or person.
Analyze the data. Review what's working and make minor changes until you get the right formula that leads to conversions.
Texting and chatting online are only two of the many modern ways to communicate with your customers and prospects. There are a plethora of video chatting platforms from Skype where you only see the other person's face, to Zoom where you can share your screen. Machine learning and artificial intelligence are popping up more and more too. However, be cautious when adopting chatbots. The technology is available, but these services have a long way to go before they can replace a human response.
For highly effective personalized communications, try texting prospects and/or employing staff to chat with website visitors. Read more about the effectiveness of leveraging text messages with your inside sales efforts in this blog post.
Are you using text messaging or live chat in your sales strategy? If so, share one of your tips with us in the comments below.