With December just around the corner, it's time to prepare for the final push and make the most of your end-of-year fundraising efforts. Since things tend to get hectic as the year comes to a close, and it's easy to miss an important step of the process, we've rounded up 10 fundraising tips based on the best practices and proven tactics.
Let's dive in and see how you can optimize your end-of-year fundraising strategy and maximize your results.
Go multi-channel
Whether booking new gifts or fulfilling outstanding ones, utilize multiple mediums to keep your institutions at the top of your donors' minds and connect the conversations for consistency. Remind them with a voicemail that the last day to make a gift is X date in December, follow it up with a text message and a link to give, and send a reminder email with a PURL a week later with information on the last date to make a gift in order for it to count for calendar year-end.
Don't forget the mail!
Speaking of multi-channel, don't forget that mail is still an invaluable channel when paired correctly. Kick off your end-of-year push with a mailer and schedule your remaining donation days to fold in other channels as the gifts come back in via remit form.
Plan ahead and reach out to your donors early
Strategic timing and outreach to year-end donors has shown a 56% increase over previous year-end giving efforts. Don't wait till November to start talking about Giving Tuesday, and don't wait till Giving Tuesday to start thinking about December 31st deadlines. If someone's making plans to allocate their philanthropic dollars for the rest of the year, they're thinking about their year-end gifts when the leaves are changing colors in September and October. Get yourself on their radar sooner rather than later.
Activate your front-line staff
Any conversation, from your student fundraisers to your major gift officers, can start to include end-of-year giving language as early as September. Starting early will help prime major gift donors for matches, second gifts, or gift upgrades. Student fundraisers incorporating end-of-year messaging early in the year will help drive annual gift participation rates. Utilizing frontline staff in order to increase gift conversion and major gift pledge payments can increase total dollars raised by over 70%.
Coordinate your communications
Timing also matters when considering campus partners— and beyond! Coordinate with units or programs on campus that also might have end-of-year giving plans for cohesive, united, and coordinated (timing-wise) communications. This is also important when you think about additional communications your constituent base is receiving from other outside organizations.
Have a plan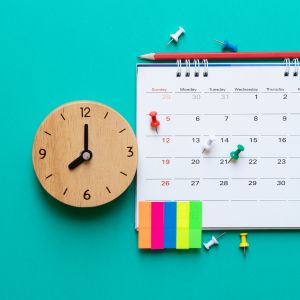 It's hard to coordinate without a game plan! Looking at strategic segmentation and donor history to target previous end-of-year donors has shown to increase donor conversion rates by 45%.
Map out your calendar to get a visual of what your year-end efforts will look like to ensure you're not missing key populations or doubling up on touches. If it feels chaotic to you, it'll feel chaotic with your donors, and that won't help you build any trust.
Set a goal
Not so much for yourself but for your donors. Give them a goal of increasing the donor count for Giving Tuesday this year by X percent or Y number of donors, and let them know how their donation can count towards that goal. Help them (your donors) feel like they're part of a bigger effort and bigger community to compel them to complete that gift.
Use numbers to illustrate the need
How many students are in need of scholarships for the upcoming year? How many food-insecure students do you have? What's the dollar amount that can support a student and their required textbooks for the spring semester? Make your calls for your end-of-year campaign support specific and backed with numbers to demonstrate urgency as well as the impact the gift can have.
Share your stats
We know that donors feel compelled to give when they feel like their gift made a difference in the past. Demonstrate your impact with specific examples from previous efforts. It's one thing to say that "Students were fortunate enough to have access to extended study hours in the on-campus library during finals week thanks to a donation that provided additional support staff for that time." It's another way to say, "Last year, you were part of a campaign to raise $1 million dollars to increase access to the library. Thanks to your support, the library saw XYZ number of students between the hours of 11 pm and 4 am, and the overall GPA of the freshman class rose X% on finals last year. Your gift this year will go towards enhancing the swipe card access, a $200,000 project, to ensure students retain access safely to resources on campus."
Don't forget stewardship!
It's easy to get lost in driving donor counts and dollars near the end of the year, especially when philanthropic support is at an all-time high. Putting as much time and effort into the impact and stewardship of year-end giving will ensure you retain your donors year after year.
Conclusion
The end of the year is a great opportunity to connect with your donors, thank them for their generosity, show them the impact of their gifts, and solicit another contribution. These 10 simple tips can help you secure continued support for your institution and hit your fundraising goals.
Download PDF