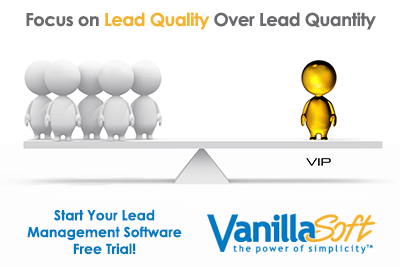 It's easy to get caught up in the belief that "if we just had more leads, we would have more sales." Maybe. Maybe not. What if you simply had better quality leads coming in at the same level that your current leads are flowing in? Wouldn't that increase your close rate and improve your sales revenue?
It can be easy to generate a lot of leads but oftentimes its garbage in, garbage out. The better strategy is to improve the quality of leads that you are getting. Here are some tips that can help you refine your lead generation efforts to ensure you are getting quality leads and managing those leads effectively.
Messaging & Communications. Do your potential customers understand your messaging? Are your communications written for them and relay how your solutions solve their problems? Or do you focus mostly on your products list of features? From your website to your email blast and your call script, it's imperative that your messaging is consistent, concise, and customer-centric. Don't get caught in the weeds with a recitation of product features. Stay focused on how your offerings solve customer problems.
Lead Scoring. How many of your potentially great leads are being ignored? If you have a lead scoring system in place that takes into account more than just "sales rep intuition," you will have a more predictable sales funnel. When you use VanillaSoft lead management software, you can prioritize leads based on different variables and ensure that the highest value leads are worked at the right time by the right sales rep.
Automatic Real-Time Lead Distribution. Even with lead scoring, you can miss your window of opportunity if your lead management solution doesn't include automatic real-time lead distribution. The VanillaSoft solution uses next-best-call routing logic to push the next best lead to the right sales person. With this level of automation, you can prevent "cherry picking" and ensure that every high-value lead is taken care of in a timely manner.
Keep these tips in mind when planning your future lead generation campaigns. Improve the quality of your leads first and then focus on the appropriate volume or quantity of leads to meet your goals. Start your VanillaSoft free trial to help you see how effective these steps can really be!