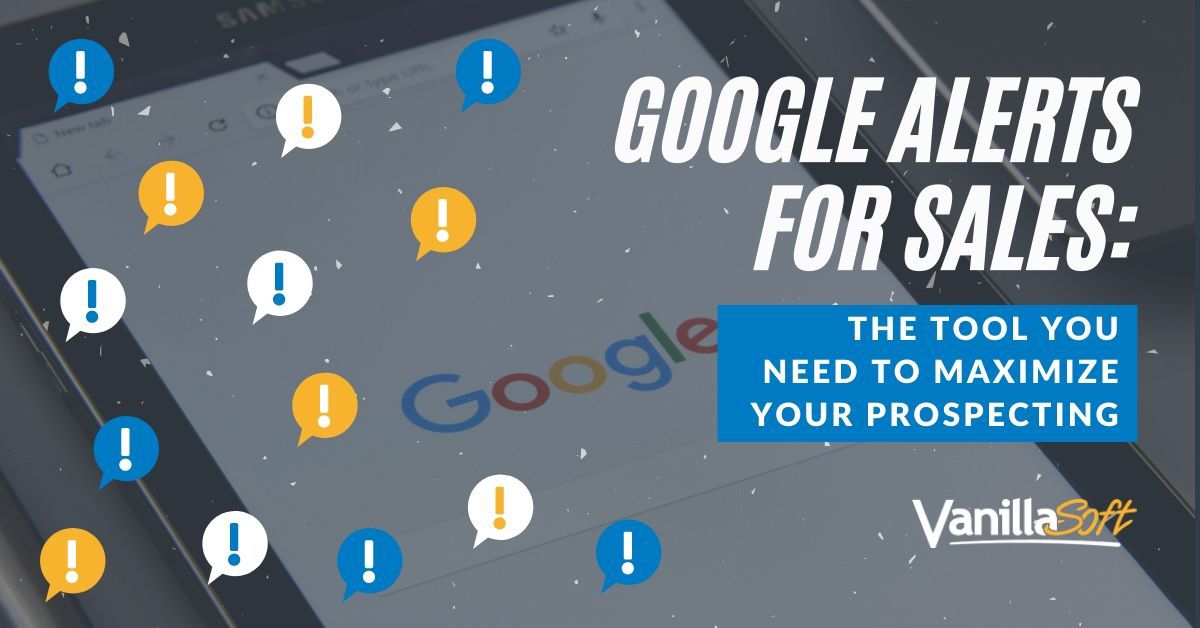 Are you using Google Alerts for sales prospecting and research? It may be the sales tool you never knew you needed. Read on to learn more.
Timing is *everything* in sales.
That's why you need to track trigger events — AKA likely buying opportunities. They help you distinguish hot leads from cold ones so you can maximize the effectiveness of your sales pitch to help you close a deal.
Look at it this way: Selling your product or service at the optimal time makes all the difference between making major bank and, well… peanuts. The right trigger event will let you know when your lead needs a new vendor, giving you the perfect in to reach out before they start researching.
So, how do you track these oh-so-amazing trigger events?
Two words: Google Alerts. 
This content change detection tool helps you research and qualify prospects in probably half the time it takes you to do it — oh, and it's free 99.
How to use Google Alerts, plus some maximizing hacks
Imagine Google Alerts as your personal assistant that carefully selects web pages, news articles, blogs, scientific research, videos, and more for any search term you create an alert for.
Cool, right?
But before you set up a Google Alert, know this: Using Google Alerts for prospecting is less about the technical details and more about relevant search terms that yield piping hot leads so you can strike while the iron is sizzling.
You can set alerts to track the trigger events that matter most to your sales goals, but let's start from the top. First: Set an alert. Next: Throw on the bells and whistles.
Check it out:
Log into your Gmail, then…
Search: google.com/alerts
Enter the search term you want to track (think: company or executive name, product, industry topic, competitor, etc.)
Select "Show Options"
Choose how often you'd like to be notified and fill in the other requested info
Enter the Google inbox or RSS feed you'd like to send the alerts to
Hit "Create Alert" 
And boom! You know how to use Google Alerts. (Do a happy dance; I'll wait.)
Now, cut through all the crap — define your search queries to avoid alerts that have squat diddly to do with you or your company. Try these hacks:
Add quotations around your query to get only the best search results. This tells Google you only want to track that query when the words are strung together in order.
Include common misspellings of your search term. Google detects and automatically corrects misspelled words, but this helps cover all your bases. Typos take no prisoners.
Create multiple (but precise) alerts. Your Gmail account allows up to 1,000 alerts, so don't hold back. Do this to monitor feedback about your business to help you identify and solve problems: "Your Brand" + love — or hate.
Add a minus sign before a query to exclude results that include a specific word or phrase. "Best pizza -restaurant" will yield results about the best pizza rather than the best pizza joints.
How to use Google Alerts for sales (and never look back)
Now that you get how Google Alerts works, let's dive deeper into how you can use it to take your sales strategy to the next level.
That research you're doing is a waste of time — but only because you're doing it all yourself!
Use Google Alerts for sales to gain the right intelligence on leads and any developments that can improve your strategy, relationships, or deals. For more effective prospecting, let Google Alerts help you track:
Mentions of a prospect in blogs, news, discussions, etc.
Company financial and investment announcements
New product announcements and enhancements
Industry keywords to keep up with what's evolving
Here are some other alerts to track:
1. New money executives
Freshly hired C-suite execs are bright-eyed and ready to leave their mark, which only means one thing: it's the perfect time for your pitch.
"Since they don't have established traditions in their new company and are looking to prove their value quickly, they're more open to fresh ideas than most business leaders," says HubSpot's Emma Brudner.
2. Industry questions (plus boost your brand at the same time!)
Who doesn't love a good BOGO deal? This type of alert is definitely a two-for-one.
Forums and blogs are a great place to find leads because their questions let you know they're in the market for your product (pre-qualified FTW) — with Google Alerts' real-time updates, you get to monitor when and where potential leads are asking questions you can answer.
Answer niche questions on-the-spot → establish yourself as an expert with authority content → build trust with potential customers. Badabing, badaboom.
How do you find fresh, relevant questions to answer? Ahrefs' Joshua Hardwick recommends setting up your Google alerts like this (with the appropriate search terms and no brackets, newb):
One – [topic] + site:[forumname.com] + intitle:(who|what|when|where|how)
Many (OR's included) – [topic] + site:[forumname.com] OR site:[forumname.com] OR site:[forumname.com] OR intitle:(who|what|when|where|how)
When you receive Google Alerts for new comments or inquiries about your product, jump in, and flex your expertise. But don't forget to link back to relevant content on your site — unless you want to get constant streams of targeted referral traffic the hard way.
3. Play a (lone) game of "I spy…" with your competitors
Having insight into your competition can create a stronger marketing strategy to help your business perform better. Prime example: Google Alerts creates opportunities for you to reach out to places writing about your competitors.
"Let's say you get an alert that a blogger wrote an article about your competition," explains WebFX. "If they were willing to write a post about your competition, they might write about your business, too." 
SEO blogger Matthew Woodward sets these alerts to track competitors: 
Site: [competitor url]
[competitor name]
"I think" [competitor name]
"Has anyone tried" [competitor name]
"This guest post by" [competitor name]
When you can build a picture of your competition's next steps, you can go on the offensive from an informed position. Not that this war or anything.
Bonus! Track trigger events with social listening tools
While very effective, Google Alerts isn't a one-and-done tool. There's always more you can do to make your social strategy more comprehensive. Try including social listening tools like these to hear (and see the analytics of) what all the streets are saying — like Social Media Avenue or Webpage Behavior Boulevard: 
HootSuite to tune into social conversations. Set up social media streams to help you identify trigger events through keywords, mentions, and hashtags.
HubSpot to trigger automatic alerts when prospects visit pages with high sales intent, like pricing or competitor-comparison pages.
BuiltWith to know which platform your prospects use before you talk to them to improve your conversions ASAP.
Crunchbase to build a list of accounts with this tool to receive automated alerts for new fundraising and expansion events.
Take it up a notch: Check out this free video on how to leverage AI to improve your sales process.