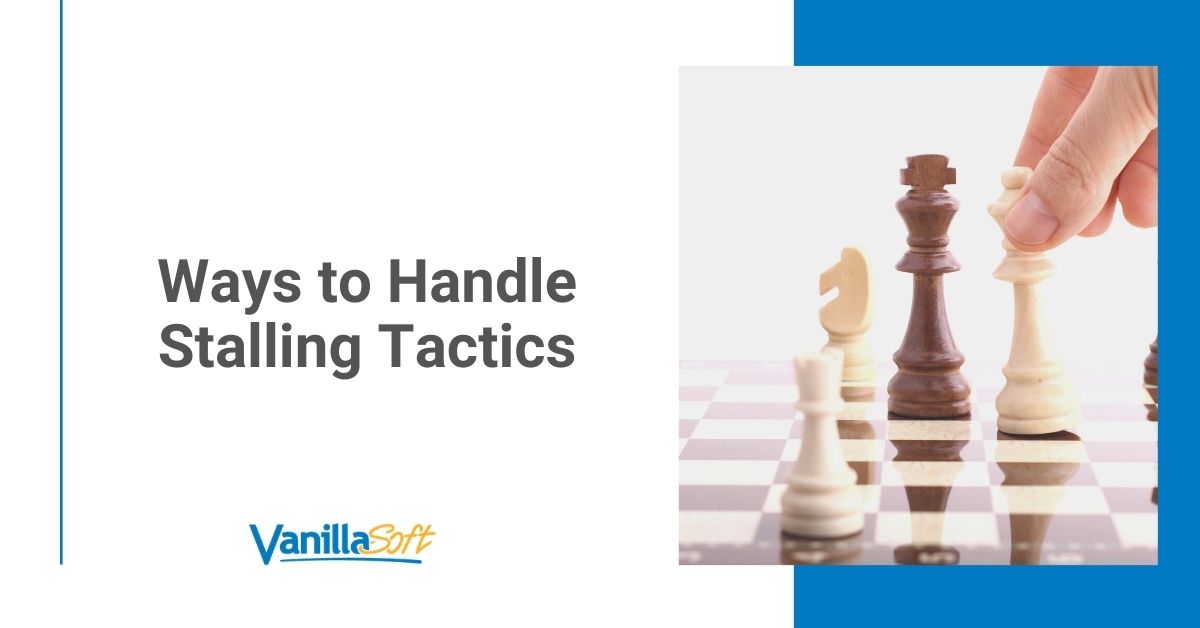 Buyer anxiety is real – plus, it's often to blame for all those pesky stalling tactics you have to navigate as a sales pro.
Prospects getting cold feet is a major late-stage barrier you can expect when you're trying to push a deal through the sales cycle, and the ones you think are buy-ready with money in hand aren't exempt either.
Naturally, excited prospects easily go ghost and become ignorers when contracts come out, so it's up to you to remedy the anxiety a buyer might feel before you start talking about closing the deal. But how?
Before we get to the solutions, you need to understand why this happens in the first place.
Why customers use stalling tactics and what they mean
Why do prospects stall? There are a lot of answers to that question, but they all lead to one thing: risk aversion.
No one wants to rush to make a decision when it's one that could lead to poor results, lost money, and wasted time – when you notice your prospect is hiding behind stalling tactics, that's a sign they're conflicted about whether your product or service is truly beneficial.
These reasons might indicate why:
You haven't given prospects a good enough reason to buy and buy ASAP.
They're weighing the pros and cons of associated costs. ("Are they worth that much?")
They're comparing you to competing products or services.
You haven't proved to them why they should trust you.
They can't afford your product.
They're anxious about what happens after they sign a contract.
Stalling is typical, so don't beat yourself up too much when this happens. Still, don't give them so much time to think that they forget about you and cozy up to your competitor.
5 ways to handle stalling tactics – and close more deals
Dealing with a dodgy prospect who keeps holding up a deal with stalling tactics is incredibly frustrating, but there are ways to ease the stress.
When your prospect is slowly leading you to a dead-end, here are five effective ways to turn that stalled deal into a money-maker.
1. Get on their level
It's inconvenient to have a prospect who dances around an almost-closed deal with stalling tactics, but you have to understand their perspective.
Making big purchases for yourself or your family isn't always simple, right? Now, imagine the pressure your prospect may feel with the responsibility to lead a major buying decision for an entire company – it ain't easy.
Truth be told, hesitation is often a natural part of the buying process.
Rather than get stressed out by stalling tactics, work through them with an empathetic approach: acknowledge your prospect's concerns, and give them room to ask questions, consider your offer, and ensure your product or service is the right investment for their team.
If you rush prospects, you'll scare them off for good. So, when they raise an objection you didn't already anticipate, guide them to the right answer (your solution!) with probing questions that address their hesitations and show you care.
Try this, for example: "If you knew our product could cut labor costs by 10% over the next two years, would that be worth the investment?"
2. Prove your success
Your prospect is almost ready to sign, but those damn stalling tactics rear their heads right when it's time to sign on the dotted line.
When you're so close to a finalized deal that you've already mentally spent your commission check, prove your success to your prospect and give them the confidence they need to move forward.
What kind of proof? Compelling (and current!) social proof.
Whether you share them in an email or during your next follow-up call or meeting, here are a few examples of what to share with your skittish prospect to turn their hesitation into interest:
💡 Press mentions.
💡 Case and/or ROI studies.
💡 Blog posts from customers discussing your product, or from company executives of popular brands.
💡 Testimonials.
💡 Positive third-party reviews.
💡 Happy customer emails (only share with consent!).
💡 New data about products and/or services – i.e., "This [product/service] is selling three times as much this month, while our most popular one last month was [product/service]."
💡 Online endorsements from influencers or well-known companies that use your product.
💡 Customer usage data.
3. Offer a limited-time discount
Yup, it's the oldest trick in the book – but it's one that works, especially to navigate stalling tactics.
The next time you speak with your prospect, let them know you want to offer a discount or promotion but set some parameters around it to create a sense of urgency.
If your prospect has been unresponsive, a discount is sure to get them to come out of hiding. Plus, they help get teetering folks right over the edge to a closed deal.
Here are two more reasons why offering a discount is an effective way to negotiate with stalling prospects:
They have a budget to stick to. Remember all the pressure your prospect is under? Their company will no doubt scrutinize how much they spent on innovative solutions, so it helps to lessen the costs to expedite a deal. If you scratch their back…
They just want a good deal. Sometimes, your prospect just wants to feel like they got a bargain, even if the discount isn't significant. With a promo, they believe is unique to them, you can make them feel like they won and show off your flexibility – and customers love the flexibility.
4. Loop in other stakeholders
Don't think of this as going over your prospect's head – if you do, you could be missing out on an easy way to fast-track deals and make more worthwhile connections with future customers.
Besides, you should always remember your prospect likely doesn't call all the shots on their own. They often have teams of other stakeholders and decision-makers who work together to find the right investments, plus executives to answer to.
If stalling tactics are holding up your deal but your prospect is responsive and there's still tons of potential to move forward, find another contact in the organization to speed the process along.
One way to find these stakeholders outside of the company's 'Our Team' page? LinkedIn and Twitter, the dynamic social media duo.
As you reach out, you want to be cautious and avoid offending your initial prospect, so be upfront about your needs with this new contact and who you've worked with so far – then, let your prospect know you looped in other decision-makers to push the deal forward.
5. Address concerns with risk-reversal language
While your prospect is likely a seasoned professional who's familiar with the buying process, at the end of the day, they're still a human who just doesn't want to get ripped off.
That's why you need to soothe the hesitation that fuels their stalling tactics with risk-reversal language – AKA any statement or strategy that reduces or eliminates your prospect's perceived risk about your product or service.
If your prospect is stuck between "I don't know" and "maybe" answers, remind them how simple deal-closing can be with:
90-day opt-outs.
No long-term contracts.
Easy online cancellations.
Quick and easy implementation or setup.
24/7 support teams.
Service level agreements (SLAs).
Money-back guarantees.
This method works like gangbusters to get a deal over the finish line, but don't take my word for it: In a HubSpot article, Gong.io's Senior Director of Product Marketing Chris Orlob says, "When salespeople use risk-reversal language, their odds of making a sale increase by 32%." 🔥
Keep the lines of communication open
There's still hope when stalling tactics road-block a potential deal. In fact, there's plenty, as long as you keep your prospect talking and engaged.
🔑 Remember: Your goal for every touchpoint with prospects is engagement – not to get a solid yes or no. Just keep presenting opportunities for communication, remain flexible, and give them some control of the process. To succeed and grow in sales, you have to understand how customers buy. Now that you're hip on stalling tactics, tune into this episode of the INSIDE Inside Sales podcast with host Darryl Praill and learn how to better serve your prospects during the buying process.