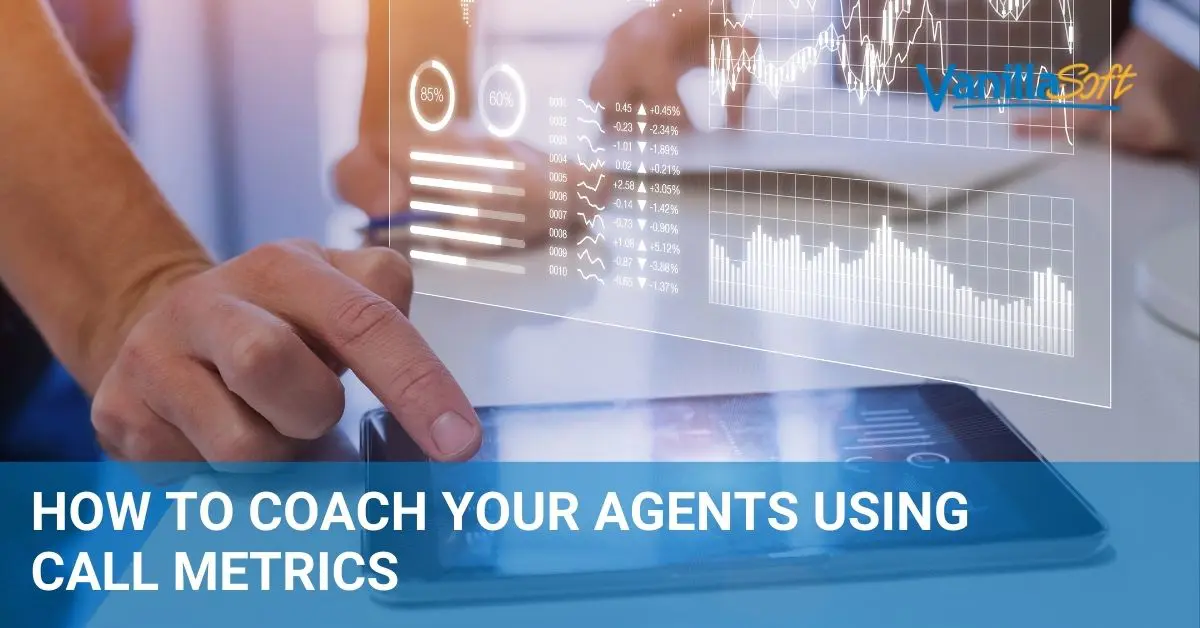 By Aleksandr Peterson
A call center is only as good as its agents. Whether inbound or outbound, sales or service, it's important that agents continuously hone their skills, improve efficiency, and stay informed about new products and best practices.
But they also need guidance, accountability, and encouragement.
That's why call centers hire coaches — to provide ongoing instruction that helps agents improve. Coaching serves a twofold purpose as a human resource strategy and a business strategy. It pushes employees to higher standards of performance adds direct value to the business (through enhanced productivity, better customer relations, etc.).
The Importance of Measurable KPIs
To maximize the value of coaching sessions, you need to decide what areas to focus on. It's never a bad idea to review call etiquette and general best practices, but the best way to coach effectively is by using measurable key performance indicators (KPIs). To do this, you'll need a solution that offers call activity management dashboards, as well as web reporting that lets you drill down to specific performance metrics at aggregate and individual levels.
By focusing your efforts on specific data points that you can track, you'll have an easier time gauging each agent's success and an objective standard for team accountability. This is especially important in an industry where efficiency is king; every minute of wasted handle time costs the business about $1.03, according to MetricNet.
Every minute of wasted call handle time costs the business about $1.03, according to MetricNet.
Click To Tweet
The metrics you choose will vary slightly by the department, but most should be related to the call itself. Zero in on metrics that indicate job mastery and show improvement according to your team's priorities — hence the phrase, "key performance indicators."
How to Track Your Call Metrics
Benchmarking KPIs starts with having the right technology in place, and having the right technology starts with the buying process. During your call center software comparison, look for VoIP (voice over internet protocol), helpdesk, queue-based lead management for inside sales, and CRM (customer relationship management) platforms with built-in reporting tools.
You should be able to track team metrics, drill down to agent-specific scorecards, and record calls and screen actions incognito. You should also be able to extend tracking functionality to telecommuters who work outside of the office. According to a recent study by CCNG, only about 31 percent of call centers will go without remote agents this year.
Only about 31 percent of call centers will go without remote agents this year.
Click To Tweet
Building a Coaching Strategy
There are a lot of different factors that go into an effective coaching strategy. Typically, the strategies with the highest success rates are regular, repeatable, and scalable. In other words, they work for your whole team, not just for individual reps, and they balance depth with efficiency. A common example is to meet once a week for 30-45 minutes with each team member.
It's also important to set clear goals for agents and enforce those goals with a deadline. For example, don't just tell an agent to cut down their after-call work. Instead, tell them they have two weeks to reduce their after-call work to less than 5 minutes per day, and schedule a follow-up meeting to discuss progress.
Of course, the only way to define clear goals is if those goals are driven by specific, measurable data. Let's look at some examples of call center KPIs and tips for incorporating them into your coaching.
Average handle time (AHT) is a measure of the total time agents spend on calls, including talk time, hold time, and after-call work. New call center agents will inevitably have higher AHTs, but as they master workflows and systems, the number should stabilize. Most coaches prefer to see lower AHT as long as the agent is succeeding in other performance areas, such as first-call resolution and customer satisfaction.
Customer satisfaction scores usually come from post-call surveys conducted through an outbound IVR (interactive voice response) or email. Connecting these surveys to specific agents and calls can help you identify learning opportunities, or even a chance to affirm success. If you don't have a strategy for coaching with CSAT surveys, try pulling at least one score report per agent, per week, and reviewing it during your session. Focus on specific areas where the agent scored higher or lower (e.g. the representative effectively addressed my problem/concerns, the representative exceeded my expectations).
First-call resolution is a little harder to track since it requires multiple contacts with a customer to disprove, and since the lack of a second call doesn't necessarily prove success. Still, with the right integrated systems in place and an end-to-end view of each customer interaction, you can pinpoint situations where a customer is calling multiple times for the same issue or request. Chances are, the initial call was not handled correctly. Find out which agent took the call and discuss where it went wrong. If you use a system that ties the call recording to the record, review the recording with your agent to understand areas for improvement, as well as point out what he or she did right.
Adherence rate is a value assigned to each agent's log-in/log-out tendencies during their shift. A 100 percent adherence rate would mean the agent was in-call or available during all assigned times and did not deviate from their schedule (breaks, meetings, etc.). Although adherence isn't technically a call metric, it directly affects each agent's productivity, and by extension, collective call management. An agent with a 70 percent adherence rate is either not pulling their share of the call load, or they're pulling too much. Most call centers expect a 90 percent minimum.
Department-specific metrics: In addition to these universal metrics, each department within a call center will have its own unique KPIs, which should constitute an equally important part of the coaching strategy, if not more. For example: the sales department might use conversions and booked products to coach on sales techniques; the service department might focus more on maximizing tickets completed and minimizing escalations.
*
If you want your agents to strive for excellence, you need to give them specific, measurable goals, practical ideas for making progress, and a timeframe for completion. Data-driven coaching isn't about throwing a bunch of numbers at your agents. It's about focusing on the right metrics and spending one-on-one time with each team member.
About the Author
Aleksandr Peterson is a technology analyst at TechnologyAdvice. He covers marketing automation, CRMs, project management, human resources, and other emerging business technology. Connect with him on LinkedIn.