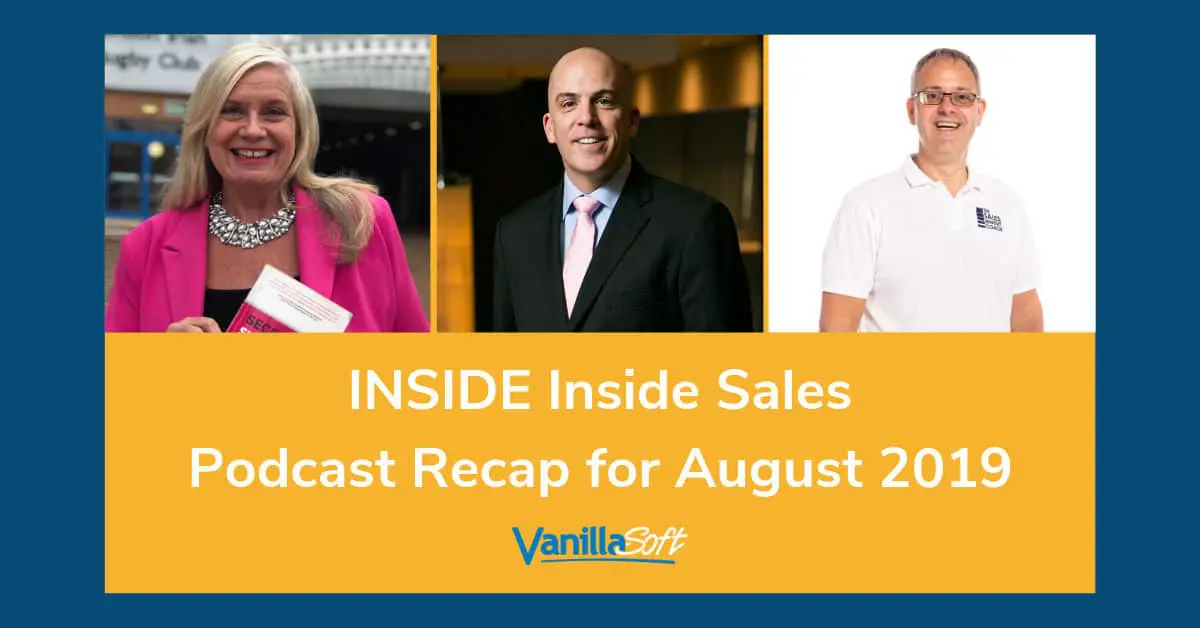 The kids are heading back to school, and it's time for you to work on your own knowledge and prioritize your growth as a salesperson. In the three August episodes of the INSIDE Inside Sales Podcast, my guests shared gobs of advice to help you find sales success. Whether you're new to the world of sales, or a proficient sales master in need of a refresher, you're likely to find something that resonates with you and your sales team. Learn some of the key sales tips and takeaways of each episode below.
Did you miss the #InsideInsideSales podcast episodes from August? We had @thealisonedgar, @iannarino, and @MindsetForSales on the show. Catch the recap! #podcast #SalesTips
Click To Tweet
"Sales and customer service is the same thing." That was Alison Edgar's bold leading statement during Episode 38. Do you agree? I figured many of you wouldn't, so I prodded a bit to find out why she felt this way.
She says that when you believe in what you're selling, and you know it can reduce the pain for your prospects, you're not really selling. You're providing a great customer experience.
We talked about what a customer service approach to selling looks like and how William Moulton Marston's DISC behavior model has a role in the way you engage with people. Allison says to "treat people how they want to be treated – not how you want to be treated." She talked about how salespeople need to "lead the dance," while acknowledging if you're working with an introvert or an extrovert.
She also argued that asking a lot of questions like a nosey three-year-old is a good thing. Think like a child by asking a lot of open-ended questions.
Tune in to the podcast episode to find what tools she recommends using to connect with your buyers in a customer-centric way.
On Episode 39, Anthony Iannarino and I discuss how new salespeople can find success. In case you've been living under a rock, Anthony is an international speaker, best selling author, sales leader, entrepreneur, and podcaster. His eleven-year-old blog is killer, and you definitely want to sign up for his weekly newsletter.
During our conversation, we dissected one of his recent blog posts, and he shared nine tips that any new salesperson can apply to achieve success quickly. Here are the first four steps. You'll have to listen to the podcast or read the transcript to hear more and learn what he had to say about the other five steps.
"Develop the right mindset," including being disciplined, optimistic, caring, resourceful, and competitive. Anthony says, "Who you are matters more than what you do."
"Acquire the skill sets" to sell effectively — for example, prospecting, storytelling, negotiating, and closing.
"Become a subject matter expert" at what you do. You should be able to have a first or second level conversation about what you sell, but it's not necessary to know every technical detail.
"Become world-class at prospecting." Anthony notes that the more time you spend prospecting, the quicker you will succeed.
Part of being successful as a sales development representative (SDR) or any other sales professional is "you have to lead even if you aren't a leader." Guide the people at your company and your client's team to take actions that enable your client to get the most out of the product or service they purchased.
If you're new to sales or in need of a quick pep talk, don't miss this episode. Anthony's advice will help you to become a world-class sales expert in 32 minutes.
Steve Knapp, Founder of The Sales Mindset Coach, joined me for Episode 40 to discuss the WOPPA. No, not the hamburger. Steve's "WOPPA" is a five-step approach to a salesperson's pre-call planning.
He mentioned that not much is controllable, but you can take the time to plan properly. Most salespeople do their pre-call planning in their mind, and if a curveball comes into play, it throws them off from their original plan. Questions are forgotten, and although they may come to an outcome, it's probably not the one they were aiming towards.
By writing down your plan, Steve says it allows you to reconnect and verify "you're delivering on the value you're trying to create." Here's a look at Steve's WOPPA recipe for your pre-call plan:
Why – Identify why you are having a conversation. Is it to schedule a meeting, sell a product, follow up, etc.?
Objective – What do you want to achieve during the call? Be specific and note any measurable outcomes.
Premise – What do you know about the prospect as it's relevant to your objective?
Plan – How do you plan to reach your objective? What's your game plan?
Anticipate – Think through any "what ifs" and figure out how you'll respond.
Steve says that when you have a plan, the "granular level of thinking is sometimes the piece that gives you the confidence and the correction if the client is taking you down another route." Don't try to wing it. Think it through and write it down.
Tune in to August's Episodes to Advance Your Sales Career
August has been a hot month, even here in Canada. Heat up your sales career with the tips shared in the three INSIDE Inside Sales episodes reviewed above. Do you have an idea for a future podcast episode? Reach out to me with your suggestions via Twitter or LinkedIn. You can also leave a comment below!