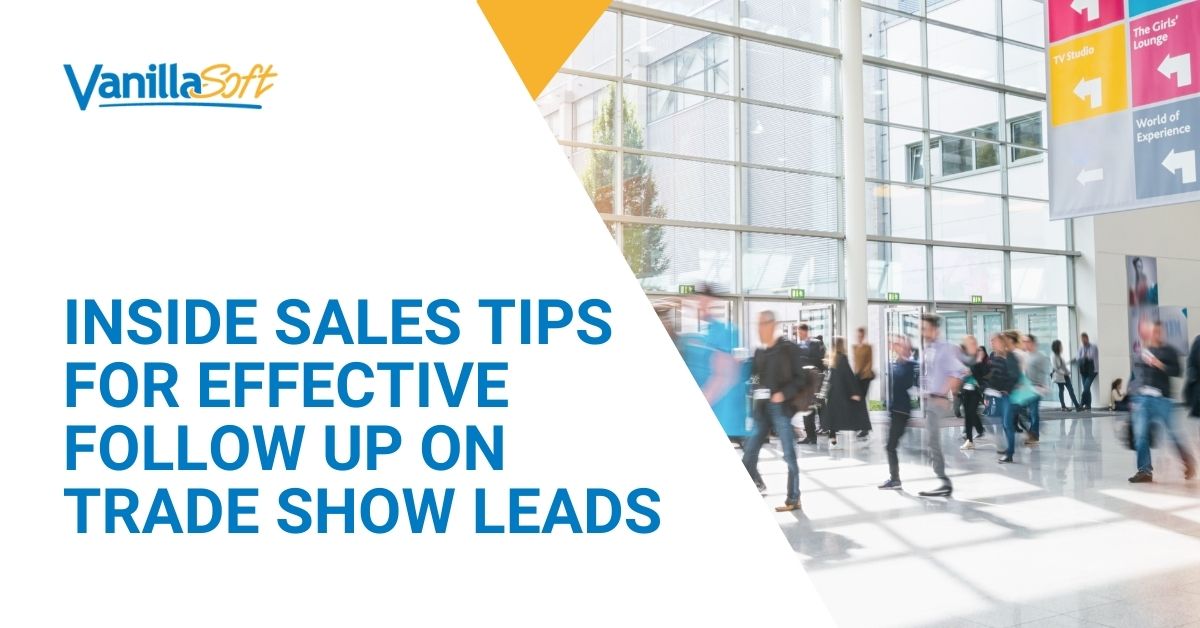 Over 75% of trade show attendees have a direct involvement in the decision-making process of purchases according to Statista. The collected leads from these events are often warmed up and primed to take the next step. As an inside sales rep, reaching out to trade show leads within days of the event will keep your organization on their radar as a viable option.
Over 75% of trade show attendees have a direct involvement in the decision-making process.
Click To Tweet
Trade conventions are valuable lead generators and offer a slew of networking opportunities. Those running your booth will speak to hundreds of prospects over the course of the event. Make sure they're taking ample notes as they'll come in handy when segmenting your list and following up afterward. Another preparatory task is to create a nurturing plan so you can efficiently follow up after the event. Sales management software programs like VanillaSoft allow you to create your strategy and plug in the leads after the show.
Your competitors may take weeks to reach out to their leads. Promptly making contact with your prospective buyers will allow your brand to stand out from competition. Here are some valuable tips for following up with leads after a trade show.
Online Follow-ups:
When creating your email nurture plan, think of these prospects as cold leads. Don't dwell on helping them to remember your booth. Instead, spend your time trying to hook them with how your product can be of value to their business. You can include the event title in your subject line and the body of your email but make the mention brief.
Your nurturing plan should provide relevant content in the form of white papers or other downloads that will interest your leads. The last thing you want to do is send one follow-up email and then automatically add them to your newsletter list. Develop the relationship first with personalized information before moving them into mass marketing.
Reiterate any specials or announcements from the show, but guide their next steps with a call to action (CTA). Use direct CTAs avoiding the generic "learn more" button. Request that they carry out a specific task like "request a demo" or "download a free case study." Doing so can also help to gauge the contacts' interest level in your brand. Consider adding different CTAs that would appeal to prospects in various stages of the buyer's journey to gain a greater understanding of where they stand.
Social media is another great outlet to foster the business relationship. Follow your new leads and add them to a Twitter list aptly named with an event-related title. Twitter lists provide an easy way to see what your prospects are talking about and will give your lead a reminder of how you met them. In addition to following their account, reach out with a simple message thanking them for stopping by your booth and maybe even mentioning a free white paper that would interest them.
Another platform that deserves mention is LinkedIn. Connect with your leads and personalize the connection request message to remind them where you met. Make it a point to like and comment on their LinkedIn activity. Show a genuine interest and avoid being too driven by the sales pitch in your outreach.
Telephone Follow-ups:
When following up with your trade show leads by phone, remember these are warm leads, you're not cold calling. However, give them time to get back into their daily routine before picking up the phone after an event. You might even consider sending out the first email in your nurturing plan before touching base.
Do your research before the call and find something about them that will add depth to your conversation. Something you both have in common would be optimal so you can engage in a discussion before directing the conversation to the next step in your sales process. See if you can answer any questions they might have, or again, direct them to a download they may find beneficial. Extra points if they've already downloaded something from your nurturing emails. Take the time to ask them what they learned from it or for any feedback in general.
Another consideration for sales management is the technology that helps inside sales pros become more efficient with trade show lead follow up.
Conclusion
"Time is of the essence" when following up with trade show leads. Starting the follow-up process shortly after returning from a trade show is necessary. Although you may want to jump in and ask for the sale right away, take your time. More than 50% of attendees plan to buy products or services they saw at a convention within a year of the event. Fostering a relationship by giving your leads useful information will only help you in the long run.