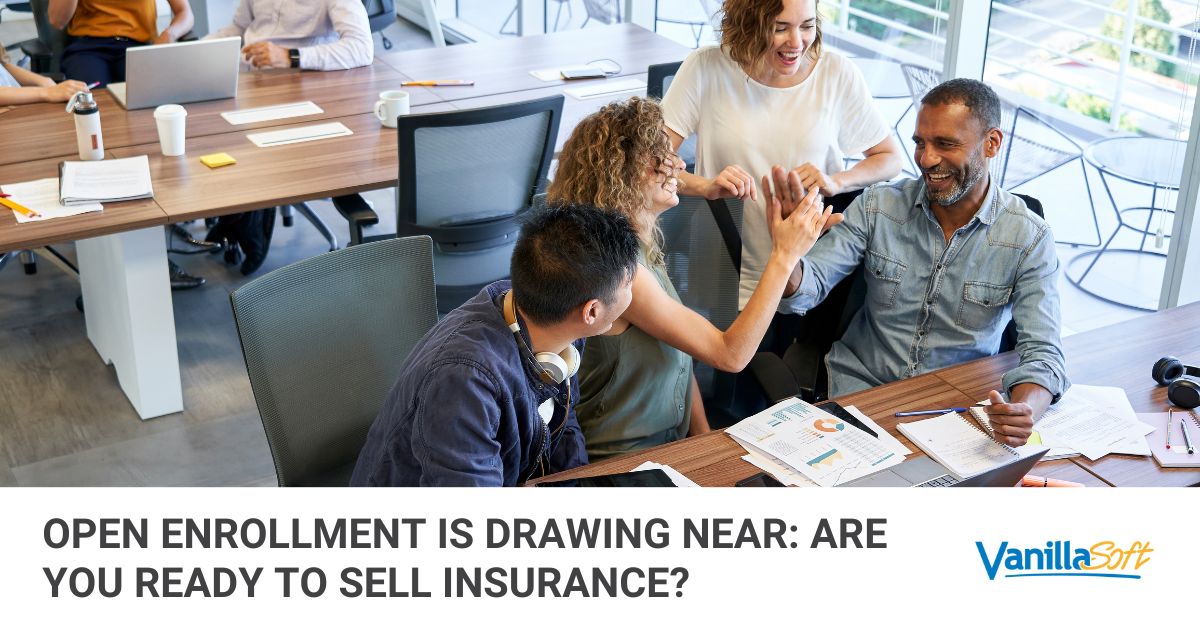 Open enrollment is just around the corner.
This time of year, when millions of Americans have the opportunity to choose or change their health insurance plans, is crucial for insurance agents and brokers who want to sell their products and services to potential customers. But all those potential opportunities don't mean much if you aren't prepared to make the most of this very lucrative season.
So, do you have the right strategies, tools, and resources to succeed in the competitive and complex insurance market?
In this blog post, we will share some tips and best practices on how to get ready to sell insurance during open enrollment and boost your sales performance.
Analyze your previous OEP performance
Stellar performance in the upcoming open enrollment period (OEP) isn't just about planning ahead — it's also about looking back. Before diving headfirst into this season's opportunities, take a break for a moment to analyze your previous performance. 
A thorough sales retrospective can inform your future strategy, allow you to refine targeting, and help you optimize spending.
Define your success metrics. These could be lead-to-customer conversion rate, cost per acquisition, average deal size, or customer lifetime value. By investing in analytics and metrics-driven strategies, you can achieve a 126% profit improvement over your competitors
Run a report and identify how many leads you close, what were the most popular policies and carriers, and who were your top-performing agents. For example, if Medicare plans flew off the shelves while specialized plans underperformed, that's a clue for where to focus your sales efforts and marketing dollars. It can also indicate the need to reassess the features and pricing of lower-performing products.
Identify the most effective lead sources. Where did your most valuable leads come from last season? Was it from your social media ads, search engine marketing, or perhaps local community outreach? Knowing the most profitable lead sources helps allocate resources more effectively.
Determine the most common customer objections and friction points and come up with tactics for handling them.
Amplify Your Lead Generation Efforts
The first and most important step is filling your pipeline with high-quality leads. There will be a lot of people wanting to buy insurance, but there are also a lot of people ready to sell insurance.
Gone are the days when you could solely rely on word-of-mouth referrals and wait for the phone to ring or inquiry emails to hit your inbox. By not taking a proactive approach, you're letting opportunities slip through the cracks right into your competitors' hands.
Today, lead generation has become a multichannel game, requiring strategic positioning across various platforms and touchpoints.
Content marketing is one of the most cost-effective strategies. Create insightful content aimed at answering queries, solving problems, or providing education about the types of insurance you're selling.
Blog posts, whitepapers, and e-books can position you as an industry authority and generate organic leads over time. Plus, staying top of mind with your potential clients, reminding them about the upcoming OE dates, and addressing their pain points will translate to more conversions.
Email drip and SMS campaigns are particularly powerful, as they allow you to keep in touch with your current customers and prospects in a low-key way without being too pushy. The trick is to segment your list and send them relevant updates about policy, carrier, coverage changes, and anything else that might affect them.
Having an omnichannel lead management platform like VanillaSoft can help you synchronize all these channels and keep track of all your engagement metrics.
Create efficiencies
It's a busy time, and it is easy to get sidetracked if your lead management solution doesn't help you streamline your sales process. Ideally, your solution should provide the following features to help you boost your sales call efficiencies.
Inbound lead capture
With inbound lead capture, you will receive your web leads in real-time.
VanillaSoft lets you import leads from different sources quickly and seamlessly so that you can start working on them based on how hot they are.
That can put you ahead of the competition since the first to respond is typically the one to win the sale.
Focus on speed-to-lead
This critical metric makes a difference between a flop and a success.
According to the industry benchmarks, 35-50% of sales go to the insurance rep who responds first to a client inquiry, so if you want to sell more insurance policies, you need to slash your response times and reach out to the hottest and ready-to-buy leads as soon as possible. Improving your speed-to-lead should be your top priority.
However, this won't be possible without a lead-management platform that will give you a 360-degree view of all your leads.
VanillaSoft allows you to set up criteria that will automate the lead distribution workflow. You can be assured that you will be presented with the right lead at the right time and contact the next best prospect most likely to convert.
Increase call productivity
There are several key features to look for in a lead management solution that will help you have more productive sales calls during open enrollment.
While the phone is the most important channel for closing insurance deals, you can hit your quota if you include other channels. To achieve the best results, combine these features into structured, well-timed sequences — cadences. These well-coordinated sets of interactions that combine calls, emails, and even social media messages will keep you in front of the prospects without overwhelming them.
By methodically integrating each feature at different stages of the sales cycle, you'll maximize each touchpoint's effectiveness, turning more leads into loyal customers.
In essence, mastering call productivity during Open Enrollment isn't just about quantity. It's about optimizing the quality of every interaction. A lead engagement suite coming with a number of advanced features will help you make each call more impactful, turning open enrollment into a period of growth.
In conclusion
Open enrollment offers a fleeting yet abundant window of opportunity for insurance sales. As the clock counts down, it's your preparation, strategy, and execution that will set you apart from the competition. By generating quality leads, creating operational efficiencies, analyzing past performances, and harnessing cutting-edge tools to optimize call productivity, you're positioning yourself for a successful season. With the right blend of technology, tactics, and timely action, success is not just possible—it's probable.