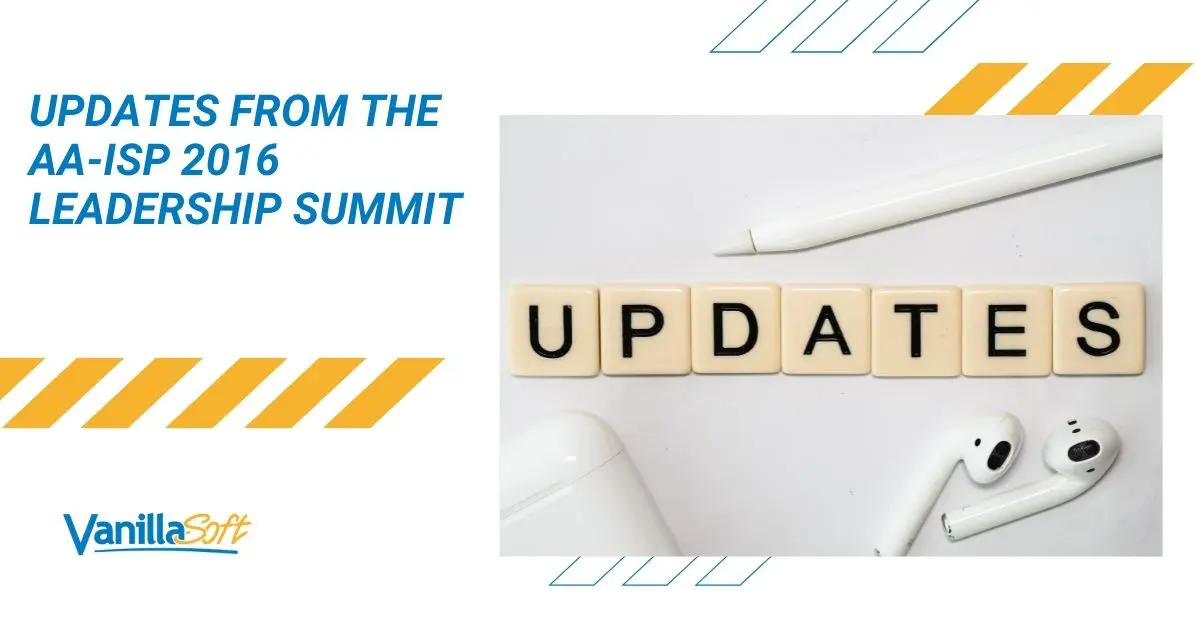 I recently attended the 2016 AA-ISP Leadership Summit in Chicago with some other members of the VanillaSoft team. If you aren't familiar with the AA-ISP, it's an organization dedicated to inside sales professionals, and the annual Leadership Summit is the only conference dedicated exclusively to Inside Sales Leadership. The Leadership Summit is an excellent opportunity for learning, sharing, and networking with other inside sales professionals.
At this year's event, David Hood, VanillaSoft's CEO, and I had the privilege of speaking on the subject, "Managing Inside Sales Complexity." While that was the official title, our session title was much more fun: KISS and Sell: Keep Inside Sales Simple. During our presentation, we shared information on streamlining inside sales activity through automation, increasing inside sales productivity, and improving strategy implementation.
Lessons from the KISS and Sell: Keep Inside Sales Simple Session
How sales-by-phone has changed. It used to be that an inside sales representative received a lead list, called three times, then left a voicemail. Check out these then and now slides to see just how complicated it's gotten.
The complexities of lead management today. As you can see from the graphic above, the lead management process has become ridiculously complex and needs new technology and workflow solutions. Imagine being a brand new salesperson learning how to handle leads properly, knowing what to say and how to handle objections and meeting quotas on top of everything else. It can be very overwhelming. Every bit of energy and time a salesperson spends to manage and maintain a complex sales process is energy and time not focused on the primary function…converting leads and prospects into satisfied customers.
The complexity graphic may seem exaggerated to you, but there are statistics to back it up:
45% of companies report that their salespeople need help figuring out which leads to prioritize. Source: Lattice Engines/CSO Insights
80% of the average sales rep's day is spent on non-revenue generating activities, including not knowing where to find good prospects. Source: Telesmart.com
The average salesperson only makes eight dials per hour. Source: Ovation
80% of sales require five call attempts after the first contact, but the average rep stops at 1. Source: The Marketing Donut
Complexity leads to frustration and turnover. What do the statistics suggest? Without proper direction and guidance, there is confusion. Confusion breeds stagnation on the sales floor. Stagnation breeds low productivity. Low productivity breeds frustration between salespeople and management. Frustration breeds high turnover. High turnover means a lost investment in both the hiring of a world-class salesperson and the expense to feed that salesperson leads.
Sales automation tools increase productivity and lower frustration. Sales automation is the technology that automates the lead management and sales cycle to move leads more productively and efficiently through the sales funnel. The idea is to give the salesperson the ability to perform consistently at the highest level possible in the simplest way possible.
Don't get me wrong: sales automation doesn't make a sales person great. However, it will take any salesperson and make him or her more productive, more efficient, and remove the mental block of tedious business processes and time-consuming, non-revenue generating tasks. It allows the salesperson to be physically and mentally free to perform at the highest level possible. The idea is to give the salesperson the ability to perform consistently at the highest level possible in the simplest way possible.
The importance of workflow documentation for automation. So you have different lead types. You've analyzed their characteristics. Now you need to build a workflow for each lead. Do you have you defined the following?
How many contact attempts?
Frequency of contact attempts?
Will you leave a voicemail for every call?
What type of voicemail will you leave?
How is each lead type prioritized over another?
Will you send an email with every call? With every voicemail?
For leads that aren't ready for the sales funnel, who will qualify these leads? Salespeople? Qualification team? Email marketing campaign?
What will happen to a lead at the end of the call cycle?
How will leads be nurtured after the call cycle?
It's more important than people realize to be thorough and consistent with these questions. Leads are requiring quicker and more consistent contact to reach, and follow up requires more persistence to convert. Your new salespeople need understand these unique workflows as they pertain to each lead type, and they need to be consistent with their follow through.
The need for messaging automation. The sales process maps to a series of communication attempts between the sales rep and a prospect/lead. A solution dedicated to the idea of KISS and Sell needs the following features:
Queue-based lead routing & cadence automation
Progressive or preview auto dialing
Logical branch scripting that helps reps address objections
Voicemail drop
Email templates
Email nurturing
Workflows triggered by lead actions, such as getting a contract request, a contract status changing from pending to signed, etc.
Miss our KISS session at AA-ISP?
If you weren't able to attend the Leadership Summit or you just missed our presentation, we would love to set up a time with you to KISS (No – I'm not getting fresh! Remember – Keep Inside Sales Simple). The VanillaSoft solution works well in today's complex inside sales environment. So well, in fact, one of our competitors named us in their list of Top 10 companies for speed to lead (response time). Yes, we use VanillaSoft as our sales automation solution. I think you will, too, after you take a free trial. Sign up for one today!