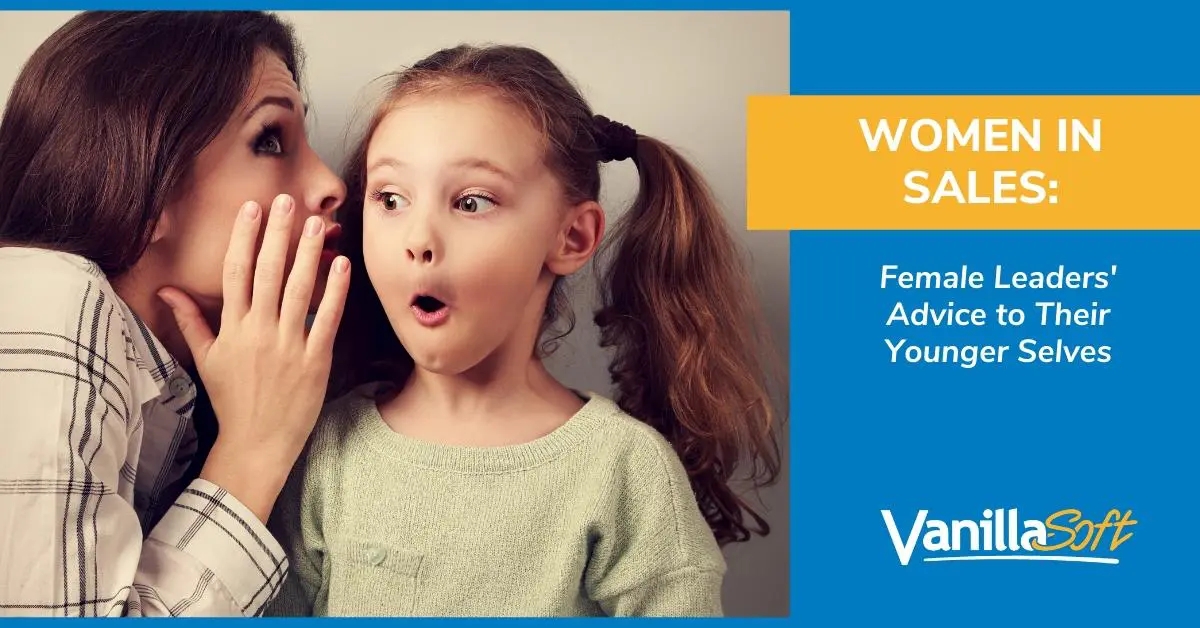 Elenore Roosevelt wisely said, "Learn from the mistakes of others. You can't live long enough to make them all yourself." To that end, in celebration of Barbara Giamanco's new eBook Opening the Doors to Sales Opportunities: Conversations with Women in Sales and Women's History Month, we've asked some of the most talented, successful and blunt sales leaders (who happen to be women) what advice they'd give their younger selves.
The world we sell in may constantly be changing – but the need for guidance and leadership remains steady. These women have all climbed into sales leadership and achieved incredible results for themselves and their teams. Yet we tend to hear less from female sales leaders than their male counterparts. Chances to learn from powerhouses like these are rare, so we are grateful they shared their time and insight.
Take a moment for yourself – regardless of gender – and learn from these incredible sales professionals so you can be like Elenore Roosevelt and learn from their wisdom.
"Imposter syndrome is a thing. I've only known about it for five or six years, but it's incredibly common. The negative committee that meets in my head thought it was just me!"
Maria Tribble, VP of Sales at PathFactory, 18 years in sales,) Listen to Maria on The Other Side of Sales Podcast!
"My feminine style relationship-building skills are my greatest strength. Earlier in my career, I was coached to be more hard-charging, to speak more aggressively, in other words, be more masculine. I've come to realize my empathy skills, my listening skills, my ability to step into my clients' shoes; these are not the things that make me soft. These are the things that make me more formidable."
Lisa Earle McLeod, (Sales Leader, Author, and Speaker at McLeod & More, Inc., 36 years in sales, Listen to Lisa on the Women in Sales Podcast!
"Be The Authentic Me. There is no other Marietta and she is good enough, smart enough and able to do amazing things when she shows up as herself. When she attempts to be "something" she is not, it pales in comparison. And it will never harness the connection, intuition, and scalability needed to be a Sr. African American Female in a Technology Sales world that is often unforgiving and certainly does not always embrace "things" that are diverse. Including thoughts, work style, and messaging."
Marietta Colston-Davis, Vice President at IBM Communications & CSI, Enterprise Global Markets, 23 years in sales, Listen to Marietta on
"The world is owned by people who follow up. Persistence and resilience in sales are the two most profitable skills you can master."
Colleen Francis, President and Founder of Engage Selling Solutions Inc, 24 years in sales, see Colleen speak at Outbound 2020!
"You are already bold and brilliant, and you will grow to appreciate that more and more. If I could share one thing with you, it is for you to dig deep and really find your brave. Find that part in you that backs yourself with absolute certainty, with true faith. Now, let go!"
Bernadette McClelland, Keynote Speaker, Author of "The Art of Commercial Conversations," 30 years in sales, Listen to Bernadette on INSIDE inside sales!
"Always bet on you. Make sure you're investing in yourself, and don't wait for someone to tap you on the shoulder. Whether that is honing your craft in sales, hiring the coach, building your leadership capabilities, or raising your hand for a stretch assignment. Anytime you bet on you, you'll win!"
Amy Franko, Speaker, Trainer, and Author "The Modern Seller," 20 years in sales, see Amy speak at Outbound 2020!
"Some people will give you what feels like harsh feedback. Typically it's not meant to be harsh; it's simply insensitive or ill-informed. Be like a duck and let it roll off your back. Find the grain of good insight and let the rest fall away. Stand tall with confidence in your ability using your own sales style to be a wildly successful salesperson. You are smart and talented, or you never would have gotten this job in the first place. Embrace it!"
Kendra Lee, President at KLA Group and Author of "The Sales Magnet," 32 years in sales, hear Kendra speak at Outbound 2020!
"As a sales professional, you're truly an advisor to the person. You're not selling them anything. If you think you're selling, you're confused. You are educating them so they can take what you've shown them and make the best decision. I think that and building those relationships from the very beginning and building your network, just really, truly being a master at what you're doing and allowing those people to also come to you that are aligned with your products and services."
Julia Andrews CEO and Founder of Connect2Close, 20 years in sales, listen to Julia on The Other Side of Sales Podcast
Salespeople are a remarkable breed; as varied and diverse as the products we sell and the people we sell to. What used to be a profession dominated by one section of the population is growing and changing every day, leading to more opportunities than ever. Thanks to trailblazers like the women above, it's now easy to see why so many women are successful in sales and driving the profession forward.
Let us know your reaction to the above quotes. Did they encourage or motivate you? Which one is your favorite? Let us know how you reacted to the quotes as you read them. What advice would you give to your younger self? Share your story and thoughts in the comments below, and let's continue the dialogue!
Happy Women's History Month!