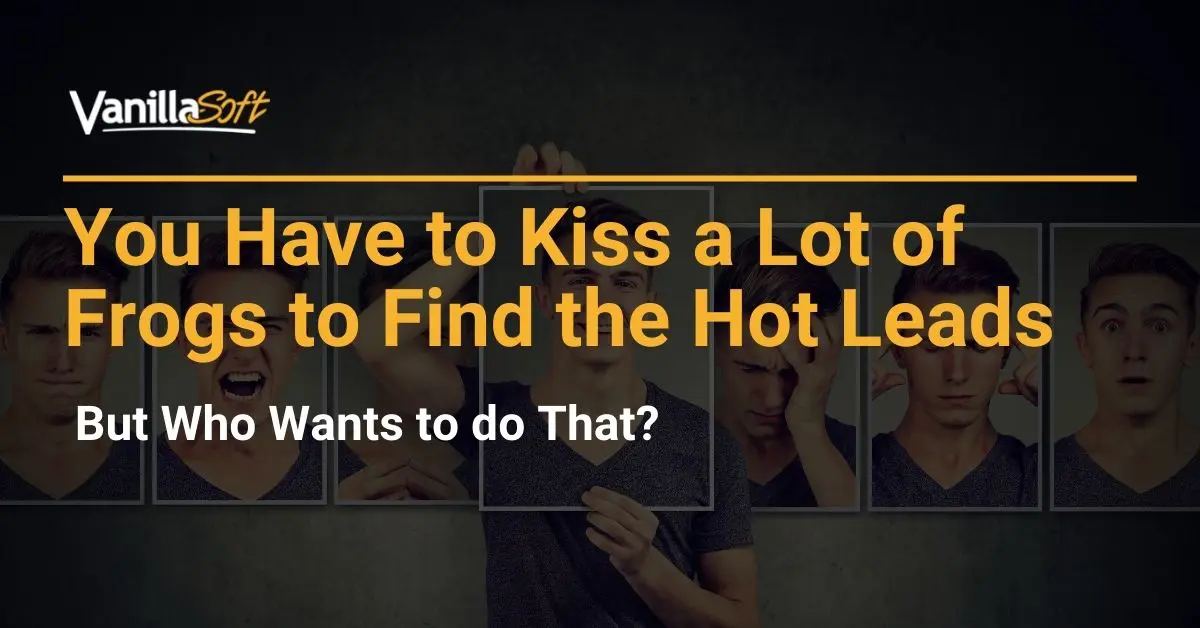 In sales, we are all looking for the hot leads, but they don't grow on trees. On the bright side, the sooner you can weed through the unqualified leads, the sooner you can get to the hot leads. In other words, you have to kiss a lot of frogs before you reach the prince (a.k.a. hot lead). If you take the proper steps to qualify and manage leads throughout the pipeline, sales reps can more successfully reach the prince and princesses and leave the frogs behind.
Here are some amazing statistics:
The analyst firm Yankee Group estimated that between 40% and 80% of sales leads are dropped between marketing and sales – that is, they were lost, never qualified, and most likely fell out of the system.
SiriusDecisions, a leading global B2B research and advisory firm found that 80% of B2B prospects that enter a company's sales funnel will buy a product or solution within two years from one company or another. So why shouldn't it be yours?
Institute a Lead Qualification Team
When you think about it, why do we expect the same salespeople to both, wade through the swamp of raw leads and still make high sales? It takes time to find quality leads. One of the best ways to weed through the swamp is to have a separate lead qualification team. This team empowers salespeople to:
Save time looking for qualified leads
Spend more time selling
Be prepared with information for their sales call
Close more sales and meet sales quotas
Stop wasting time with prospects who had no intention of buying your product or service
As you know, all leads are not ready to buy right away. When you use a lead qualification team to ask the right questions, they can find out which leads should go to which salesperson/team, to which email campaign, stay in the system for future follow up, or simply be tossed. Lead qualification can begin after your company determines the criteria that constitutes a qualified lead and the process to move these leads effectively through the system to yield the most cost effective sales.
It is much easier to motivate qualifiers to process each and every lead effectively when they are not also salespeople with quotas over their head. Their goal is simply to determine if a lead is a frog or a prince.
Segment Your Leads
The way in which you handle different types of leads can make a big difference in the closing ratio for your inside sales team. Just like your children have different personalities, each type of sales lead is unique and different. The methods you use to handle one type may not work for the others. So the key is to ensure that your telemarketing or qualification team works and processes leads according to the lead's characteristics.
Trigger Leads
As the name suggests, trigger leads are generated after an event. When a consumer pulls the trigger on an event, like the purchase on a new house, new auto, or refinancing, he becomes a hot lead for the same type of company looking for new prospects. These leads are usually generated from the consumer's credit report after the prospect has already started a loan application.
Of course, trigger leads are the hottest, most sought after of all leads. These are the leads that sales reps dream about. After all, why waste time and effort on prospects who may have no intention of buying in the near future when you have prospects who are available and ready to buy now. In other words, they need little qualification, because they have already been prequalified by another company. Speed to lead is essential. It is important to distribute these leads to sales reps to work immediately with an effective sales CRM software like VanillaSoft before another company whisks them away. With next-best call logic, sales reps will get the next qualified trigger lead to call immediately.
Web Leads
These leads come from prospects filling out a form on your website with their contact information. Good web leads are created by attracting target prospects to your website and offering a free document, such sales tips or a white paper, after they complete a form with their contact information. If you use a form that asks the right questions to qualify prospects you will have good leads for sales reps. Good web forms include these characteristics:
All contact information, such as name, email, phone number or address
Questions about specific products or services
Preferred days/times and contact methods
Timing is critical for good web leads. Studies show that responding to a web lead within five minutes of submission substantially increases the chance of converting it to a customer at some point. Since many of them are still looking on your website after submitting the form, a call from a sales rep while the information is fresh in the prospect's mind will more effectively convert the lead to a customer. On the other hand, there are some people who just want your freebie when they complete the form and are not at all interested in your product or service.
Your qualification team can usually tell which type of lead it has very quickly, because the bogus leads will often give fake contact information or will be unavailable to reach. Thorough qualification by telemarketing will tell which leads should fall out of the system, and which are given high priority to forward to sales reps right away.
Event Leads and Purchased Leads
Leads that come from events like trade shows/webinars and purchased lists should be handled differently than web and trigger leads. Some of these leads may be more of a slow simmer for follow up, since prospects didn't specifically seek out your product or service and may not have an immediate need to purchase. They were more likely just interested in maybe a topic that you presented.
A qualification team will need to call using a sales CRM software and do extensive follow-up questioning using BANT (budget, authority, need and timeline). See VanillaSoft's Optimize Lead Management Blog for more information. However, you may sometimes create an immediate need to purchase based on the way you you've marketed your product or service. Once the lead satisfies your BANT qualification, it can be distributed to the sales rep.
Zombie Leads
Real zombies, at least the ones in the movies, are between the worlds of life and death. Well, so are some older leads that have been around for six months or longer. They are not quite ready for the grave, but wandering aimlessly, dragging their feet around your database, just waiting for the right sales or marketing campaign to bring them back to life in the form of a sale.
While some may think that these leads are out for the count, just the right marketing campaign or sales call may bring them back to life. It is important to contact these leads from time to time. There may be a change in business that will spark an interest. For example, maybe a new manager was hired who has a completely new perspective, or your new email campaign intrigues them, and they suddenly have find out more about your product or service.
Reach out and nurture these leads from time to time with a sales CRM software that can schedule planned follow ups in the form of calls and emails. Zombie leads can easily turn into hot leads and be qualified for sales reps at the right time.
Managing Leads with a Sales CRM Software
It can be a challenging task to manage and distribute a high volume of leads efficiently, especially over a long period of time. A sales CRM software like VanillaSoft is a great tool to call, track, and distribute leads quickly and effectively to sales reps.
Code with a Lead Status
When using VanillaSoft, a very effective way to easily manage leads is to code them with a lead status and user assignment. The lead status tells you what state the lead is in, like "sold" or "dead," and the user assignment routes leads to the appropriate individual or team for follow up. The lead status determines where the lead stands in the sales pipeline. Use the lead status for tracking and determining the next step in your lead management process. It is essential that the tracking and sales process is triggered automatically by the results that sales reps enter in the system to ensure that each lead is tracked properly.
Master the Lead Management Process
An effective sales CRM software masters the art of lead management, which includes developing your qualification process, grouping leads into categories with segmentation, and qualifying, nurturing, and distributing them to sales reps. When companies are ready to buy, your product or service is front and center.
Simplify Lead Management
Sales CRM software can make managing leads a lot easier by automating the sales. The key to taking control of the qualification process is to develop a process and implement an automation system to maximize its effectiveness. This will enable your qualification team to give your inside sales team the prince and princesses, so instead of kissing frogs, sales reps will want to kiss you!