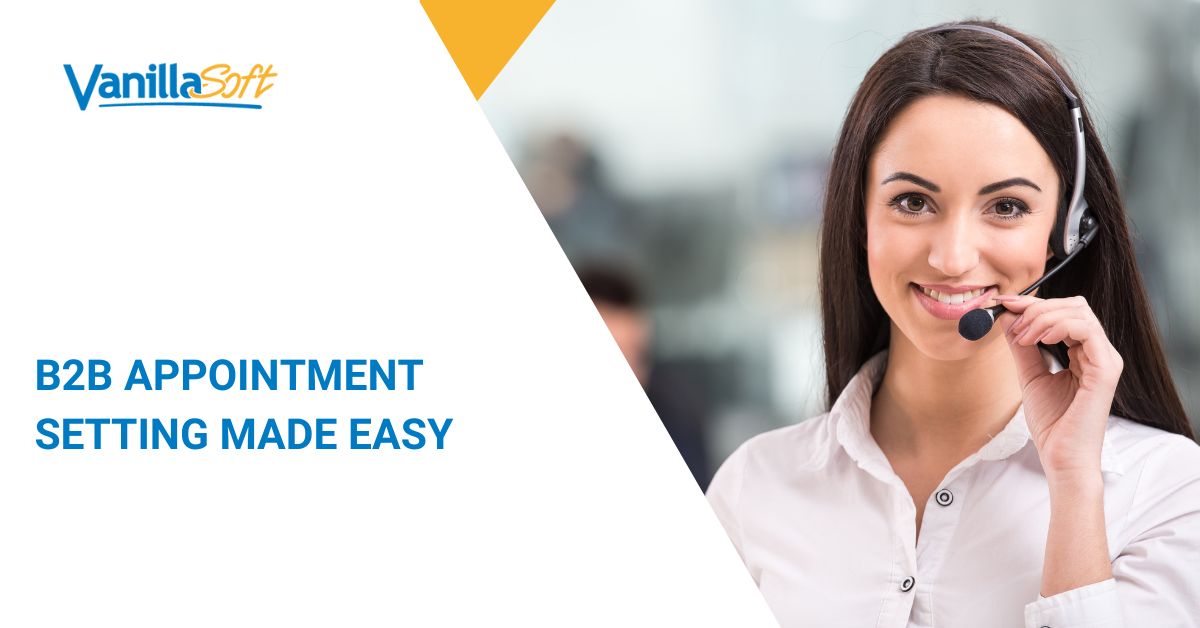 Finding new clients is the lifeblood of your business. However, finding the time to meet with potential leads, qualify them, and set up meetings can be time-consuming and difficult.
Thats' why it's not always the best idea for a rep to handle every part of the sales process on their own, even if they have the capability to do so. Different salespeople specialize in different area, and you should play to their strengths.
That's where appointment setting comes in.
This article is going to teach you how to do B2B appointment setting like a pro.
What is B2B appointment setting?
For those times when closing sales reps need a little help getting their foot in the door, B2B appointment setting is there to save the day.
It takes a special kind of call center agent to break through the noise and get top-tier leads in the door. That's why B2B appointment setting is an art form, requiring skillful cold calling efforts by experts who can make quality introductions for closing sales reps.
With B2B appointment setting, sales reps have more time to focus on those prospects who are truly worth their while – the ones that require a great deal of investment and dedication.
You need B2B appointment setting if…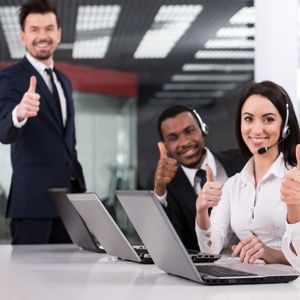 Setting up appointments for business-to-business engagements is a key component to sealing the deal.
Don't wait around – you should launch appointment setting initiatives as soon as your product team has crafted an impressive demo of what they have to offer!
Need more convincing? Here are some telltale signs that it may be time for B2B appointment setting:
You're promoting costly B2B items
When selling expensive or complex services, one can't just base their strategies on a guess. It requires careful mapping of key decision-makers and touchpoints to make sure the pitch is heard. Dedicated follow up with leads ensures none slip through the cracks so both time and effort are saved in with B2B appointment setting efforts.
Your sales cycles are longer than average
Since the B2B environment is so intricate, sales cycles typically take a while. B2B appointment scheduling is useful for businesses because it allows sales development reps to step in with qualified leads at the point in the sales process when they are ready to buy.
Appointment setting experts are well-versed in both inbound and outbound marketing, hence advancing the sales process and providing exceptional openings for closers.
How to achieve B2B appointment setting success
Prepare for the Call
Review the Lead's History – Review the information you have on the lead prior to making the call.  Check to see if anyone has already spoken to them and check the notes from previous calls.  There may be information from those calls to help you know what angle to take in your appointment setting approach.  Most appointment setting software provides sections to capture comments to aid the sales process.  This is especially helpful if the same person isn't the one following up.
Get to Know the Lead – Pull up their LinkedIn profile and get to know them a little better before making the call.  See what their title and responsibilities are at their current company.  Take a look at any groups they may be a part of or links they've shared to have those in your mind as conversational topics so that you do not just focus on what you are selling.  Let them know you're interested in them as a person and not just selling your products or services.
Know Your Sales Pitch – It's important to know what you're going to say before you dial the number.  You don't want to sound like you're reading or stumbling over your words because you will come off as ill prepared.  VanillaSoft's appointment setting software has a logical branch scripting feature that will help your sales reps prepare for their call and manage the conversation so they know exactly what to say and how to overcome objections.
Making the Call
Get in the Right Mindset – Visualize the person standing in front of you as if you are meeting face to face. Body language travels through a phone conversation. Make sure to smile and nod as they're talking. You may not actually be meeting in person, but you can pretend as though you are and that will come across during the conversation.
Be Considerate of the Contact's Time – Before launching into your sales pitch, ask if now is a good time for the person to talk. Being cognizant of the lead's time will show you value the person's time and potential business.
Show Excitement – Be excited about the product or service you're offering. If you're excited then you'll have a better chance of your lead being interested in it too. Just don't overdo it with the excitement and scare them off. Focus on speaking slowly, clearly and concisely.
Listen – This is one of the key elements to a successful sales call. Don't let finishing your script be your main focus. The script is important as a resource guide, but your leads voice is top priority. By listening, you are displaying to them that their words matters to you. Listening allows you to pick up on cues the customer may be sending out or indicating that they need your product or service. Once the cue has been thrown out there, take it and go with it. Don't worry about the rest of your pitch and set up time to further discuss their needs. Make sure to get additional contact information if there are other key stakeholders that should be involved in the next call.
Follow Up
Schedule the Follow Up Call – Send the lead a meeting invite to the follow up call so that they have it on their calendar.  This will help to prevent them from double booking.  Also, if something comes up, they will be reminded to inform you so that they can reschedule.
Send Useful Information – After the call, make sure to send over any additional product information or industry related content that may be relevant to their needs.  It's important to continue developing the relationship.  VanillaSoft's appointment setting software has an email marketing software feature that will allow you to automatically send specific emails to your lead based on the result of your call.  This feature is great during the lead nurturing process.
Send a Confirmation Email – Send a confirmation email the day prior to the call reminding them of the appointment.  Briefly recap what the topic of the appointment.  Make sure to remind them of the previous call's discussion and date.
Get Information on Declined Appointments – It's vital to understand why your lead declines an appointment.  Politely ask what their reasoning is for declining the call.  The feedback they provide may be invaluable to your organization and the sales process.  Knowing why a lead declined, can help you refine your approach, moving forward.
Over to you
When it comes to setting appointments, knowing the right steps can be a game-changer. VanillaSoft has developed an appointment setting software that'll make sure your sales reps stay on course from point A to B.
Step up your lead management process and get a demo today – let's make those leads walk across the finish line together!