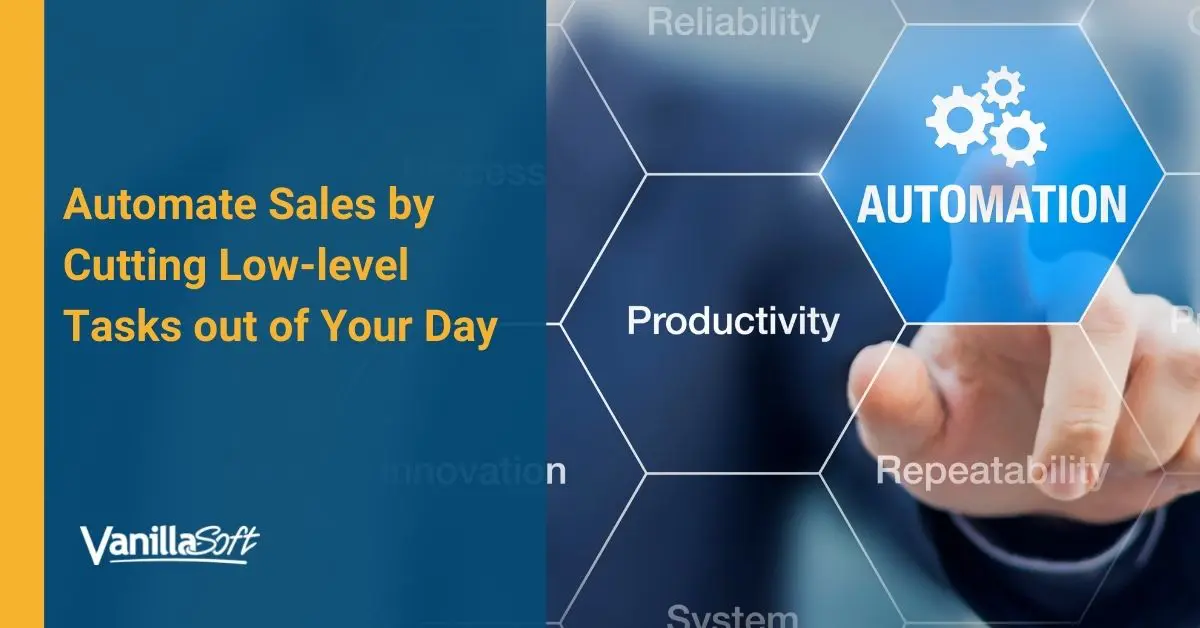 According to The Bridge Groups, sales productivity is the #1 challenge for nearly 65 percent of business-to-business organizations. The one universal truth is that no matter how great your service is, the business needs an efficient sales process. The trick is to find an ideal inside sales software that emphasizes efficiency, usefulness and productivity.
VanillaSoft allows sales teams to increase productivity by managing leads with our profitable queue-based platform, which has completely changed the way the industry functions. Queue-based lead management uses result codes, disposition values and customizable routing logic to propel the process of presenting the next-best lead automatically – no need for hunting and pecking.
Here are the top ways VanillaSoft includes inside sales productivity:
Auto-dialing

VanillaSoft's auto-dialing and voice features provide both volume and quality so you can achieve your sales goals. The benefits of our auto-dialing feature includes both progressive dialing and preview dialing.

Progressive Dialing: This is our most popular type of auto-dialing, and for good reason! As soon as a contact is dispositioned, the next-best record appears on the screen and the number is automatically dialed.
Preview Dialing: You have the ability to review the contact information before beginning the conversation. Simply click on the phone number when you're ready to call – hence its nickname, 'click-to-call.'
Email Templates

Email marketing helps you stay in front of customers, prospects and everyone in between by integrating emails with personalized calls. This makes it easy for you to build effective strategies to educate and build brands to increase contact responses.

Some benefits of this feature include – but aren't limited to – pre-defined attachments, set up auto-response emails for incoming leads or trigger leads, a call history and automated emails based on the result of a call.
Queue-based Lead Routing

Trigger and distribute your leads seamlessly with VanillaSoft's queue-based routing and lead integration tools. You can use a pre-defined routing template or customize your own. Our next-best-call routing allows you and your team to perform at astronomically high productivity levels, which include:

Custom queue-based on qualifiers
Call results
Routing logic
Workflow priorities
And more!
Auto-lead Status Update

This feature allows you to update your lead status based on the result of the call. Once more, you can even escalate the lead to the next available team member. When you have easy pipeline updates and escalation, leads are worked more efficiently leading to greater performance results. Managers also have more accurate reporting, which helps track performance of each campaign and prospect.
Voice Drop

VanillaSoft allows you to leave the perfect message with precise wording in an enthusiastic tone every time. You can customize your pre-recorded message on voicemails and answering machines with one click.

Increase contact and quality of calls; free time to talk products and services; reduces tedious, repetitive tasks for further productivity.
Automated Workflows

Automating your sales workflows and lead management strategy is critical to improving revenue generation. VanillaSoft's revolutionary approach helps assist with the automation of lead flows. Instead of working from a list view that must be manually selected to contact a lead, the default view for a salesperson is based on prioritization and logic defined by management.
Integration with Various Suite Programs

Regardless of what suite programs you use for your campaigns and leads, VanillaSoft is conveniently synced up to access all mainstream programs including, Docusign, Microsoft Office, Adobe and more!
VanillaSoft gives you the tools to create a development process that emphasizes the importance of increased productivity, higher contact rates and sales accountability like no other.