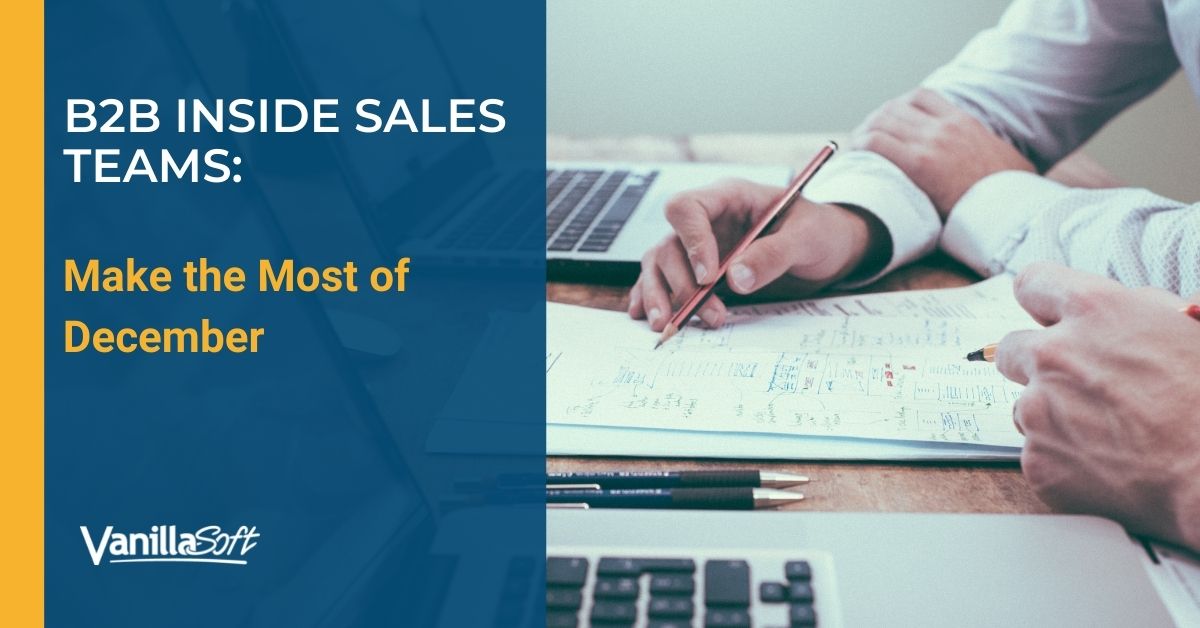 Despite increasing evidence to the contrary, there is a lingering myth in the business-to-business sales community that December is a bad time of year to make sales calls. In fact, there is an ever-growing list of reasons why December can be one of the best months of the whole year for B2B inside sales in particular. Here are several reasons why you should be kicking it up a notch instead of winding down in December.
What is Going on in December for B2B Prospects?

As an inside sales professional, you already know that "now" is always a good time to make a connection with the right prospect. You also know that your prospects are busy professionals with a lot on their plates and can be hard to reach. So what makes December a better rather than worse month to make those critical B2B inside sales calls? It seems almost counter intuitive when you consider all the holiday absences and frivolity that seems to seep into offices around December.
Let's look at what is going on in the typical prospect's work day in December:
Support staff and direct reports are out on vacation (

including gatekeepers

like their executive secretaries and personal assistants).

Cold and flu season has arrived,

downing gatekeepers and competitors alike

.

Office holiday parties are disrupting normal work day routines, which can mean fewer meetings and less "business as usual" activities that keep prospects away from their desks.
As you can see, your prospects may actually be MORE reachable in December through a combination of factors:

Their gatekeepers may be away or distracted.

Disruptions in the typical work routine means prospects may be at their desks more frequently than usual, or at unusual times of day.

It's more likely that decision makers will be answering their phones directly – a rarity that won't happen again for another full year.

Your competition is probably enjoying holiday parties and vacations instead of dialing up prospects.
Starting to see some of the unique advantages December brings for a hungry B2B inside sales professional?
How to Make the Most of B2B Sales Calls in December
Pursuing B2B inside sales during the holidays can be one of the most important strategic moves you make all year long. Done right, you can finish the current year with a bang, set yourself up for a great first quarter in the new year, get the jump on your competitors, and make some sales you might not be able to pull off at any other time.
We've covered the situations that make reaching prospects easier in December. Here are the reasons to take advantage of those scenarios.
Your prospect's annual current year budget dollars may not be fully spent.
In many companies, budgets are made fresh each year, and the year's funds are allocated on a "use it or lose it" basis. If your prospect has some unspent budget dollars lying around and doesn't want to risk New Year's budget cuts by not spending it all, making B2B sales during the holidays could be quite productive indeed!
You may even want to prepare with a list of product offerings in various price ranges and offer special incentives or gifts for purchases at each range to encourage waffling prospects to go ahead and spend that last bit of budget on you.

Make sales calls in Dec. - your prospect's annual current year budget dollars may not be spent
Click To Tweet
Some people are still planning for 2016.
While many B2B sales people assume that prospects' budgets are set up before December, for many companies, December is actually the time to finalize the budget for the new year.
If you have the right product or service and can reach your prospect while he or she is finalizing next year's plan, you have a chance to be included in the next year's budget or even make an early guaranteed sale.

Make sales calls in Dec. - some prospects are still planning for 2016!
Click To Tweet
Your B2B competitors aren't calling.
As we mentioned in the beginning of this post, many professional sales people still believe December is a lousy month to make prospect calls. You may be rethinking that idea now.

If your competition slacks off just as you ramp up your efforts, you stand to bring in some extra bacon at year-end and position yourself on the inside track for the new year as well.

Make sales calls in Dec. - take advantage of the time when competitors may not be calling.
Click To Tweet
Get prospects ready for Q1.
Perhaps your prospects have already spent their current year's allocated funds and are not quite finished with the new year's budget as of yet. But with so many staff members out on vacation or out sick in December, they may be in a "hurry up and wait" mode with many of the tasks on their to-do lists.
For you, the inside sales professional, this translates into your prospect having more free time during the work day than at other times of year. Take advantage of this free time to conduct demos, set up a consultation, and have more conversation about their business needs.

Make sales calls in Dec. - get prospects ready to pull the trigger in January.
Click To Tweet
Use December to pump up your team.
Use December as your sales team's "go month" for closing those last minute deals and warming up available prospects so you can hit the ground running in the new year. It's no time to take it easy. you and your whole team only stand to benefit. With that said, your team is bound to be a little more restless with their minds on holidays and festivities. Try to make things a little more fun with rewards or fun prizes to motivate your staff. How about getting an extra day off if they meet a pre-Christmas quota?
Ultimately, you know your market better than anyone else, but there is a lot to be learned in that final month of December. Studies show taking the time to prospect in December can account for as much as 80 percent of your team's Q4 business. That alone makes those December sales calls worth the extra effort.
Want to make December even more productive? Start a VanillaSoft free trial!