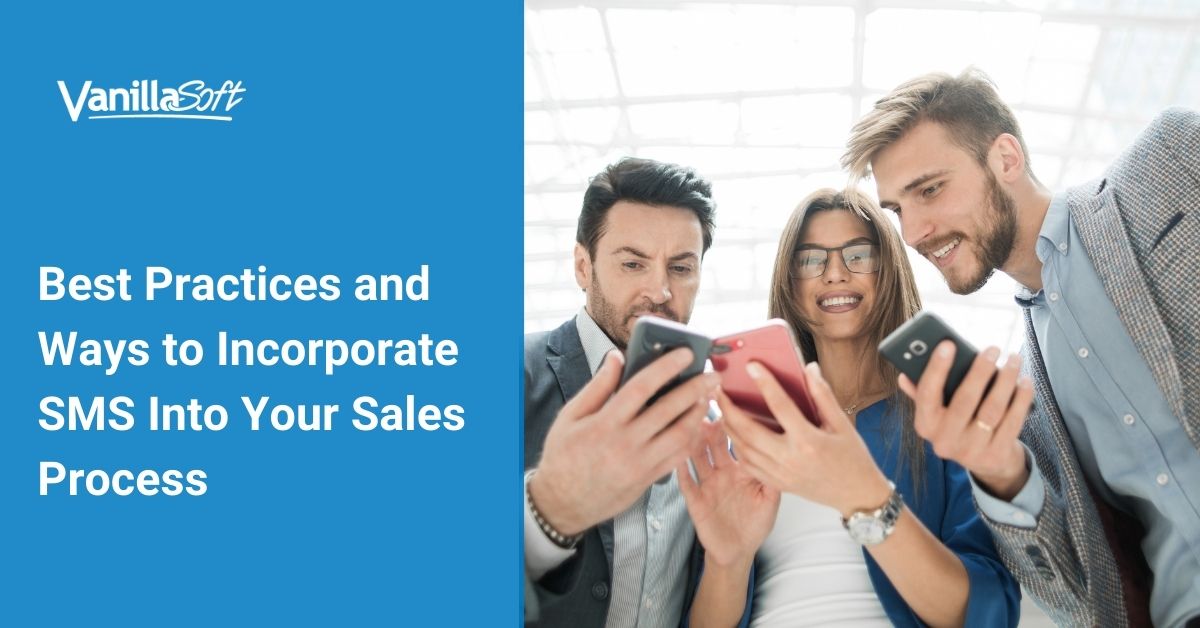 How can you effectively incorporate SMS into your sales process?
The key is to keep it simple and not overdo it.
You can have one-to-one conversations, follow-up after demos, create engagement, incorporate sales cadence touchpoints, and send surveys. And remember to follow best practices to avoid being blacklisted.
There are over 3.6 billion smartphone users worldwide, with that number expected to grow by several hundred million in the next few years.
However, we don't just own a mobile phone; we are attached to it at the hip. A recent research study discovered that 66% of Americans check their phones an average of 160 times per day. Moreover, almost the same number even sleep with their smartphones at night.
Because of mobile phones' potential reach, sales development reps (SDRs) find SMS services are a great way to connect with a target market.
If all this isn't enough to convince you that your SMS sales efforts will be worthwhile, we've laid out the benefits of using this strategy and provided the best practices for incorporating it into your sales process.
8 Best SMS Sales Practices for 2021
Before we start discussing different ways of implementing SMS in your sales process, it's crucial to talk about some of the best practices for 2021.
1. Get consent
Do NOT text people without their permission. Period.
Set up a policy in advance, so salespeople understand the best practices to gain consent from prospects and customers.
When you work with a large-scale audience, consider an opt-in campaign similar to what you would use for email sign-ups. Track how people joined your list and what automated messaging sequence you send to prospects. Reviewing this data will give you an idea of what works in getting people signed up to receive your text messages.
The European GDPR rules make clear consent is a vital component of text messaging. The GDPR has changed how meticulously businesses must approach consent and data privacy.
Additionally, provide an easy way to unsubscribe. You can use phrases like "text STOP to cancel" so that recipients can easily opt-out, and you only market your services and products to those who want more information.
After you've taken these steps to manage and track consent, consider how you can incorporate SMS texting into your sales cadence.
2. Identify the Best Channel
The primary step in using (SMS) text messaging is targeting the right audience.
For instance, if your prospect demographic is more responsive with texting than email or instant messaging, your sales teams should use their preferred communication method, which would be text messaging.
So, if SMS texting isn't their preferred channel, don't use it and find another communication method that fits their preference.
3. Provide Value
SMS marketing comes down to providing value.
If your text messages aren't valuable to your prospects, you risk alienating your contacts.
Consider texts for scenarios such as event or appointment reminders, a sales offer, or a news alert that prompts the recipient to read an important email.
It takes only a few seconds for someone to text "STOP" to prevent you from sending text messages in the future.
Before they do, give them a reason to keep receiving your messages.
4. Use Clear Call to Actions (CTAs)
SMS messages require the same approach you would use on other channels like your website or email newsletter.
If you do not give the prospect a clear directive on what to do next via a clear and precise CTA, you're making it less than likely that the contact will take the steps you would like to see happen next.
You're slowing down the potential for a lead to move closer to a sale.
5. Respond to SMS
Texting is not a broadcast tool; it is a communication tool.
Therefore, if you use texts to connect with your audience, make sure you listen to what they have to say in response. As you know, listening is an excellent skill for salespeople.
When SDRs text prospects, those texts become trackable communications.
As a manager, you can then use this information to guide SDRs on improving their sales efforts based on the success other reps have with texting.
6. Be Respectful of Your Prospect's Time
There is nothing worse than a sales text at 3:00 in the morning. Send texts during typical work hours based on their time zone.
By sending messages during appropriate times for their time zone, you've shown them you respect their time and did your homework.
7. Keep Texts to a Minimum
When something is easy, we want to do it more often.
However, more is not always better. No one wants 30 text messages from an SDR. That is creepy stalker territory.
Coming across as creepy isn't your only consideration.
You need to keep tabs on how many messages you send out. If you're breaking the threshold set by your carrier, you may find yourself blacklisted.
For example, while there is no set standard, here's a breakdown of typical carrier limits.
60 messages per minute from a single originating telephone number
125 messages per 60 minutes from a single originating telephone number
1,000 messages per 24 hours from a single or originating telephone number
Now, keep in mind your carrier's limits may be different, so make sure to check with your carrier before implementing texting into your sales strategy.
And know that the recipients' carrier may have different limits as well. Our advice is to be conservative in your texting, or you may regret it.
8. Watch Traffic Balance
Traffic balance is another area you need to keep an eye on to prevent blacklisting. There needs to be a balance between incoming and outgoing SMS messages to and from a single number.
Let's take a look at an example: If you text someone three times and only receive one response, you are texting at a 3:1 ratio.
Industry guidelines call for a ratio close to 1:1.
If you're sending a high volume of texts without receiving any responses, then you will raise a red flag for carriers.
So, how do you get responses to your texts?
Keep it conversational. Text messages that are engaging and personal will yield better results.
10 Use Cases for Using SMS Text Messaging in Sales
Now that you understand how to prep your SMS sales strategy, here's a roundup of the best tips and use cases you should implement.
1. One-to-One Sales Conversations
Text messaging is a quick way to have personalized communications with prospects. VanillaSoft often works with sales groups who want to engage in meaningful conversations with prospects via consent-based texting.
If you want to cut through the chaos, you need non-traditional sales channels to improve responses and engagement.
Companies can improve their conversion rate by sending appointment reminders, confirmations, renewal alerts, and payment verification through text.
2. Follow Up After a Demo
Many B2B businesses and consumer-facing service providers depend on demos or other types of appointments to convince prospects to work with them.
However, the appointment is only one part of the equation.
SDRs need to follow up after they finish the demo with their prospects. A text message is a non-intrusive way to check in on your contacts.
The key to using text messages in the sales process is timing.
Texting a prospect after speaking with them results in more than twice the average lead conversion rate. The fascinating part of the study is texting before you talk to your leads reduces your conversion rate.
3. Engagement
Domo reported that in 2019, 18,100,00 text messages were sent every minute. If you want to stand out from the crowd, your texts need to be meaningful to your prospects.
Engagement requires you to understand your audience and create content that helps them.
You can use social networks, review sites, and industry forums to gather data to help you understand your audience's needs.
Also, if you have a promising lead that suddenly ghosted you, try re-engaging them with a friendly text.
As we mentioned above, SMS works best on a one-on-one basis — the more personalized the message, the better the engagement.
With that said, make sure that whatever content you send is optimized for mobile viewing.
Nobody wants to receive a text message link to something they can't actually read or easily view on their smartphone.
4. Sales Cadence Touchpoint
In the not-too-distant past, sales professionals primarily followed up with people by phone calls.
While you should still use the phone to follow up with prospects, it's more important than ever to incorporate new channels into your cadence automation.
SMS texts are a popular — sometimes primary — means of communication for younger decision-makers.
If text messages aren't part of your sales cadence, it's time to rethink your different touchpoints.
5. Surveys
We mentioned earlier how engagement requires understanding what your audience wants. The best way to learn about your target market is to ask how you can help them with their biggest challenges.
Send opted-in leads and customers a single-question survey that they can complete with a quick text message.
It is a fast and easy way to gain insights into your prospects' and customers' pain points.
6. Check Availability for a Call or Meeting
Have you talked to a prospect on the phone, and things were looking great, but you just haven't been able to get back in touch to schedule a follow-up meeting?
Before you throw in the towel, try a text message (if the person has given consent to receive texts).
Suppose you've scored a meeting or demo with a lead. Congratulations! Ensure the person isn't a no-show by sending a brief text message to confirm the appointment.
7. Answering a Quick Question
When communicating with prospects, you'll receive questions that you can quickly answer via text message.
If the prospect has left you a voicemail or sent you an email about a question he or she has, try sending a quick answer via text.
On the other hand, If the question requires an in-depth answer, don't send the answer via text.
Instead, send a quick acknowledgment that you received the question, and you'll be following up via email or phone with the details.
8. Initiating Conversations with Existing Customers About New Products or Upgraded Features
Has your company launched a new product or service or added premium features?
These scenarios present perfect opportunities to initiate new sales conversations with existing customers via text.
Just remember: you are only trying to initiate a conversation through SMS. Make your message too wordy, and you may turn off the decision-maker.
9. Prompting Re-Orders, Repeat Purchases, and Renewals
What would a list about business texting use cases be without a mention of reminders to re-order or renew?
Of course, be wise in your usage in this context.
If you sell enterprise software that costs thousands of dollars, a renewal warrants more than a text message.
10. Share Discounts and Promotions
Need to give a lead a little extra encouragement to buy?
Send a text message with a discount code or link to a promotion. This type of text works for new leads as well as repeat customers.
Final Thoughts
If the average American checks their phone 160 times per day, what are the chances that one of your prospects checked their mobile device at least once while you read this article?
If the answer is more than once, you need to know how to use it to improve your sales process.
Learn more about how to use SMS in your sales process with a free, personalized demo today.