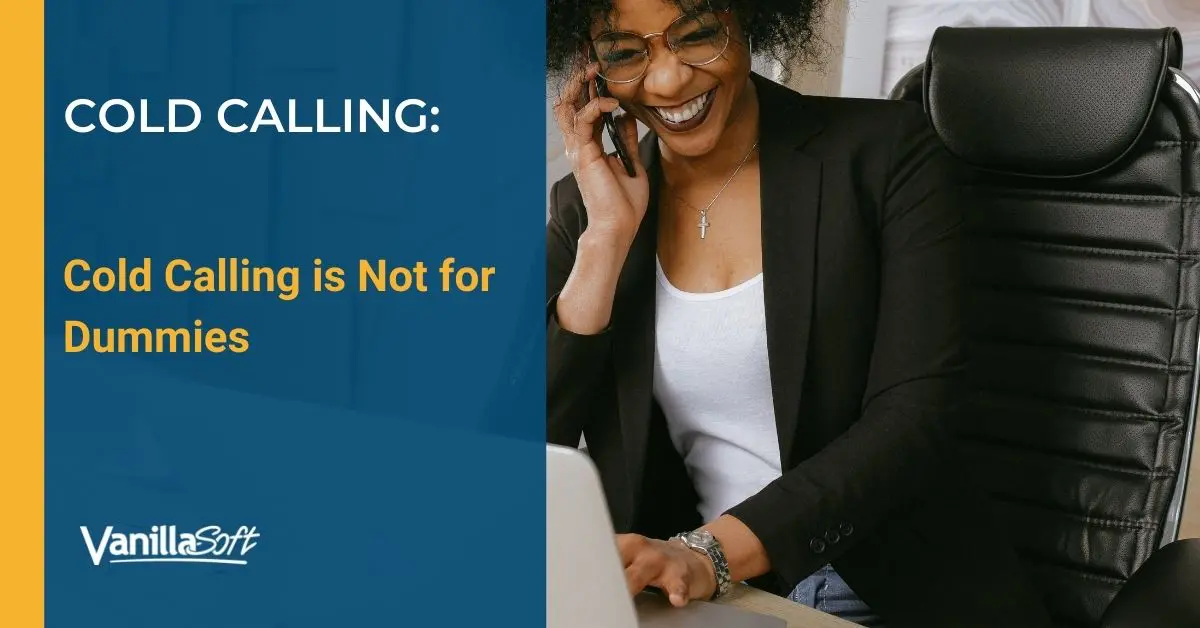 What is cold calling? Cold calling is a common sales tactic where the salesperson contacts a potential customer they don't know to sell them their products or services or schedule an appointment. Whether done over the phone or even in person, cold calling can be an effective way to find prospects.
Cold calling is an effective sales tool with a bad name. Even when poorly executed, cold calling works albeit with some collateral damage. When done properly, cold calling can become the start of a long-term relationship with your leads — many of whom will convert into customers.
The Dumb Way to Make Cold Calls: Stick Your Newbies on the Phone
Peruse through any "help wanted" listing and you'll find numerous entry-level job openings for telemarketers with no experience required. No doubt, you may find decent candidates who'll respond well to your on-the-job training. However, do you really want to entrust a newbie with the important job of establishing and nurturing a long-term relationship?
Unfortunately, many companies fail to approach cold calling in a meaningful way. It's a sheer numbers game with the least experienced team members on the customer-facing team. The norm is to stick the newbie on the phone to make cold calls. The thinking is they can learn but can't really hurt any sales opportunities because the people they are calling are not already engaged. This part of why cold calling has such a bad name.
A team of inexperienced newbies lacking a solid game plan and technology tools could be disastrous. Calls may be made haphazardly; the Do Not Call list might be ignored; promises to follow up may never be fulfilled; and so on. While you may land some sales, a poorly executed telemarketing campaign has the potential to harm your company's reputation.
Moreover, today's cold calling agents have more responsibilities than ever. It's no longer desirable to simply play the numbers game by dialing, reading from a script, and moving on. Those leads are valuable, and they must be followed up on.
Thus, cold callers must also:
Capture email addresses
Record notes about the call into the system
Schedule follow-up calls
Send information via email upon request
Schedule follow-up emails
Review contact notes prior to making follow-up calls
Prioritize calls
Clearly, cold calling is NOT for dummies. Fortunately, there's a smarter way to approach a cold calling campaign.
The Smart Way to Approach Cold Calling: Elevate Cold Calling to the Professional Level
Imagine the difference between having an untested trainee reading off of a script and one of your more experienced sales professionals interacting with your leads. Would the user experience improve? What about conversions? What about the pre- and post-call processes?
Invest in your call center agents — Remember, your cold calls are your first contact with leads. You need call center agents who will make a favorable first impression. Work with human resources to recruit, train, and retain the right people to work on your cold calling team.
Elevating cold calling to a more professional level could also reduce turnover, which enhances the experience level of your team even further as time goes by.
Create a game plan — Are you just playing the numbers game or do you intend to use lead qualifying, email marketing, and a lead management process to guide your prospects through the customer journey? There are a number of effective sales automation tools available, but you need a game plan first. By defining your goals for your cold call campaigns, you can then develop a process and select appropriate tools to help you accomplish them.
Invest in telemarketing tools — Chances are, your call center already has some automation in place such as auto-dialing. Even if you have a small team of sales representatives making calls, dialing by hand is tedious and time consuming.
In addition to investing in an auto-dialing system, you may want to look for a system that offers a voice drop feature. With voice drop, as soon as the call is picked up by voicemail, your system will automatically leave a pre-recorded message. This alone can save your outgoing sales agents a great deal of time every day — time that can be better spent speaking with other leads over the phone.
Adaptive telemarketing scripting tools adapt the sales script based on the lead's responses, allowing your sales agents to quickly move the conversation forward with appropriate and consistent messaging. For example, if the lead raises an objection, the agent can seamlessly respond to it.
Incorporating data collection into your scripts is another option that can enhance your efforts.
Use email marketing automation tools — Whether a lead has requested more information or you intend to nurture the lead further after the initial contact — or both, email plays an increasingly important role in the customer journey.
For example, you may want the agent to send a personal email after the call. To both expedite this process and ensure consistency, branding, and messaging, set up custom email templates that automatically pre-populate the message with the contact's information. Your agents can then pick the appropriate template, fine-tune it if needed, and click the send button.
Other useful email marketing automation tools to take advantage of include triggered emails that take place based on the call's outcome and drip email campaigns. For instance, if the call is picked up by voicemail, a trigger could be set up to send an email message containing your contact information. Likewise, if the call ends with an appointment, the trigger could send the contact directions to your office or an appointment confirmation. Drip email campaigns automatically send a series of email messages over a period of time.
Automate TCPA compliance and ensure data quality — As you know, calling someone on the Do Not Call list is a violation of the Telephone Consumer Protection Act (TCPA), but did you know making robocalls to a cellphone is also prohibited? In addition to subscribing to the National Do Not Call Registry, use real-time tools like Gryphon Networks with VanillaSoft to make sure to block callers from dialing a numbers that would result in a violation and possibly a fine.
In addition to verifying that phone numbers already in your database this system will verify a new number data entered by an agent before the call is made.
Cold calling, when treated professionally and with the right game plan, is very successful. Invest in your people and technologies and make an amazing impression with every point of contact.
If you would like to read more about more ways to improve Cold Calling download:
https://www.vanillasoft.com/resource-center/white-papers-ebooks/5-ways-automate-cold-call-process