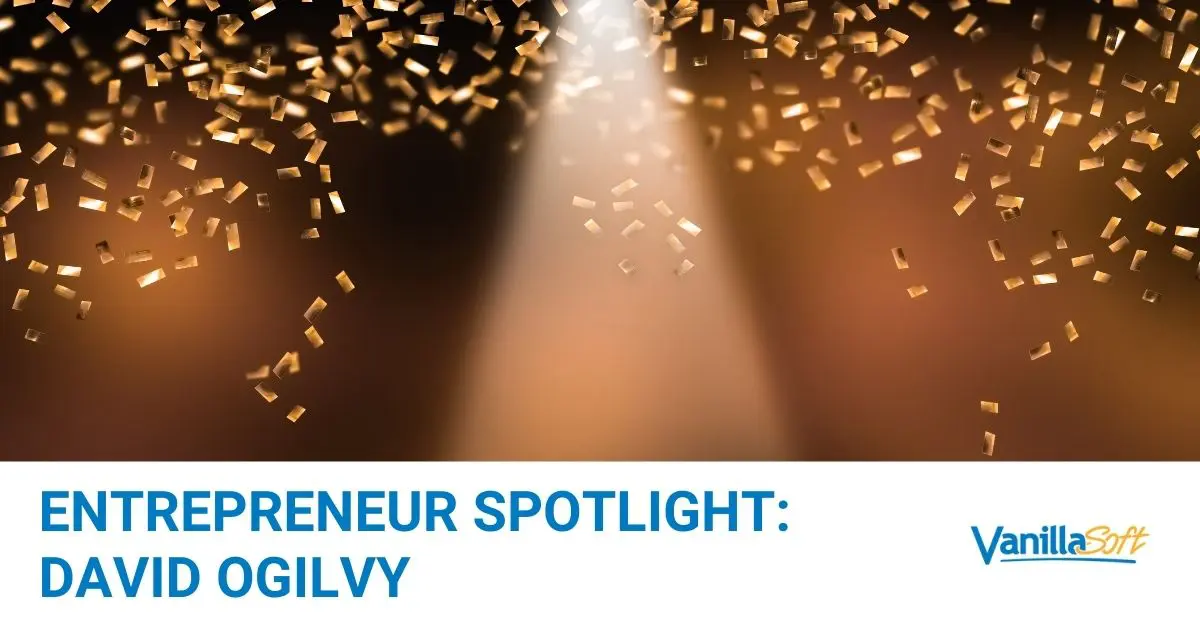 Today's spotlight entrepreneur and sales legend is David Ogilvy. You may recognize him as the ad man behind iconic campaigns for Dove, Schweppes, and Rolls-Royce. However, he started out in door-to-door stove sales for Aga Cookers. He was so good in his role as sales rep that he wrote a guide for Aga salesmen in 1935, which Fortune magazine recognized as one of the best sales manuals ever written. A sample of the guide illustrates Ogilvy's keen insight into the successful sales process: "The more prospects you talk to, the more sales you expose yourself to, the more orders you will get. But never mistake quantity of calls for quality of salesmanship." (source: https://www.ogilvy.com/about/)
Ogilvy emigrated to the United States from England in 1938. He worked for George Gallup's Audience Research Institute followed by a stint in the Intelligence Service at the British Embassy in Washington during World War II. He tried his hand at farming in Pennsylvania after the war, but finally moved to New York in 1948 to found his ad agency Hewitt, Ogilvy, Benson & Mather. In 1965, his agency merged with Mather & Crowther, his London backers. A year later the company became one of the first advertising agencies to go public. Oglivy & Mather became a global presence as a top agency in all regions.
Ogilvy believed in ensuring that advertisements weren't the stars themselves. He said, "Successful advertising sells the product without drawing attention to itself, it rivets the consumer's attention on the product. Make the product the hero of your advertising." Creative awards to agencies, he said, had no correlation to the amount of sales that agency could bring. (source: http://www.infomarketingblog.com/ogilvy-mather-direct-ad-4-how-to-create-advertising-that-sells/)
Obviously, Ogilvy was a successful entrepreneur, a great salesperson, and often seen as one of the fathers of modern advertising. The lessons today's entrepreneurs can take from Ogilvy are:
Don't be clever for the sake of being clever in your product messaging. Ensure your product's positioning and benefits are clear to your prospects in your email marketing, telesales scripts, and other marketing content.
Don't be a bore. Here at the other end of the spectrum from the point above, Ogilvy underscores an important point in advertising and salesmanship. Don't bore your prospect. Be direct, be informative, help them, but don't bore them. Ensure you have a script or email that helps you craft a story that's compelling to your prospect.
Know the product and all the objections backward and forward. A good salesperson, Ogilvy believed, has in-depth product knowledge – or at the very least appears to have more knowledge than he or she actually has. Train yourself and your team on products and potential objections.
VanillaSoft would love to help you facilitate your sales story. Our lead management software can help you ensure your product pitch and information is used consistently by your sales team. Start your free trial today.
"You cannot bore people into buying your product. You can only interest them in buying it." (source: http://www.nytimes.com/1999/07/22/business/david-ogilvy-88-father-of-soft-sell-in-advertising-dies.html?pagewanted=all&src=pm)
Check out David Ogilvy's work on the Ogilvy & Mather Website.