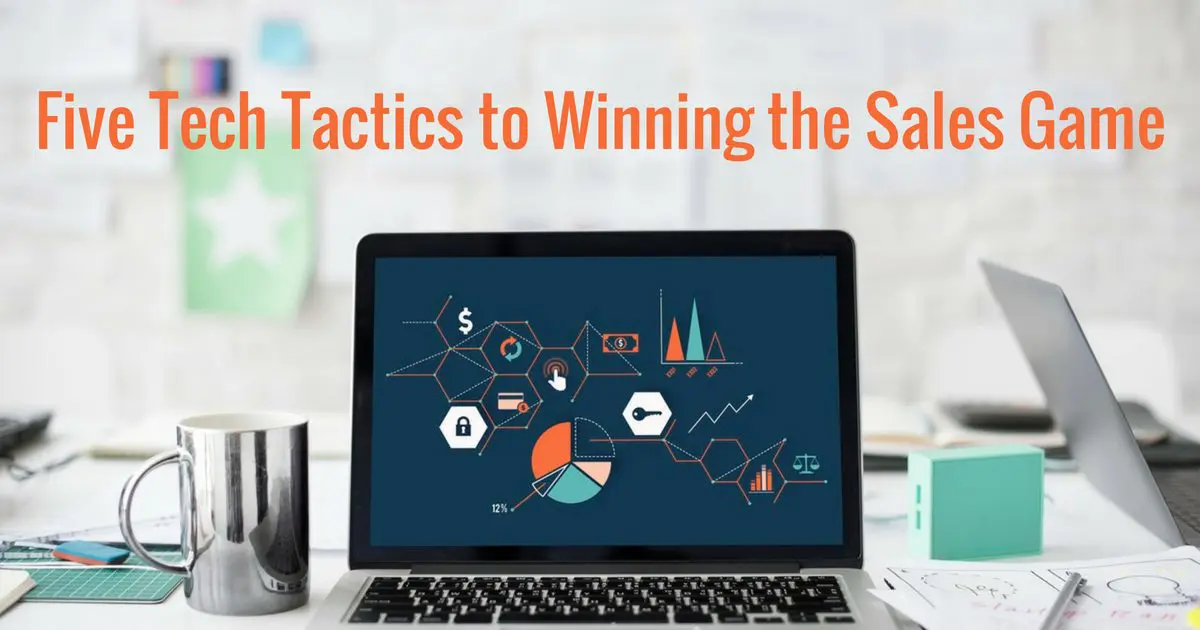 The right tech sales tactics will improve your sales game. Effective sales teams leverage technology to help them find the right people, build their thought leadership and personal brand, automate social listening, share their thoughts on video, and incorporate gamification to create an effective sales strategy.
Unless you've been hiding under a rock, you've probably heard about Google's Duplex AI technology. Is it a human or a robot? It's hard to tell based on the conversations the Google Duplex digital assistant had with real people. OK, it is artificial intelligence, but it does sound very human. How would you feel about having a digital assistant as part of your sales process?
Well, we aren't here to talk about offloading sales calls to AI; calling is still your job, salespeople! However, there are some tech tactics to give you the edge in the sales game.
Use Technology to Find the Right People
Obviously, you have to talk to the right people when making sales calls, but how do you find them? Do you just wait for the marketing team to throw some leads your way? While you should work with marketing on lead generation, you don't always have to wait on them.
Do your #SDRs just wait for the marketing team to throw leads their way? While you should work with marketing on #leadgeneration, you don't always have to wait on them.
Click To Tweet
The internet has presented many opportunities for sales development reps (SDRs) to identify and research prospects. You simply need to use the right tools.
Today, your sales team gets tasked generating more new connections than ever before. Without incorporating the right social selling technology and techniques into your sales process, your sales reps are at a disadvantage. According to LinkedIn, on average, social selling leaders see:
45% more opportunities created
51% more likely to achieve quota
80% more productive
So, what are some tools you can mix into your sales process to help your sales reps locate the right prospects? Here are a couple to check out.
LinkedIn Sales Navigator is a great tool to help you get in front of the right people.

Receive lead and account recommendations based on your target audience
Integrate with your CRM tool to keep track of all the leads and prospects you discover and engage with
Get alerts for relevant job changes, as well as prospect and company news alerts

FindThatLead is another tool you can use to gather leads based on the criteria you enter.

Set up variables for search queries
Get emails for prospects in your search queries
Email validation
Generate emails based on your search queries
These are just some of the tools you can add to your sales stack to arm your SDRs for the task of prospecting.
Build Your Thought Leadership and Personal Brand with Content Curation Tools
Prospects are constantly seeking information that helps them make educated purchasing decisions. They want to connect with thought leaders and people who have established their expertise in a given field or topic. A great way to do that is to find and share the right content on your social media profiles and blog posts, but busy SDRs don't necessarily have time to manually sift through industry news and blogs to find the right information to share.
Thankfully, there are content curation tools to help reps find pertinent articles and build their expertise. Each platform mentioned below offers the ability to discover new, relevant content that salespeople can share with their audiences.
When you encourage your SDRs to curate content with easy-to-use technology like the solutions above, you can get them on the road toward building a strong social selling presence. Encourage them to add their own thoughts when they share an article to make the content more personal and interesting.
92% of B2B buyers are using #socialmedia platforms specifically to engage with thought leaders in their industry. Are you setting yourself apart as a thought leader? 🤔 #ThoughtLeadership #B2BSales Click To Tweet(Bambu)
Today's decision-makers are well-informed with the access they have to information online. So, your sales reps need to find ways to educate and nurture prospects in a non-invasive way. The way to do this is by building relationships with potential prospects and customers online.
31% of B2B professionals said that social selling allowed them to build deeper relationships with their clients. (CSO Insights and Seismic)
Automate Social Listening
Your SDRs need to be aware of what potential leads are doing and saying online. Reps should use tools that notify them about specific happenings online based on specific and related to keywords. Your sales reps need to be aware when someone is looking for a product like yours or when conversations are happening where they can engage with prospects by joining in the discussion.
84% of C-Level executives use social media to make purchasing choices. (Bambu)
Your sales reps should be positioning themselves and your company as experts. They need to be engaging in online conversations and answering questions to assist in the buying journey. There are tools available to help your team be "in the know."
There are tools available that will monitor the web for news and timely content based on specific topics and keywords that you choose. For example, you can get information and updates on people, products, brands, and companies with solutions like Google Alerts and Talkwalker Alerts — two free tools that send you alert notifications.
"I found out that a supermarket wanted to invest $10M in new stores from a Google Alert and used LinkedIn to engage with the CFO." ~ Georgia Rita, SAP
There are also other ways of social listening. Some solutions are specifically for monitoring — such as Mention. You can use social media management tools like Hootsuite or Sprout Social to monitor keywords on your social channels. A stream of conversations happening on your social channels for your keywords will give your sales reps the opportunity to engage in the discussions they identify as potential opportunities.
If your sales reps aren't aware of the conversations happening around them, they're missing out on opportunities to grow your business.
Share Your Thoughts Through Video
I'm sure you've noticed that video has exploded recently. Why is that? I'm glad you asked…it's an excellent way for your prospects and customers to get to know you and your brand in a more personal way. Reps can leverage video to share their thoughts on a topic, do live video from a trade show, share sales tips, and more. The possibilities are practically endless.
51% of marketing professionals worldwide name #video 🎬 as the type of content with the best #ROI. 😲 Have you incorporated it into your #SalesStragegy?
Click To Tweet
Wordstream shared some stats about video marketing (37 Staggering Video Marketing Statistics for 2018) that caught my attention.
Viewers retain 95% of a message when they watch it in a video compared to 10% when reading it in text.
One-third of online activity is spent watching video.
51% of marketing professionals worldwide name video as the type of content with the best ROI.
Social video generates 1200% more shares than text and images combined.
Hello! These statistics alone should get you pumped about incorporating video into your sales process. So, how do you go about doing it? You can shoot a video on your phone or check out some of these tools to help you with your video creations.
Vidyard – Vidyard's online video platform takes you beyond hosting and management, generating better business results through exceptional video experiences, engagement, and insights.
OneMob – OneMob is providing every business worker a platform to tell their story with video. They can use OneMob to send a more personal and engaging video message.
Facebook Live – Live is the best way to interact with viewers in real time. Field their burning questions, hear what's on their mind and check out their Live Reactions to gauge how your broadcast is going.
Want to learn more about how video can impact the sales process? Check out Does Video in Sales Really Impact the Sales Process?
Incorporate Gamification
An unmotivated sales team can lead to a lot of wasted potential and resources, which results in a decrease in revenue. According to alarming Gallup's poll results, around 70% of people label themselves as disengaged or actively disengaged at work. Yikes!
So, how do you get your sales team engaged? An interactive and fun way is to integrate gamification into your sales process. According to Anadea's blog on Medium, gamification can have a significant impact on your sales team.
90% of employees are more productive when they use gamification
Using game-based motivation rises engagement by 48%
72% of people believe that gamification inspires them to work harder
95% of employees enjoy using gamified systems
Get your SDRs in the game. Get them excited about selling and engaging with prospects. There are some great tools available to get your gaming on.
SalesScreen – SalesScreen is a sales performance management tool that helps teams to be more focused, motivated and productive.
Gameffective – Whether we drive a daily dose of coaching, motivation, learning or engagement, we have a real impact on your business.
There are other gamification platforms available. You need to take a look and see which one best fits your needs.
Final Thoughts
While each of these tech tactics may not be as advanced as Google's Duplex, they are powerful tools to help your sales team win the sales game. Take time to learn about new technologies that are ripe for the picking to help improve your sales process and grow your business.