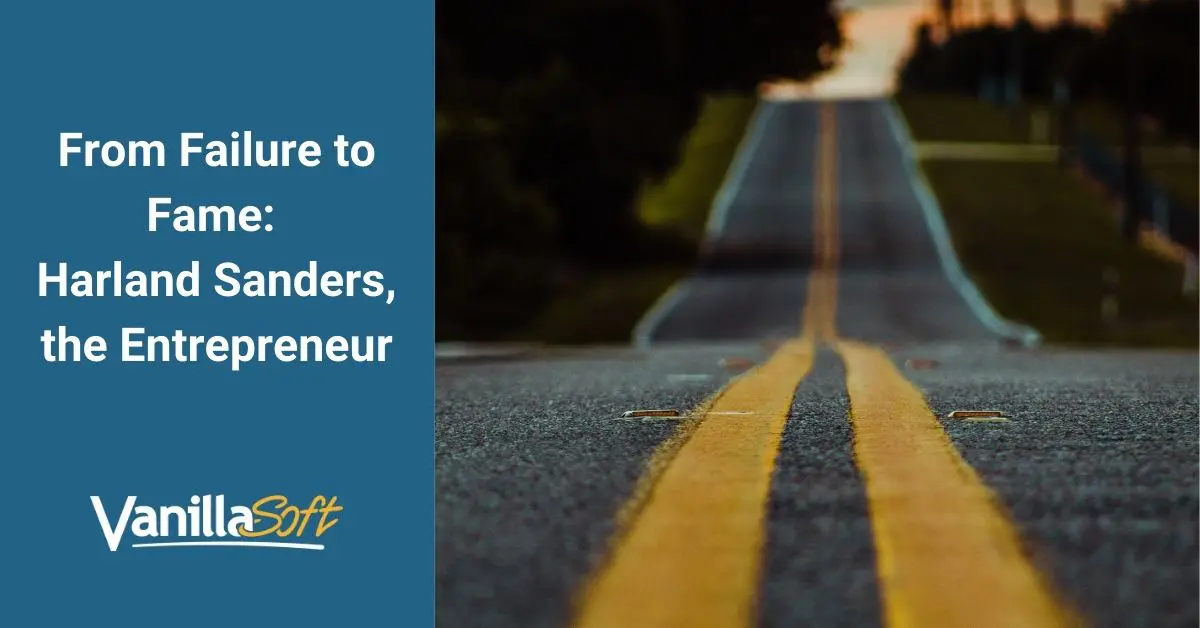 Here's the next in our month-long series on entrepreneurs and sales legends in honor of National Entrepreneurship Month . . . .
If you are of a certain age, you probably recognize Colonel Sanders as the man behind Kentucky Fried Chicken, now known as KFC. If you are a "spring chicken", here's a hint about who Colonel Sanders is – he's that distinguished dude represented in the KFC logo. Regardless of whether or not you know who the man is, you probably don't realize the amazing journey he had on his way to becoming a fast food icon.
Harland Sanders described himself in his 1974 autobiography in these terms, "a sixth-grade dropout, a farmhand, an army mule-tender, a locomotive fireman, a railroad worker, an aspiring lawyer, an insurance salesman, a ferryboat entrepreneur, a tire salesman, an amateur obstetrician, an (unsuccessful) political candidate, a gas station operator, a motel operator and finally, a restaurateur." (http://colonelsanders.com/bio.asp). Sanders faced a string of hardships and failures before he ever achieved any entrepreneurial success at the age of 65! When most of his peers were retired, Harland Sanders was hitting the road in 1955 striking "nickel per chicken sold" deals to develop his chicken restaurant franchise. As his reputation grew, not one but two governors gave him the honorary title of Colonel thanks to his contributions to regional cuisine.
Josh Ozersky wrote this in 2010 for a Time magazine piece: "He was a failure who got fired from a dozen jobs before starting his restaurant, and then failed at that when he went out of business and found himself broke at the age of 65. He drove around in a Cadillac with his face painted on the side before anybody knew who he was, pleading with the owners of run-down diners to use his recipe and give him a nickel commission on each chicken sold. He slept in the back of the car and made handshake deals."
(source) http://content.time.com/time/nation/article/0,8599,2019218,00.html#ixzz2l1qXrNMT
Harland Sanders' Original Recipe is still a fiercely protected company secret and greatest asset for Yum! Brands, the parent company of KFC. The recipe is kept in a vault in the Lexington, KY, headquarters surrounded by surveillance cameras and motion detectors. Only two executives have access at any given time, and the recipe in the vault is recorded on a piece of notebook paper, written in pencil by the Colonel himself. There is no single ingredient supplier – multiple vendors blend portions of the formula to ensure KFC maintains this valuable trade secret.
What can today's entrepreneurs learn from Harland Sanders?
Never give up. Follow your passion through to fruition. That doesn't mean you stay on a losing course: you just redirect your efforts to ensure success. Sanders had a gift and love of cooking. However, he was a failure as a restaurateur. Selling his spice blend and equipment to start a chicken franchise allowed him to follow his passion for food while bypassing restaurant operations.
Protect your product's uniqueness. Colonel Sanders never sold his recipe – he gave franchisees his blended spices. Yum! Brands still protects the recipe under incredible security. Never underestimate your own "original recipe" and its uniqueness. Let's face it – fried chicken isn't unique. However, the original recipe's secret herbs and spices are unique. Even if your offering is something you think others consider a dime a dozen, ensure your customers and prospects understand why your offering is, in fact, a breed apart. Use clear and compelling call scripts and email marketing to ensure consistency of message no matter which sales rep may be delivering the sales pitch.
Persistence is key. Sanders drove around the country seeking diners and restaurants to become part of his franchise. Thankfully, low-cost technology solutions will help keep you from going on a mad-dash, cross-country sales trip in your family car. But, just because technology makes the logistics of selling easier, it doesn't mean that you need to put in less effort than Sanders did when it comes to building your business. Develop your prospect list and keep those calls going. If you execute your sales efforts via phone, use a lead management software with auto dialing software that allows you to make a higher volume of calls more efficiently and productively.
VanillaSoft is here to support you on your entrepreneurial journey. Start your free trial today!