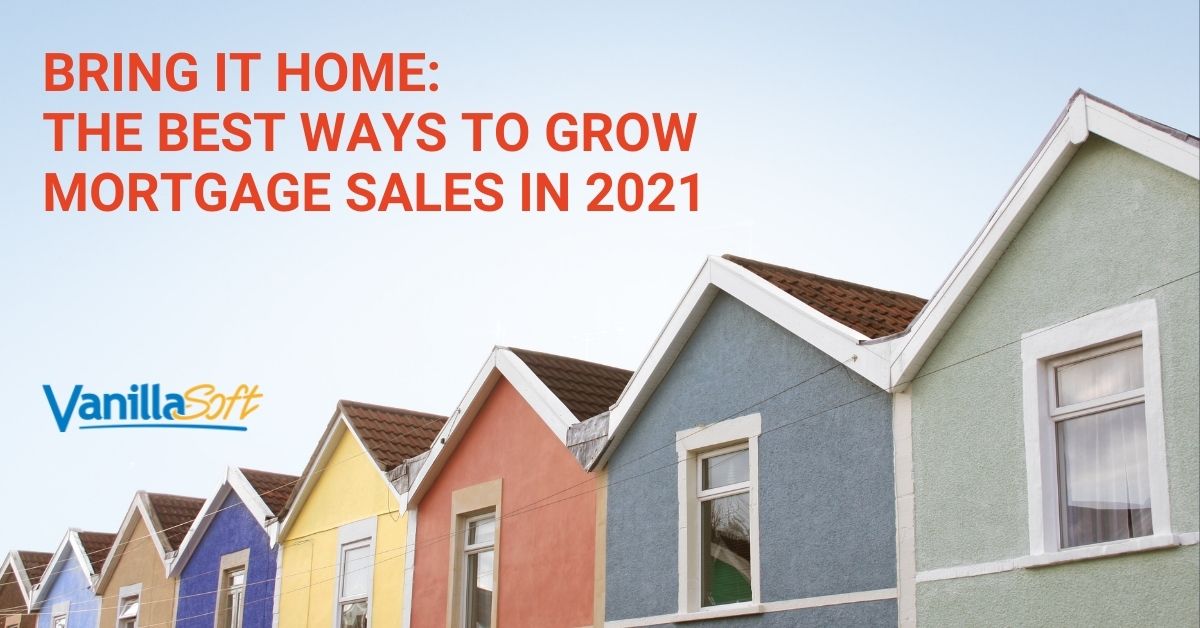 2020 was a hell of a year for everyone, especially homebuyers, owners wanting to sell, real estate agents, and mortgage loan officers.
Now that we're heading into brighter days, it's time to assess what's working and what's not. That means new marketing strategies for mortgage sales (as well as some evergreen tips that bear repeating no matter the circumstances).
First things first: If you're not using a robust sales engagement platform, you're missing out on the opportunity to streamline your workflow and increase productivity at the same time.
👉 Applying and getting approved for a mortgage is a complex process for consumers (and often a major life milestone, too). You can stand out by guiding them through it rather than focusing on selling them the loan.
Here's how.
⇱ Corner the market
The better you understand how your market breaks down, the more effectively you can tailor your mortgage sales approaches and offerings to meet their needs and expectations.
Understand your customers
Before you can market to potential clients, you need to know who they are and what they want.
Demographics: Consider the age, race, ethnicity, gender, income, migration patterns, population growth, and regional preferences of actual or potential buyers, what percentage of buyers are retirees, and what percentage might buy a vacation or second home.
Economic factors: The overall health of the economy (measured by factors like GDP and employment data) and changes in interest rates have a major impact on the real estate market. Interest rates, in particular, can greatly influence your clients' ability to obtain a mortgage, which creates higher demand and higher prices.
Government policies: Tax credits, deductions, and subsidies affect property demand and prices both nationally and regionally.
Niche up
Specializing is always a good idea, and mortgage sales is no exception. If you know the ins and outs of a particular industry or consumer group, your marketing should reflect that expertise. For example, you might build a niche brand around renovation loans, VA loans, or financing for residential construction.
The folks at video messaging service BombBomb put it this way: "While you don't need to limit yourself to one specific niche, it's important to know who you're in the best position to help. So ask yourself, what buyers do I like to work with? And which home buyers do I help most often?
Reviews and referrals
Encourage your customers to follow your social media pages –– and leave reviews there, as well as on sites that list or rank professionals in the field.
And of course, word-of-mouth referrals are as good as it gets. But you have to ask. If you're confident you provided a client with exceptional service, follow up with a request for a testimonial and/or a warm introduction to a prospect in your mutual network.
Build a quality database
Collecting a large database of leads is the foundation for nearly all the loan officer marketing strategies we'll discuss. But be sure to use good data hygiene when adding new names to your lists.
🗡 Sharpen your skills
As a loan officer, you're part educator and part guidance counselor. But at the end of the day, you're a sales professional. Here are some time-honored practices that are essential for anyone who's in the mortgage sales game.
Dust off your elevator pitch
To paraphrase Oprah Winfrey, luck favors the prepared. You never know where you'll meet your next client, so you should be ready to greet them with a short, sweet description of what you do.
American Pacific Mortgage recommends crafting your pitch with a formula:
Problem + Solution + Proof
The problem(s) are the challenge(s) they face
The solution is what you can do to help them
The proof is how they benefit.
Remember: your pitch should be about them, not you.
Tick, tock
In the dynamic world of real estate, every minute counts. Lightning-quick responses and short approval times will delight your clients and build your reputation.
Stick with it
Don't try to rush your prospects. If you attempt to close too soon, you risk "spooking" them. According to the study we did in partnership with the Telfer School of Management from the University of Ottawa, 80% of sales are closed between 5 and 12 contacts, while the average number of touches required for a positive outcome with a lead is 5.7 for B2B companies and 5.9 for B2C companies.
🤝 Relationships matter
Sales is fundamentally a human-centric business. Focus on people, not products, and you'll grow your business with authenticity and integrity.
Take a consultative approach
Buying a home can be a stressful, confusing process for consumers. But if you position yourself as an expert guide instead of a salesperson, you'll close more deals.
Every customer is different and has wants/needs according to their budget, preferences, and lifestyle. If you address those in the process, building trust comes naturally.
Build business partner relationships
One of the best ways to build your business is to partner with real estate agents who specialize in your niche. You might collaborate on content for the web (like blogs or video) or co-host informational webinars for potential clients.
Even better? Provide them with value, like market updates on your city or region. It's news they can use, and they'll remember you when their clients need a lender.
Marketing tools
It's probably safe to say you're already taking a digital approach to marketing. Pandemic closures and stay-at-home orders meant we all found creative ways to connect with customers. In 2020, social media usage skyrocketed by 43%.
But online strategies are here to stay. After all, people in every stage of the buying process use the web for research, recommendations, and applications like online calculators. Make sure you have a presence wherever they go.
Facebook
Empower Funnels suggests that if you want to attract older homeowners looking to refinance their mortgage, Facebook is likely the best platform. But take note: social media marketing on Facebook (or elsewhere) is NOT the same thing as generating leads on Facebook, which they do not recommend.
LinkedIn
This is the best place to connect with real estate agents and other businesses in your community. Certain segments of homebuyers will likely look you up (or might find you) there too. And the most effective way to stand out on LinkedIn is by providing value. That means engaging with others by commenting on others' posts and sharing content that's relevant to your audience.
Instagram (and other social media)
If you are targeting first-time homebuyers, you might want to focus your digital marketing efforts on Instagram. But perhaps your particular niche hangs out elsewhere, like Twitter or even TikTok. Whatever platform you choose, be sure to hit the right tone and maintain a consistent posting schedule that's appropriate for the space you're in.
ActiveRain
ActiveRain is a free platform that combines lead generation and business development. Realtors use it to publish their content and promote their listings, so it's a great place to interact with them. ActiveRain also offers users the ability to answer questions posted by potential borrowers. So share your knowledge: if you can establish a relationship with a consumer early on when they're doing research, you position yourself as a trusted expert.
Personal branded websites and blogs
There are a number of reasons why you need a dedicated website. High Level Thinkers notes that over the course of one's career, "most originators will switch companies multiple times, so if your entire web presence is tied to a bank or national lender, that may not be the best for you in the long term."
They recommend creating a website with your own information as a long-term strategy and to make it the hub of your digital networking activities. Your social media accounts can continuously direct people back to your website, "because your website will do the selling," they add.
"You do the social part, make the connections and make someone want to learn more information. Send them to your website where they will be asked to join your newsletter, to apply for a loan, or to become a referral partner."
Your website can also include a blog –– which is an underused and underrated tool. You can provide content that informs and educates, even if it's not mortgage-related. Whatever is relevant to your personal network can drive traffic to your site, which will include calls to action (like a prompt to sign up for a newsletter) that can fill your funnel.
Whenever you post on your blog, share it on your social media so your network will click back to your site. It's all about establishing yourself as a trusted expert (and reminding them that you're the person to call when they need a home loan).
Email marketing
Email is an essential marketing tool for loan officers because you can segment your mailing lists. You can (and should!) send different messages to different audiences. Prospective borrowers, for example, may benefit from educational content, while current borrowers can receive personalized reminders about upcoming payments or changes to interest rates.
Your content doesn't always have to be mortgage-related. Sending a message on holidays or a client's loan anniversary is a great way to keep you top of mind.
Virtual events
Webinars: You can run the webinar yourself or hire an outside expert in a mortgage-adjacent industry. Topics might include repairing credit to qualify for better rates, guidance for first-time homebuyers, or answers to frequently asked questions from veterans seeking VA loans.
Lunch and learns: A short, sweet, and social virtual (or perhaps IRL!) lunchtime event can be a memorable way to provide value to prospects by educating them on mortgage-related topics.
Open office hours: Consider hosting a weekly or monthly Zoom meeting where anyone can ask questions about the mortgage buying process.
Whatever you choose, be sure to require participants to register with their name and email address (at a minimum) and follow up with them afterward.
YouTube
Approximately 75% of Americans use YouTube –– and that number goes up as users' age decreases. But you're better off playing teacher instead of a loan officer looking for clients. Educational content is an organic way to connect with users than ads. You can make videos specifically for your YouTube channel and/or use it as a "library" of content you create for online events (like webinars).
Google Ads
Generating leads with Google Ads, Google's pay-per-click (PPC) advertising program, is an effective, well-tested method of direct response advertising. You only pay for results instead of paying for ads upfront, so even if you have a small marketing budget, you can drive potential clients to your site (and ultimately into your sales funnel). And you can target your ads to users in a particular area or those who use particular devices or even designated times of day.
Interactive tools
Interactive tools are instant gratification for consumers. Custom calculators on your website can give them real answers to questions based on their own information. The key is to provide the questions, like:
How much will I need to borrow to buy a house in a particular price range?
What would I have to pay monthly with a 20-year fixed mortgage?
How will my monthly payment change if I qualify for a lower interest rate?
🏠 A mortgage is literally a big deal.
Whether your clients are buying their first home, financing a long-awaited renovation, or investing in rental property, they're making a massive decision and placing a remarkable amount of trust in you. That's why your approach to building and marketing your business should be customer-centric.
With a mix of the latest digital strategies and classic relationship-building sales approaches, you'll grow right through any economy and any challenge.
See how VanillaSoft can help you further increase your loan sales with a free, personalized demo today.