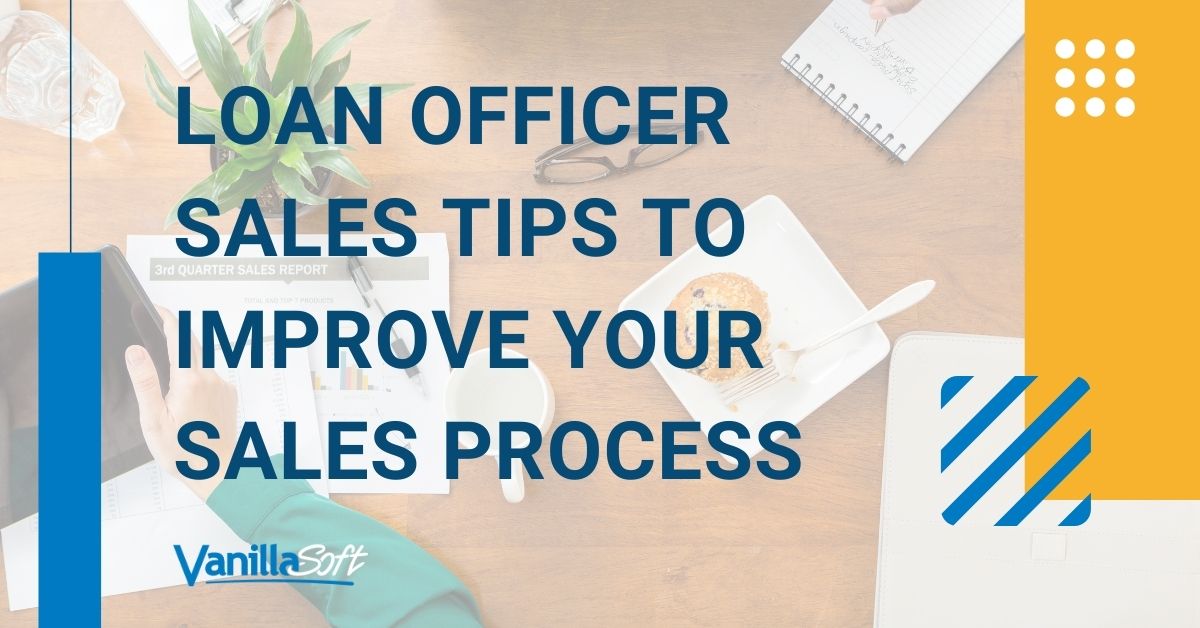 You already know this, but you're in a very competitive business. So, you may want to give these loan officer sales tips a try.
Your customers are taking a huge risk by choosing you out of all lenders to snag the loan that'll help them purchase their (very expensive) house. So you'll want to use every opportunity to create a personalized and valuable sales process that will secure their trust and their business.
Stand apart from the crowd, generate a continuous stream of leads, engage your prospects faster – whatever your next goal might be, here's some advice on how to close more mortgage loans.
Recharge your sales process with loan officer sales tips that rule
Your strategy to close more deals is nothing without these six tips. (Just sayin'.)
1. Don't leave the house without your keys, wallet, and elevator pitch
This article by American Pacific Mortgage (APM) makes a great argument: Your next client can come from anywhere at any time – will you be ready to welcome him with a killer elevator pitch?
/ˈeləˌvādər piCH/: a quick description of an idea, product, or company that explains the concept in a way that any listener can understand in a short time.
According to APM, a strong loan officer elevator pitch follows this formula: problem + solution + proof – what challenge(s) do they face, what you do to help them, and how they benefit.
To strengthen your mortgage sales process, craft your pitch with these elements in mind:
🎯 Be enthusiastic
🎯 Make it about them
🎯 Don't try to close
🎯 Tweak it as you go
🎯 Practice, practice, practice
2. Market + mindset
Mortgages aren't lemonade stands – it's not the kind of product you can sell anywhere, or to anyone, ya know?
You have to understand exactly who your market is to close more loans, which means you also have to get into the customer's mindset.
Before you offer a solution, pay attention to specific details: their behaviors, needs, timelines, concerns, dealbreakers, past experiences with mortgage loans, and more. Use that intel to zero-in on the best options to present.
Customers want to be able to see themselves using your products, right? The better you understand your market segmentation, the more you can tailor your sales activities to each customer's needs and expectations.
3. You don't have all day – or even the next minute, slowpoke
Once buyers lay eyes on their dream , the only thing that keeps them from moving in right this instant is a mortgage loan. Ahem, fine, it's more than that; just go with it.
Every minute counts, so remember: Being a successful mortgage loan officer requires speed: Quick responses and short approval time will win over your customers every single time.
And since we're in the 21st century, there's an even easier way to reach your customers at lightning speed.
With video as a sales automation tool, "you'll be able to pre-record video messages addressing timely FAQs and instructions that are sent automatically to clients throughout the loan process," BombBomb's Lead Writer Aaron Colby stated in an article.
It's called streamlining, people.
4. Reblog, comment, share, connect
Slacking on social media? Big mistake. As overwhelming as it can be, social media is a super-effective way to gain new customers + stand out as a loan officer.
Here are four social media tips for loan officers to build trust, acquire more leads, and drive more engagement.
Be an industry expert: Show off your expertise through videos, blogs, infographics, and more to inform your network across platforms. After all, who wants to enter a major and stressful commitment with someone who doesn't know what they're talking about?
Create a paid social strategy: While organic growth is necessary and helps you understand your customer base, paid social gives you more insights on their needs and interests, plus you'll gain more quality leads. Create paid social campaigns alongside organic ones for more effective results.
Pair up with marketing: A tight sales and marketing team = a more successful brand. As you connect with more customers and grow your audience, collaborate with the marketing team to create sales-based content that's tailored for your following – and because they're experts, they'll know just how to fill up that pipeline.
Don't forget about personal engagement: Develop personal connections as you go to keep your brand active and relevant. Whenever someone comments on or shares your posts, follow up and slide in their DMs. Little touch points add up; before you know it, you've got a new customer.
As any loan officer will tell you: Robust referral networks are essential. Encourage your customers to follow your page or leave a recommendation. One-to-one, word-of-mouth referrals are great. Public endorsements and social engagement is even better.
5. Quitters don't close
Remember the part about this being a major and stressful commitment? That means: adjust your expectations.
The mortgage sales process is a long one, so don't try to rush your prospect and close the deal too early. That's the perfect recipe to spook them and lose their business.
Many loan officers ditch the prospect and give up after two meetings, but BNTouch's Marketing Director Aidan Paringer says it takes an average of five meetings with a business owner or buyer to land the sale.
In the meantime? Get busy making your mortgage sales process more valuable.
6. Get consultative
When you act like your prospect's advocate, their guard goes down, and the trust goes up.
And that's exactly what you get when executing a consultative selling approach. It's a tactic that helps you position yourself as an expert guide instead of a pushy salesperson.
Plus, an article by LenderPage says, "It's also how most top-earners close a significant portion of their mortgage leads." See? I knew you'd be into it.
Between us friends, the traditional mortgage sales process isn't super intuitive. It's more focused on closing the deal by any means rather than taking the time to learn your customer's budget, preferences, lifestyle, and anything else that helps you provide the most value.
What if you go with a less threatening approach? That'll get you a John Hancock where it counts.
Here's the breakdown of the consultative selling approach for loan officers:
Research – You have to understand how they found out about you, not just what mortgage product they want.
Ask – Only ask open-ended questions that lead your prospect to volunteer more information about themselves that describes their needs.
Listen – Actively listen with intent and focus to ensure you understand your prospects correctly.
Teach – Don't just focus on selling the product – look for opportunities to help customers address any challenges in the way of their goals.
Qualify – You don't work with just anyone, right? This is where you assess whether the prospect is your ideal customer.
Seal the deal – Qualified? ✔️ Rapport? ✔️ Presented the best option for their needs? ✔️ Bring it .
Now, I don't have to write a whole new section to tell you to always follow-up, do I?
Pssst… before you go, learn all about how to combine social selling with cold calling to get amazing results in our Ultimate Prospecting Guide! 🚀