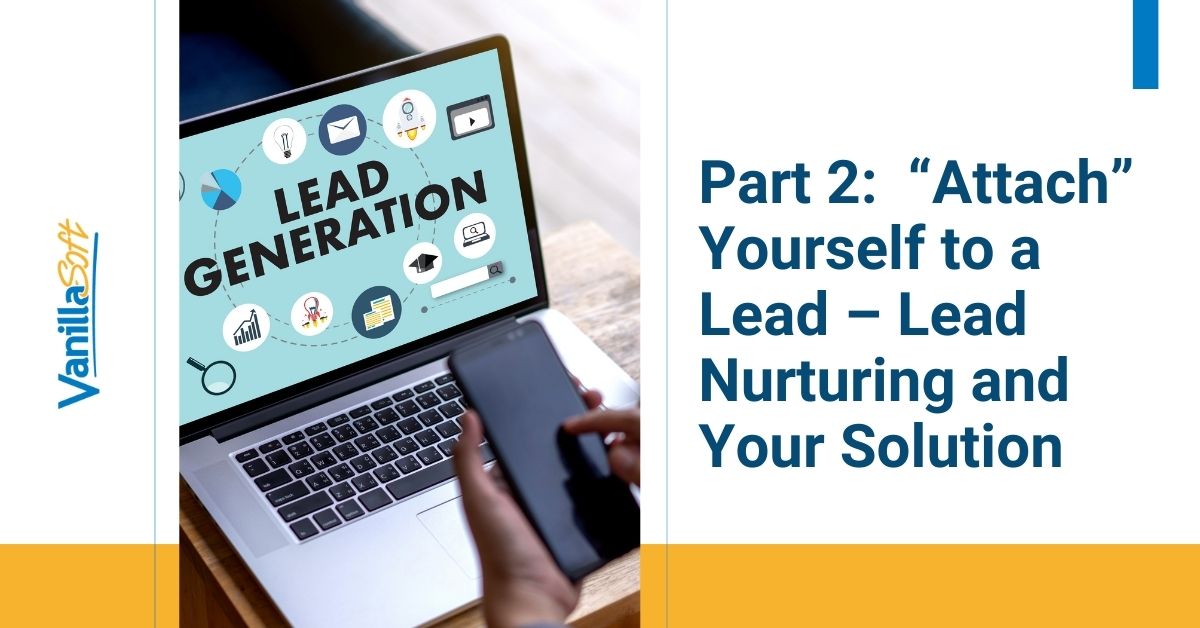 In Part 1 of the "Attach" Yourself to a Lead series, I discussed the Lead Generation, Research/Fact Finding, and Initial Communication steps in the sales pipeline. In Part 2, I will focus on the Lead Nurturing and Your Solution steps involved in the sales pipeline. These are extremely important steps that your sales team needs to know how to execute. Having a good understanding of what's expected from them in these steps in crucial. If they do not know what's expected, then their lack of knowledge could make or break a future sale.
Lead Nurturing – After your initial call with the prospect, you may find that they are not yet ready to buy. If that's the case, then it's particularly important to establish a lead nurturing campaign. Techopedia defines lead nurturing as, "a marketing term for building relationships with potential clients even if they are not currently looking to buy a product or service." This step in the sales pipeline provides an opportunity to build rapport, position you as a trusted advisor, and increase awareness of your company. Email drip campaigns are a good way to kick off the lead nurturing process. Make sure to provide useful information to the prospect during this phase. If you run across an article that's pertinent to the prospect and any pain points they may have mentioned, then take the opportunity to share the article with them. If you express an interest in their success and provide useful information, then they will be more likely to consider your company when they're ready to purchase. Consider these statistics from Hubspot:
"Nurtured leads produce, on average, a 20% increase in sales opportunities versus non-nurtured leads."
"Companies that excel at lead nurturing generate 50% more sales ready leads at 33% lower cost."
As you can see, lead nurturing is an important step in the sales pipeline and it's important that your sales team understands the impact it can make on your bottom line.
Your Solution – When trying to turn a prospect into a client, it's vital that you deliver a solution that will illustrate how your product/service will resolve their pain points. Being able to provide a solution to a client's issues will give you an advantage; however, if your proposal itself isn't up to par, then you may lose out on a sale. Articulate why your solution is ideal and take time to create a tailored proposal that is personal and speaks to the prospect and their business. If your sales team has a good process for developing solution sales proposals for their prospects, that can be the final deciding "yes" factor for the prospect to choose your company. The solution is what you're selling, so make sure your sales team recognizes the importance of presenting your solution – rather than just the features – to the prospect to take them to the next step of negotiating a contract.
Lead nurturing is a great way to build on the relationship with a prospect and to put them into a position where they see you as a trusted advisor. Then, when they're to a point where they're ready to buy, you will have a better chance of turning them into a customer. This will give you a leg up when presenting your solution to them. Keep their confidence by presenting your solution in a way that speaks to them. There's a reason for the sales pipeline and it's vital that your sales team has an intimate understanding of the key stages and what's involved during each phase.