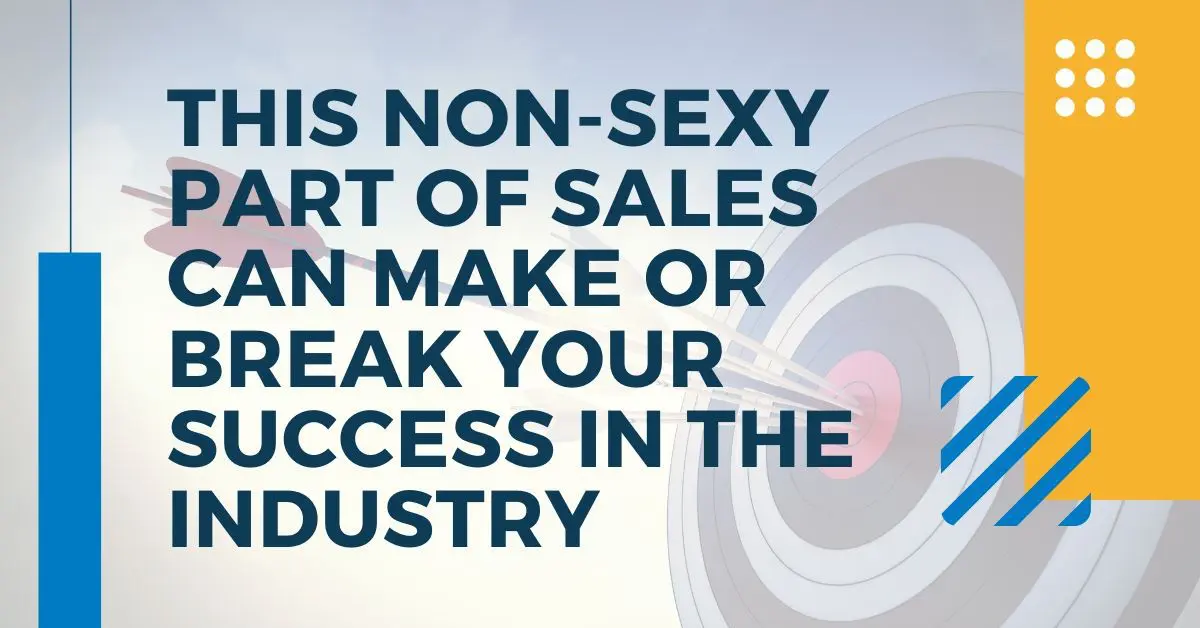 You need a prospecting strategy to maximize your results.
Prospecting begins with a clear vision: not of the kind of business you want to target or even the location of your 'perfect' customer. Start with your desired outcome.
It's crucial to tailor your outreach to individual prospects based on their roles: your messages to CEOs, marketing execs, and sales operatives should all be different. But, says veteran sales consultant Mark Hunter, the frequency of those messages (and the ways you deliver them) should be different, too.
Mark says a good prospector can be measured with a simple question: How much do they talk, and how much does their prospect talk?
It's not the most glamorous part of the job. It might be the most difficult. But prospecting is as fundamental to sales as skating is to hockey.
And with the NHL, erm, on ice indefinitely due to COVID (Mother Nature's penalty box?), let's stick to sales, shall we?
On an episode of INSIDE Inside Sales, author, speaker and consultant Mark Hunter, a.k.a. The Sales Hunter, breaks down his philosophies on prospecting.
Over the course of more than 20 years in the game, Mark has held multiple leadership roles with three Fortune 500 companies, written three books, and co-founded the OutBound conference (which, naturally, is the hottest ticket of 2021).
The buck "drops" here.
What comes in doesn't always work out
We'd love it if our products sold themselves. But they don't unless you've just invented a zero-calorie pizza or a foolproof hangover cure.
That's why sales reps can't rely on their colleagues in the marketing department for leads.
Inbound leads are great, especially if you hate cold calling. (If you do, we humbly suggest you read some of our whitepapers).
But inbound leads depreciate in value.
It's great that marketers can generate leads. But who closes the deal? Sales reps. And sales teams are the ones that best understand what the right leads are.
Mark admits it might be a bit painful to hear, but "just because it's an inbound lead doesn't mean it's worth anything," he says. "An inbound lead just means it's somebody with a heartbeat. My dog has a heartbeat, but my dog isn't buying anything from me."
That's true –– and we have it on good authority that Mark's dog is a very good boy! Yes, he is!
Mark looks at inbound leads as nothing more than MQLs (marketing qualified leads). But they're not SQLs (sales qualified leads). There's a big difference.
Start at the finish line
That difference lies in the work of prospecting, which begins with identifying your ideal customer, persona, avatar –– whatever you want to call it. Basically, who the hell is it you're targeting?
Mark likes to use avatars, even though it might conjure up visions of blue-skinned extraterrestrials.
He suggests describing a visual picture of your perfect customer. "If I were to describe my perfect marketing person, it would be Darryl with the loud jacket, the hair standing up," he says.
But the process of defining your ideal customer shouldn't start with the business or type of company they're in, or where they live.
"Define them by the outcome," Mark says.
By that, he means: Identify the result you can help them achieve, and build the profile from there. That's because customers tend not to buy your product or service for 100% of its features. Most of your clients likely buy it for just one or two.

Don't approach sales from an everything-but-the-kitchen-sink perspective, Mark adds. If you try to sell every single feature, you'll probably confuse your potential buyer.
Instead, focus on the individual features and benefits of what you sell. That's the best way to narrow down your list of prospects.
Auto-attune your approach
Mark stresses the importance of targeting those prospects in ways that are appropriate to their roles. As an example, VanillaSoft targets four main personas: sales executives, marketing executives, and 'practitioners' –– sales operations and marketing operations professionals.
The denizens of the C-suite own their companies' budgets. They're tasked with overarching vision, ROI, and "big, hairy, audacious goals. But the ops people are in the mucky, messy soup of actually using tools, making sure they're employed, and fixing them –– or calling tech support. The execs aren't.
All of these prospects have different needs, wants, and desires, he adds.
Our solution at VanillaSoft can help with all four of those, but what I say to a marketer is very different from what I say to a salesperson, and what I say to an executive is different from what I say to an ops person. If you know your ideal profile, you can figure out their pains and start building your list.
Follow the 75% rule
Once you've built your ideal profile, complete with their pain points, you can start building your list of prospects.
Nobody's perfect. But your avatar, Mark emphasizes, really should be close to ideal.
He advises against pursuing anyone who doesn't line up with at least 75% of the traits you've identified as perfect.
He has a great analogy: "I can't take a Walmart shopper and make them a Nordstrom customer."
As Mark explains it, 'Walmart' shoppers might respond to your efforts, and they might like what you have to offer. But they don't have the funds. That's why your research should consider the prospect's budget.
Run in circles
Mark recommends building your list of prospects in concentric circles. Once you identify your ideal customer, he says, draw larger and larger circles around them, reaching out to related businesses, markets, or people in similar roles. That's how you can fill your funnel in an organic way.
Even if you begin with just 10 or 12 prospects, you can still prevail, he says: "It doesn't take as many as you think."
But that advice comes with a caveat: "Don't start what you can't finish."
If your pipeline is too stuffed, your sales reps might give up after three or four calls. That might not be enough. And even if you deliver six, eight, ten messages to somebody and you haven't heard a response, you're still creating awareness.
"It will breakthrough, but you have to be patient," Mark adds.
(Cold) call and response
Time for some tough love: If no one is responding to what you're saying, there's a good chance they don't find what you're saying interesting.
"Nobody woke up this morning and said, "Man, I hope Darryl Praill reaches out and calls me today. That doesn't happen," Mark says. "Doesn't even happen with Mark Hunter."
Sure, Mark refers to himself in the third person, but we won't hold it against him, because he's pretty humble:
"Everyone has issues. I've got prospecting calls I'll be making this afternoon… they're not going to be: Hey, I'm Mark Hunter. No. They will be about their challenges.
He talks about a recent conversation with a VP of sales for a company he's targeting.
"It wasn't about me talking about how great we are," he says. "I was talking to her about the challenges her company faces."
If you have software attuned to the cadence that's appropriate to every client, and the best ways and times to approach them, you can deliver a value proposition tailored to each.
That means you can present a statement or a value-added question that's pertinent to them –– especially if you can link to something timely to their industry.
What's Your Prospecting Strategy?
A good prospector can be assessed with a simple metric:
How much of the time are they talking on a phone call, versus how much of the time is the prospect talking?
Spoiler alert: listen more, talk less, and let your new client take the lead.