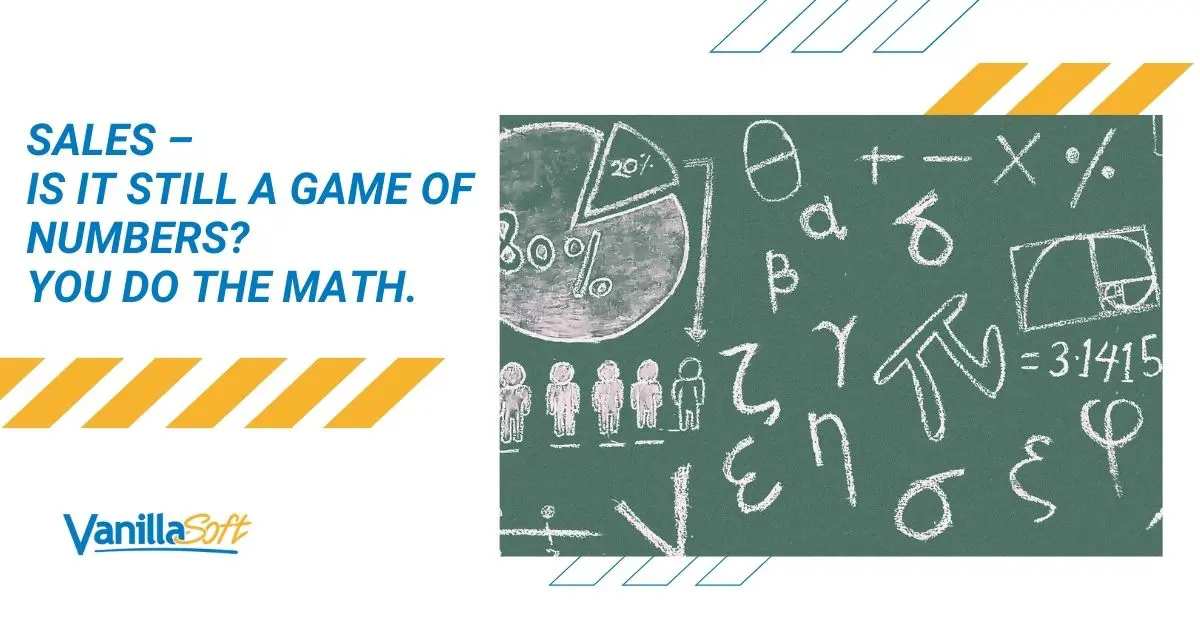 Several years back I wrote a paper entitled, "Want to make more sales? Make more sales calls." The paper touted the old teaching that sales is a game of numbers, and doing more will get you more. The paper did well and has been downloaded thousands of time. Why? Probably in part because the message and call to action are clear and something that all sales managers understand and embrace: talk to more people, sell more stuff.
Today, I have people reaching out to me and asking if it is still true. Is sales still a game of numbers or has there been a shift? Has the world moved to something new, something better? You do the math. In my world more is still better than, well, not more. Sure, there are many new tools that make us more informed, give us better data, and connect us socially in a more compelling way. That is without question. But, more is still better. If a salesperson takes their best prospects and applies their best selling strategies that effort is going to yield" X." If the same salesperson can increase their contact rate by 20%, regardless of the technique, it will yield more opportunities and more sales will be made. One can't argue with the math.
Embrace the new tools that are available. Test and learn what social media and social calling can mean to your business. Research prospects prior to the call. Explore Sales2.0 and social selling and determine the combination of activities that work best for your sales efforts. Once you know the answer, do more of it.
Regardless of your selling strategy there are tools that will allow you to increase the frequency of what works. If you are doing old fashioned cold calling without any prospect research, making the most calls possible in a specified time period still leads to the best results. Naturally, this assumes quality leads, quality people and quality conversations when contact is made. At the end of the day, the more you increase the number of quality contacts per hour the better the performance.
Does this hold true for social calling where each prospect is researched and deemed "best opportunity?" Of course it does. Due to the nature of social calling or social prospecting, a sales person may make far fewer dials and contacts, but this should lead to a more meaningful exchange and hopefully a much more targeted prospect. Where a cold caller may dial 20 or 30 times in the course of an hour, a social caller may make 4 strategic strikes. Both sales people can benefit by surrounding themselves with tools that manage their leads, time and organizational approach. For the social caller he or she only needs to work in one additional call for a 20% lift in productivity. If you have your best approach married to your best people, more will always trump less. Yes – sales remains a game of numbers.
Good Selling,
Ken