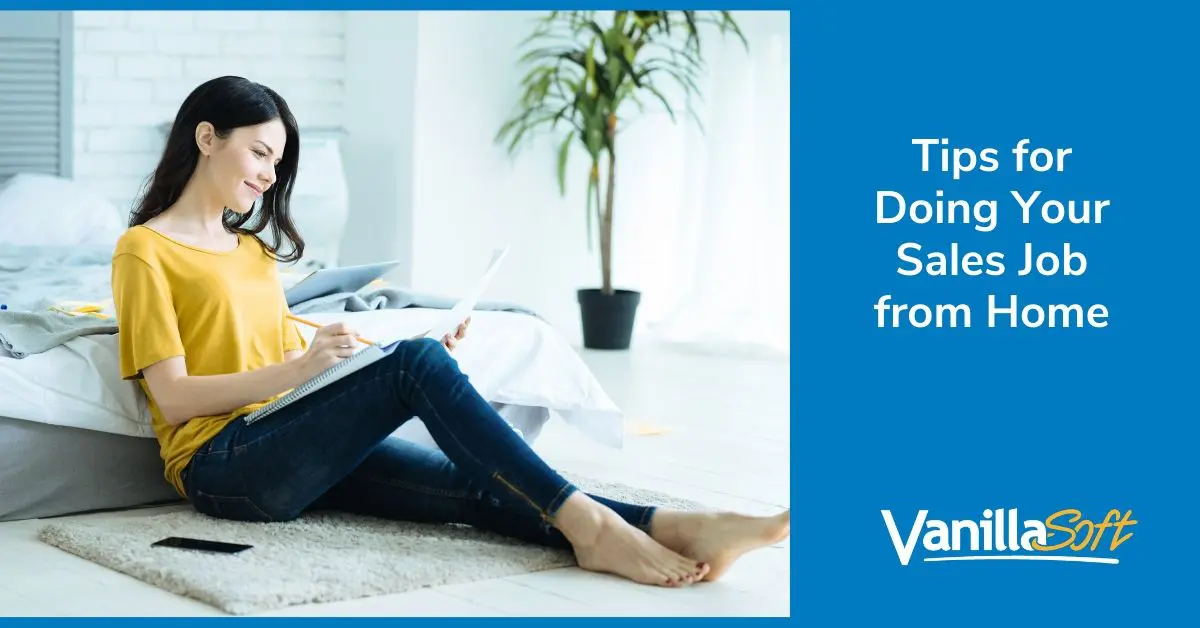 Working from home (WFH) can be a blessing and a curse. Who doesn't love the idea of rolling out of bed, strolling downstairs in your PJs, and brewing a fresh cup of coffee before settling in at the kitchen counter to get to work? Doing your sales job from home sounds idyllic!
The reality, however, is very different – especially if you're in a sales role. Being removed from the normal hustle and bustle of the office and the support of your team can cause steep drops in productivity and efficiency. Routines you have well established at your desk don't work as well when you're alone in your living room.
Whether this is your first foray into working from home, you're moving to a new position that is remote, or just exploring your options, we've got you covered. Here are some harsh truths, tips, and ways to save not only your quota but your sanity when you're doing remote sales!
Set up your "office"
While not everyone has a formal "office" available at home, you can create one fairly easily anywhere. All an office is when you break it down is a space that allows you to do focused work on your computer. So that means you need:
Space where you can isolate from non-working people in the household. When you're surrounded by all the things you love, it can make selling from home a distraction. Don't tempt fate by throwing people who aren't familiar with your work into the mix.
A table or desk for your computer. If at all possible, set up a true "desk" on a table or wherever. Avoid working from your lap in comfy places because not only is this poor ergonomics, but a desk-type space will allow you to layout all your tools and notes, so they're easily accessible.
A work-appropriate background for video conferencing. As we'll discuss later, video is a key tool to maintain your connection with the team while remote. You need to be ready to do video anytime the boss calls. So turn on that webcam and make sure there's nothing illicit, overly dirty or obscene in the background!
A silent environment for your calls. If you can't completely isolate yourself from noises, you can use many different tools to remove all background noises.
A phone, headset, and computer. Bonus points if you have a monitor, keyboard, and mouse. You need these because…they're how you do your job. 'Nuff said
Don't fall victim to the temptation to throw on Netflix, talk radio, or YouTube. If you need noise, there are playlists for productivity all over the place (like this one on Spotify) you can play softly in the background while you're making calls.
Pay attention to your body position as well. If you feel your neck, back, or arms tensing up, try to change up your workspace to align your body better. At least at home, there's no one to make fun of you for adopting an unconventional position, adding pillows or stretching awkwardly!
Over-communicate
Most managers are familiar with the phrase, "Trust, but verify." When you're a sales representative working remotely, it's essential to build and maintain trust with your coworkers and supervisors. Make sure to get clear expectations; down to activity levels and reporting structures. If you're not sure – ask!
Specifically, when you're working from home, make sure to understand (or if you're a manager communicate to your team):
Activity expectations: Are they the same as if you're "in office"? Higher? Lower? How will they be tracked?
Output: Quotas don't change because you're remote. Stay on top of your attainment and on pace with goals. Make sure your boss sees you doing this as well
CRM tracking: "If it isn't in the CRM, it didn't happen" is even more true when your supervisor can't see you working. Put a little more attention into your note-taking and be aggressive with your updates.
Take advantage of messaging platforms like Slack or Microsoft Teams. When you're out of sight, you have to work to stay top of mind! Even if they're little updates, the more you communicate, the better.
Stay sane
The ability to stay sane is the part of working remotely that most salespeople underestimate. It's far too easy to not only get lazy but crazy as well. When you're used to being surrounded by people all day, the rhythms of commuting, and collaborating with other teams, the quiet of home can be deafening.
A couple of things that have helped others are:
Get out of the house EVERY. DAY. – Whether it's walking the dog, running to the store quickly, or the school drop-off or pick-up, you need to remind yourself life is still happening.
Dress for success. PJs may be comfy, but you're sending a signal to your body that it's okay to relax. We don't want that. Get up, shower, do your hair, makeup, shave, and wear work clothes.
Seek out company – but not while you're working. If you live with roommates, significant others or family make sure to take breaks as you would in the office and go say hello to them quickly. Just make sure to go back into your "office" and avoid contact when you're trying to focus. When in doubt a sticky note on a door saying "#ALWAYSBECLOSING" tends to keep nosy roommates away.
Get your sweat on. Jumping Jacks, push-ups, free weights, stair climbing, anything to get your blood pumping and firing up different parts of your brain.
Turn on your webcam for meetings. Not only will this encourage accountability and professionalism, but it also keeps you connected to your team. Those human connections established visually as well as aurally resonate more with your emotions and your psyche and will help you feel less isolated and alone.
Watch what you eat. Do you remember the Freshman 15? There's a WFH 15 too! Track calories however you can and don't underestimate the power of home cooking!
Hopefully, this list gave you some ideas for setting up your home office for success. Remember, there are millions of jobs that can't be done remotely, hence this is a privilege. Treat it as such by knowing (and hitting) your metrics, over-communicating, and taking care of yourself.
What are your #WFH hacks? How do you stay focused? What lessons did you learn the hard way? Do you prefer #remotelife or are you #teamoffice?