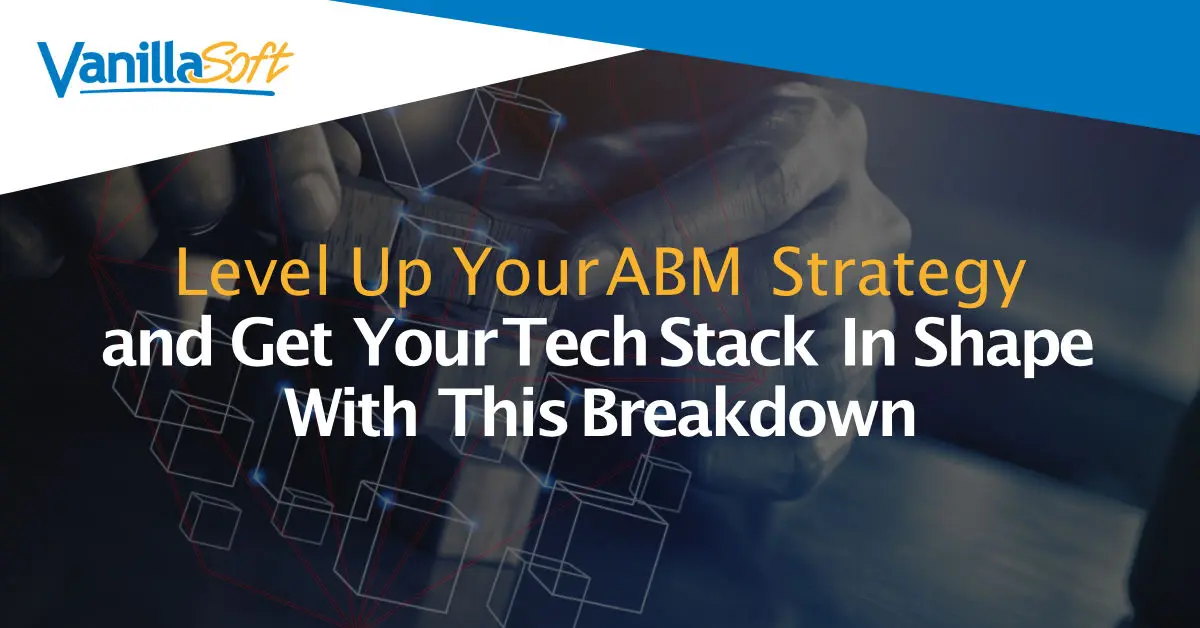 The promise of account-based marketing (ABM) is this: a more focused and efficient approach to B2B marketing and sales. We're talking streamlined campaigns and automated processes – every B2B marketer's dream! So, what's your tech stack for account-based selling look like?
When it comes to this rising phenomenon of marketing technology (Martech, if you're cool), there are a lot of new, sparkly tools you might be tempted by.
But to be efficient and satisfy the objectives of your ABM strategy, you don't need every one of those shiny tools in your ABM tech stack. You just need the right ones — AKA the tools and techniques that actually drive your strategy's success.
Before we dive in, tuck this preliminary info somewhere you won't lose it: Without basic customer relationship management (CRM) and marketing automation platforms, your ABM hopes and dreams will fizzle out pretty quickly.
Is your company ready for an ABM tech stack? (Be honest!)
I hate to break it to you, but you aren't the only one who wants the best and brightest tools to take their sales numbers to the next level.
But, the truth? There is no super-tool that will fix a broken sales process. Because sales don't solely rely on your tech stack, right? Nope. Sales rely on the process established by your sales development reps and marketers.
"A good sales process is predictable and repeatable — a great sales process is scalable. However, the entire sales process is fraught with challenges that, if mishandled, can undermine not just the productivity of a sales rep, but an entire organization," says Brandon Redlinger, Demandbase's Director of Demand Generation.
In other words, before you and your sales and marketing teams build out the best tech stack for account-based selling, take a step back. Don't invest in any technologies or platforms without first analyzing what's working and not working in your sales process.
To create a well-oiled process, you need to think about your sales funnel and your buyer's journey. Then, you'll want to identify the most important stages of that journey.
For each stage, see what's needed to move buy-ready prospects through to the next stage effectively.
Your ABM tech stack for account-based selling success
Sure, you can accomplish a highly targeted ABM sales strategy without a robust Martech stack. But here's the catch: You'll majorly limit the number of companies you can engage with and the channels you can reach them. (AKA the opposite of your ABM goals.)
As you build out your stack, remember there's no one-size-fits-all formula that'll send your sales numbers through the roof overnight — but you've gotta consider a few things to meet the goals specific to your business.
Ready to fuel your ABM strategy? Here are the tools (and stages!) the ABM Leadership Alliance says to look into for your tech stack.
The tech stack framework
These core technologies execute programs across your funnel, making them the foundational elements of your ABM strategy:
Customer relationship management (CRM): Your CRM helps you store and manage your target account data. Plus, you'll get a better picture of the opportunity and pipeline activities from your target accounts.
Sales engagement: Your reps need to focus on starting more conversations to close more sales, right? Find a sales engagement platform that will optimize your workflows with auto-dialing, automated sales cadences, lead routing, and more. (Ahem, this is what we do best!)
Marketing automation: Originally built to support lead-centric demand generation, marketing automation is key to your ABM tech stack. This triple threat automates, segments, and scales communications with your target accounts. Basically, it will up your chances of scoring highly engaged buyers from your target accounts.
Data management platform (DMP): Want to connect data across solutions from advertising to content management systems (CMS) and marketing automation? Well, DMPs let you leverage data across the marketing and sales funnel.
CMS: Content management systems allow you to create and edit your website content to fit your target accounts' needs and engage them with relevant experiences.
ID target accounts
If you don't know who you're going after, you're dead in the water — it's as simple as that.
With an ABM strategy, you need to focus on the people and companies with the most potential for your business. Use tools that give you access to the data and insights to only target accounts that are vital to your bottom line:
Data: Data automation is essential for the build-out (and cleansing) of your target list, but it also helps you reach the right accounts and make smart decisions about account-based investments.
Predictive analytics: Predictive analytics use internal and external data to define target accounts and prioritize money-making activities. You can identify the attributes shared by your high-value customers, build a list of target accounts based on scoring attributes, and measure the success and impact of your ABM programs.
Engagement – connect with targeted prospects
Your sales teams need to be armed with tools that make their outreach methods disruptive, engaging, and productive for the lead on the other end of the line (text, email, DM…). Think serving ads to targeted accounts, email templates with messaging, or an offer designed to make initial connections.
With these Martech engagement technologies in your tech stack, you'll be better prepared to run a variety of targeted marketing programs to engage the right companies:
Advertising: How else are reps supposed to reach decision-makers at target accounts, generate demand, and drive traffic?
Content: Use your website to create deeper engagement across target accounts and move them through every phase of their journey. And with the right content, you can educate and convert key stakeholders. Win!
Website personalization: Website personalization is about tailoring content to specific accounts and individuals as they visit your blog, product pages, landing pages, etc. You can create customized web content to increase website engagement from your target accounts, scale personalization to all site visitors, and facilitate personal connections with your audience.
Email: Customized email templates can engage and convert your target accounts, and nurture your prospects with timely, relevant conversations.
Measurement and tracking
Here's the final step to implementing a tech stack for your ABM strategy: Analyze your results and optimize your programs. But that's a no-brainer.
To measure your results at every step of the funnel using metrics that focus on accounts and revenue, you'll need tools that provide these functions:
Testing and optimization measurement: Test website elements such as page layouts, calls-to-action, and messaging to identify what your target accounts respond to.
Business intelligence: Use data to analyze the performance of your business, identify new areas for growth, and inform strategies.
Attribution and reporting: Align your sales and marketing teams around a set of key metrics, and even prove marketing return on investment.
Remember: Your tech stack comes down to what you need, how you plan to use it, and the goals you've identified for your business.
Did you know 44% of organizations are seeing significant drops in responsiveness on LinkedIn? That's where Personal ABM comes in. To win key accounts using a personalized account-based approach on LinkedIn, check out our webinar.