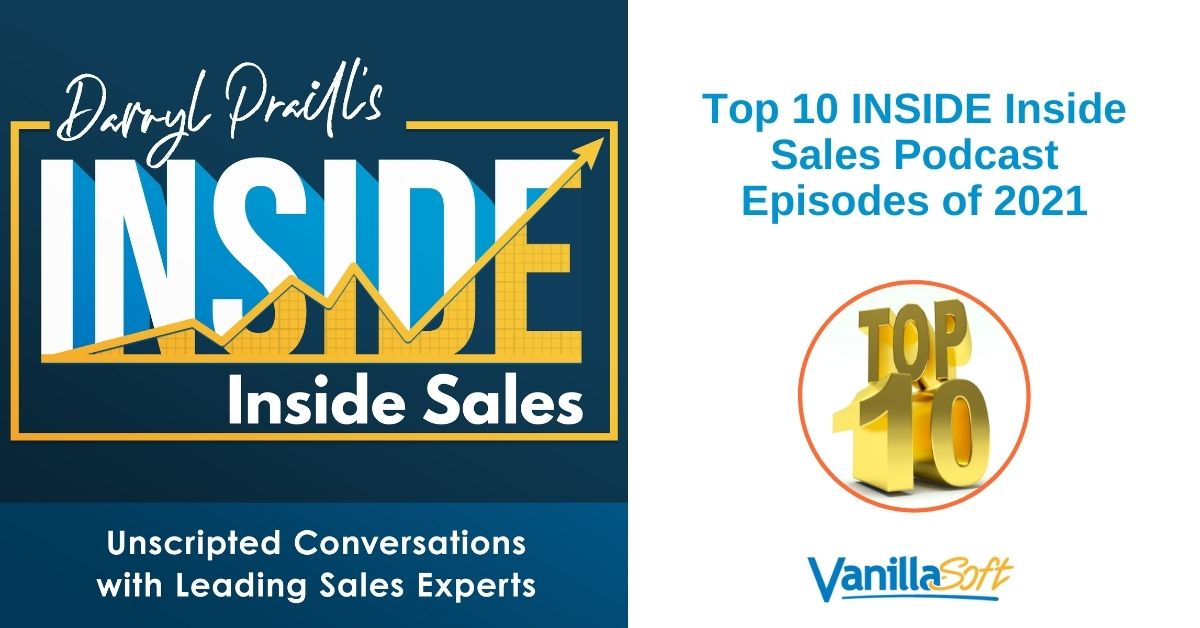 Now that 2021 is finally behind us, some would say "good riddance," but I must admit that we had some great moments and awesome wins the previous 12 months. We managed to scoop a couple of important awards, sponsor the OutBound Conference and the B2B Marketing Expo 2021 in London, and close some big deals.
Last but not least, we continued to provide value to our audience through INSIDE Inside Sales, a sales podcast in which I talk to top sales experts, leaders, entrepreneurs, and all those who have something meaningful to say.
So far, we've had 167 episodes, and since it's the beginning of a new year, here's our round-up of the top 10 most popular INSIDE Inside Sales episodes of 2021.
For many sales reps, the follow-up is still a pretty challenging part of the sales process, although it offers them a unique opportunity to connect with their prospects and win them over. That's why I invited an authority on the follow-up and a best-selling author – Jeff Shore. We talk about how following up works and why it's a game-changing strategy that can help you close more deals. Jeff debunks some myths, explains how to leverage the optimal multi-channel strategy, and discusses why finding common ground with your prospects is the way to go. Listen and find out how to overcome the mental hangups behind the persistent follow-up.
Ever wondered how to make your email recipients think to themselves, "Finally, an email I want to read," when they receive your message? You're not the only one, and that's why I invited our own Ollie Whitfield, Growth Manager at VanillaSoft and Autoklose, to share his findings from his comprehensive email marketing study. Ollie sent out 680,000 emails, and based on that experiment, he concluded how important the subject line, timing, and the tone you use are for the success of your campaigns. Listen to his tips and learn how to boost your open rates, warm up your cold outreach, and nail your email marketing efforts.
Diagnosing and understanding your prospects' pain points should be your No. 1 priority because that's what will help you build a long-term relationship with them and eventually make a sale. And nobody knows how to do that better than Adam Springer, Head of Startup Sales and B2B sales rockstar. Adam presents his 6-Step Call Structure that will allow you to unearth the hidden issues your prospect is struggling with and transform your small talk into a proper demo. In addition to that, you'll learn how to qualify and disqualify your prospects, identify other potential clients with similar needs, and reach the right decision-makers.
Discovery is a crucial part of the sales process, and you can't get it right unless you ask your prospects the right questions. Scott Kaplan, rockstar Sales Coach at Quick Hit Sales Tips, teaches you how to craft the questions that will help you dig deeper and get valuable information from your prospects. He also talks about his unique "F-A-C-T" discovery process that will help you get to know your prospects better and understand their needs. Focus and get ready to take some notes because you can learn a lot on how to close more deals.
One of the surefire ways to lose your prospects is by talking their ears off. Yes, it's your job to educate them, but if you swamp them with an avalanche of information, they will stop listening and returning your calls. So, it's essential to know when to zip your lip. Ed Porter, Head of Blue Chip CRO, knows how to prevent word vomiting and engage your prospects in a non-pushy way. He talks about improving your self-awareness, scripting your pitch, and leveraging conversational analytics. Listen (and that's the key word here) and learn how golden silence can help you sell more.
Every sales rep should have a mentor to help them navigate their career. But, is it easy to find such guidance and where to look? According to Galem Girmay, brilliant Co-Founder of RevGenius and Revenue Enablement Manager at EMEA, you should turn to your network for support. She offers practical tips on how to land a mentor, such as ensuring your relationship isn't transactional, ignoring naysayers, and avoiding misinformation. Galem will point you in the right direction and give you advice on how to unleash your sales superpowers.
We've already discussed the importance of asking the right questions, but this episode zeroes in on asking uncomfortable questions – and being prepared to get tough answers. My guest in this episode is Larry Long Jr., CEO (Chief Energy Officer) at LLJR and a sales process expert. He will explain why having happy ears is a big no-no in sales while accepting bad news early on in the negotiation can save you from wasting a lot of valuable time. You'll also hear some excellent advice on how to read the room and decipher what really matters to your prospects.
Whether you're in favor of using email or the phone to reach out to your prospects, having a sales cadence is everything. Jeb Blount, one of the founders of the OutBound conference, makes a strong case for using all the channels available to you and setting up an effective sales cadence, as that can skyrocket your success rate. Some of the tips he shares include personalizing emails, creating a list of dream accounts you want to pursue, and using the phone effectively. Don's miss this episode if you want to optimize your cadences.
Building trust with your prospects heavily impacts the outcome of your sales efforts. That's why I thought all of us could learn some valuable tips and tricks from Michael Reddington, a former professional interrogator and trained forensic interviewer. Michael knows a thing or two about how to present yourself in the best possible light, build rapport and trust before even speaking with your prospects, and get them to say yes, although they were initially reluctant to commit.
Many people, including sales reps, aren't exactly big fans of cold calling. And yet, this tactic is still considered one of the most powerful outreach tools. Michael Pedone, SalesBuzz.com CEO and sales training expert, is big on cold calling. The topic turned out to be so popular that we decided to have two separate episodes. We talked about the challenges of this approach, overcoming the fear of rejection, and piquing your prospects' interest.
Those were the top INSIDE Inside Show episodes in 2021. Don't forget to subscribe if you already haven't because there are some pretty amazing people on my wish list for the upcoming months.