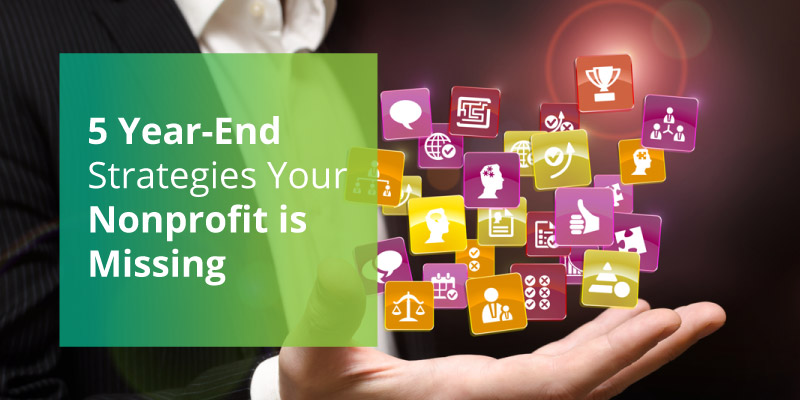 The nonprofit industry knows just how important the month of December really is. It brings around holiday cheer, but more importantly, it encourages both major gifts and annual gifts from your loyal supporters.
Did you know that 30% of all donations are given within the last few months of the year? That's why it's incredibly important to capitalize on the season of giving. These months are your perfect opportunity to try out new and innovative fundraising strategies that might be missing from your usual fundraising efforts.
---
Prefer to listen to this post?
---
To help you maximize the potential December and year-end fundraising has for your organization, we've created 5 strategies:

1. Plan out your year-end campaign.
Your year-end campaign is incredibly important and during a crucial time, as we've already discussed, so in order to be prepared, you'll need to plan!
This step should start almost 6 months in advance. In other words, July and August are prime planning times.
You'll want to determine a clear and direct timeline. Get a calendar and mark it with dates you want to:
Send out emails.
Mail letters.
Post on social media.
Sometimes it's easiest to work backward! You'll need to grasp just how long each task will take to organize and pick start dates. We suggest keeping your calendar handy at all times to make sure you're always on schedule.
The bottom line: There are so many ways to boost your year-end fundraising, but it starts with organization! Don't forget to plan out your campaign.

2. Share your story for your year-end fundraising.
Next up is to make your story compelling, which should also be started in July or August because perfect storytelling takes time! You just determined when you'll tell your story, so now it's time to ask yourself, "How will I tell it?"
We suggest interesting copy and impactful visuals! You'll want to empower your donors. Your story should portray your mission and the changes you plan to make, as well as how your supporters can help with all this!
Be sure to place emphasis on just how important your constituents' support really is and how much change it can help your organization to create.
Use positive stories from your volunteers, members, donors, event attendees, and most importantly, from the individuals your organization has helped!
When your donors see your organization's story (and how much helpful change you've created!), they're sure to donate to your cause.
The bottom line: Your storytelling can and should take on dozens of forms. Whether it's on Facebook, through email, or in direct mail, you'll need to make sure to format your story for all your different platforms.

3. Push social media and other communication channels.
To reach all of your supporters, and even individuals who aren't supporters yet, you'll want your year-end fundraising to take on multiple communication methods.
This way, your older donors, or those who prefer direct mail over social media, won't miss the content you're tweeting because you'll also be mailing them letters with a similar story! Make sense?
A multi-channeled marketing approach can help you reach as many people as efficiently as possible.
Think about the following popular communication channels to consider:
Email
Phone
Direct mail
Social media
Your website
Tools like social media give you the opportunity to make a fundraising appeal directly to your donors' cell phones.
You can even use the live video features on social media platforms to display the work your organization is doing right now! Letting your donors have a sneak peek of where their money goes is the perfect way to encourage even more donations.
Your emails should include attention-grabbing subject lines. Remember to make your introduction personal and because no one likes beating around the bush, make your donation ask within the first two paragraphs! You should also provide your constituents with different ways to give to your organization and thank them in advance.
The bottom line: A multi-channel marketing approach is the perfect and only all-inclusive way to promote your year-end fundraising campaign. Don't forget to incorporate these outreach methods into your editorial calendar from step 1!
4. Freshen up your website for your year-end fundraising.
Take a look at your website. Does it come across as professional and intuitive? Is it easy to find your donation page? Does it feature powerful images?
Your nonprofit's website should appropriately portray your mission. You should include a button or a tab in your navigation that directs visitors to your donation page. Your nonprofit's donation page should always be easily accessible no matter where your supporters are on your website.
Make your donation instructions easy to follow. You don't want donors abandoning their donations due to a complicated donation process.
Your donation page itself should be branded with your logo and color scheme, just like your website is. You'll want a trustworthy and unified look. Your supporters might be uneasy inputting their personal and payment information into a donation page that doesn't look like it belongs to your nonprofit.
Create donation forms and give your donors preset donation amounts to speed up the process. If average donations range from $25 to $150, provide options like $25, $50, $100, and $150, so each of your supporters can find a comfortable donation amount for them. You can always allow custom amounts, too, in case your constituents don't find the amount they're looking for.
To make your form even more trustworthy to your donors, you can prominently feature your PCI compliance. For those who don't know, the Payment Card Industry has a plethora of regulations that protect both the vendor and the customer from fraud in any online transaction!
Check out Double the Donation's Top Nonprofit Websites for inspiration for your online presence.
The bottom line: Cleaning up your website is key for encouraging online donations and online fundraising for your year-end campaign.

5. Try a mobile fundraising campaign.
A text giving campaign will be a popular method for contributions seeing as your donors most likely own smartphones if they have cell phones!
Text-to-give providers usually have a few steps for donors to familiarize themselves with in order to contribute via text. Donors will simply need the following information:
Shortcode. Your donors will text a shortcode specific to your organization's dictated text-to-give phone number with the amount they wants to give.
Link. Your provider will then send your donors a link to a modified donation page so they can complete the donation.
Information. Your donors will then be able to input their payment information and confirm their gift.
After she confirms her contribution, the donation is complete! The modified donation page supporters put their personal information into should stick to just two fields: one for contact information and the other for payment information.
Make sure this mobile donation page is secure and of course, offers different and varying preset contribution amounts so donors can find a value that's most comfortable for them. You'll never want your supporters to feel like they can't afford to contribute or aren't allowed to contribute as much as they'd like.
Don't forget to market your mobile fundraising campaign while you advertise your year-end fundraising. You can share videos of donors donating via text on Instagram and post instructions on how to use text giving on Facebook!
Don't forget to promote your mobile fundraiser in emails. You can even put a QR code on your direct mail that redirects donors to helpful instructions on text-to-give!
Check out BidPal's Text to Give Guide for everything you need to know about hosting a text giving campaign.
The bottom line: Text giving works so easily and efficiently that it's perfect for events as well as general campaigns! Your donors will love the convenience of donating through their favorite mobile devices.
---
Now that you have our top 5 strategies for year-end fundraising, there's nothing stopping you from capitalizing on the giving season and acquiring even more donations than last year. A growing organization is growing change, so get to fundraising!
About the Author
Joshua Meyer brings over 14 years of fundraising, volunteer management, and marketing experience to his current role as the Director of Marketing for BidPal. Currently, as a member of the BidPal sales and marketing team, Josh manages all of the firm's marketing efforts. He has a passion for helping to create positive change and loves that his current role allows him to help nonprofits engage new donors and achieve their fundraising goals.