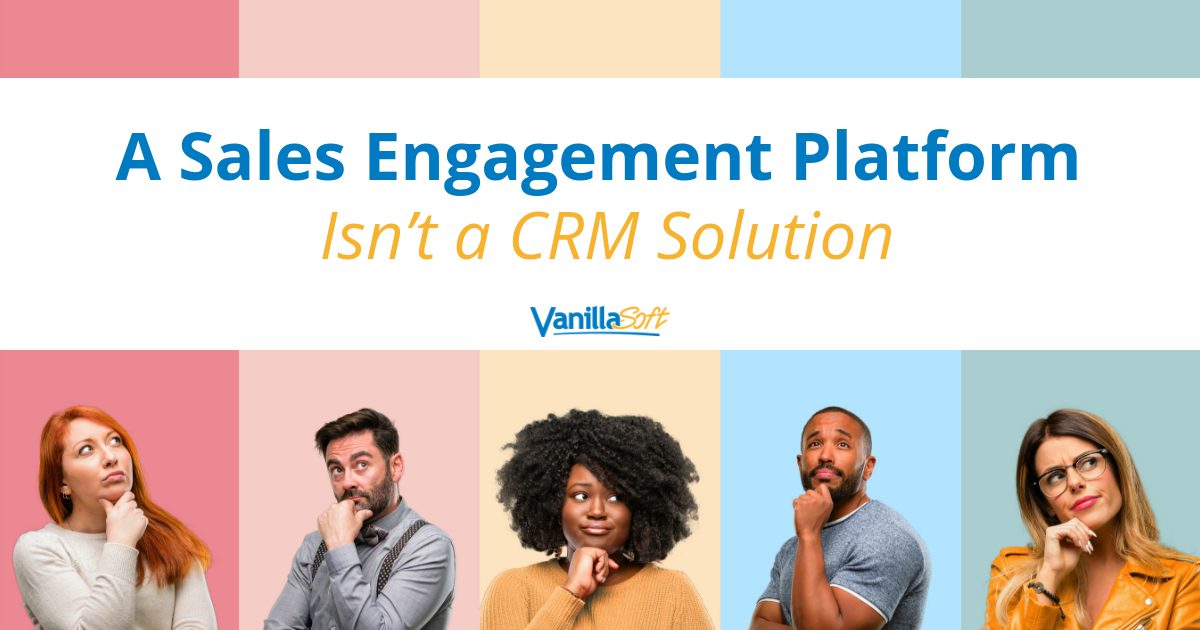 Sales engagement is all about outreach and the connection between sales professionals and potential buyers. Each touch point in the sales process, the channels used, and contact frequency (or sales cadence) are part of the sales engagement process.
A sales engagement platform supports these efforts with the automated tools and resources that salespeople need to meet their goals.
What is Sales Engagement Software?
Maybe you're thinking, "doesn't CRM take care of my reps when it comes to sales engagement?" Not exactly. Think about what CRM stands for — customer relationship management.
A sales engagement platform (SEP) isn't a CRM solution. However, let's not just define an SEP by what it is not. Your CRM is the system of record for all of your client data. Your sales engagement platform is your system of action — actions that move people closer to a sales decision.
Sales engagement software elevates the selling experience by intelligently showing sales reps what to do next, when to do it, and how to take the sales process further with a prospect or lead.

Why Sales Engagement Software When You Already Have CRM?
Maybe you're not convinced yet that you actually need sales engagement if you've already got a CRM solution.
Well, if CRM were the best sales technology for engagement, then the Telfer School of Management would have seen very different findings when it comes to leads and prospect engagement.
The Telfer School of Management sales engagement study found that today's sales teams aren't doing enough to engage customers. Here are a few findings:
Responding to prospects after an hour harms your chance of making the sale
Conversion rates after waiting a day before responding to an inquiry are even lower
Reaching out within a few minutes also reduces conversions
On average, nearly six follow-ups are needed to win the sale
Following up too early or too late hurts a salesperson's opportunity to make the sale. The amount of time between the lead's first contact and sales rep follow up is easy to get wrong without sales engagement technology. CRM just doesn't help in this area.
How is Sales Engagement Technology Different from Sales Enablement Software?
Sales enablement and sales engagement solutions often get confused; however, each has a different focus.
Sales enablement tools focus on the sales team itself and helping them (enabling them) to do their jobs effectively. The goal of sales enablement is to ensure sales reps have the right knowledge, skills, and process to maximize every buyer interaction.
Sales engagement platforms seps, on the other hand, focuses on the one-to-one interactions with contacts and helps reps via guided selling tools and integrated communications features.
Companies that highlight sales engagement in their organizations are highly interested in communications with their customers. The quality of interaction with leads is part of sales engagement, and the features of a best-in-class SEP include:
content management
integrated communication features
engagement analytics
guided selling tools.
How Does an SEP Help Sales Development Reps (SDRs) and Inside Sales Reps become More Productive and Efficient?
There's no universal roadmap to follow nor a one-size-fits-all process of interactions when it comes to selling and sales engagement. However, a sales engagement platform can help sales leaders use engagement analytics to develop an optimal process for engaging with leads, prospects and customers.
Sales managers can set up an SEP to guide sales interactions and help reps understand when and how to use specific content and communication channels. Best-in-class platforms include features that help facilitate timely outreach, too. Look for a solution that includes the following features that improve efficiency and productivity:
Winning More Sales with Better Engagement
If you're sales organization is ready to win more deals and improve engagement, be sure to look at the entire sales process. Find the right balance to strike among contact attempts, quality, support and interaction with your prospects. Use data-supported best practices to extend your reach and enhance your efforts.
Consider these tips:
Highlight persistence: Persistence in sales is essential for winning over prospects and stepping up engagement with them.
Value experience: When you engage with leads, put your experienced sales reps to work. They win more leads.
Find the right platform: Don't go it alone. Equip your team with a good engagement platform.
Adopt a continuous improvement strategy: If you're always getting better as a team, you can minimize the risk of missing out on something important. Follow the data and make practical improvements.
Sales engagement software like VanillaSoft can help you connect more effectively with your prospects. Don't just automate your sales or collect information together. Your prospects expect an elevated experience that reflects their needs and is relevant. Help your salespeople succeed and improve their conversion rate. Give them the best practices and resources that can help them provide an optimal experience for prospects. Do outreach that's more natural, effective and personal with the right sales engagement platform.
Do you have any other engagement tips for salespeople? Feel free to share in the comments!