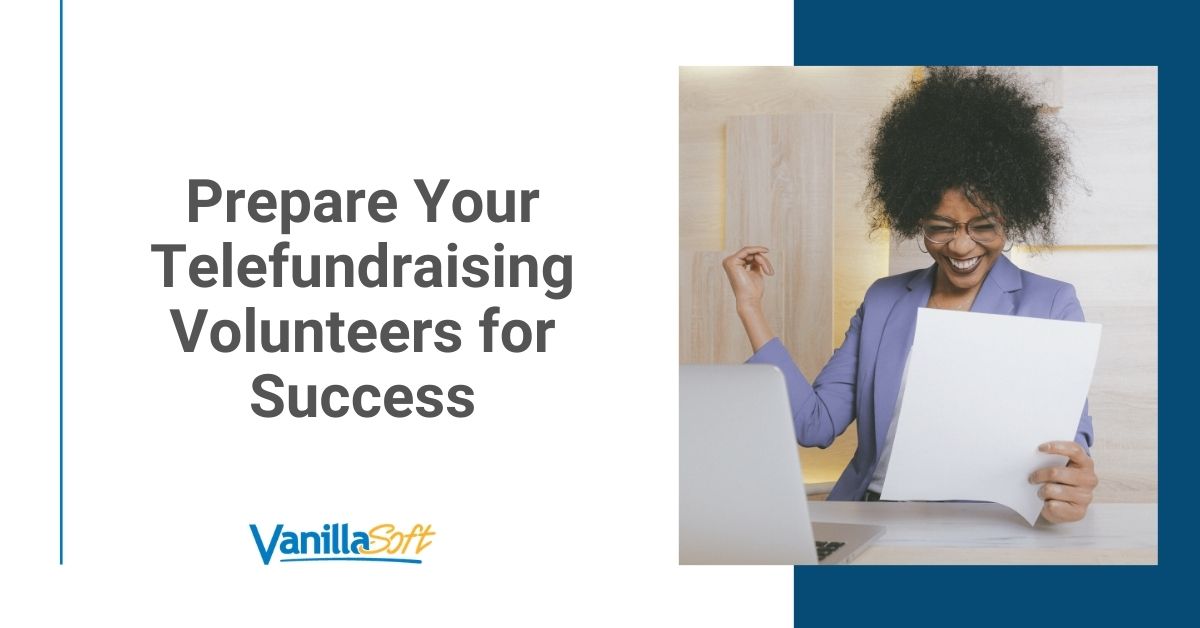 Outbound calling campaigns are tough even for professional inside sales reps, so imagine the stress that a volunteer may face when asked to perform fundraising by phone?
It's important that you provide the tools and training that keep your volunteers confident, passionate, and productive.
For that, you need to plan, execute, and measure your telefundraising campaign. We'll discuss this important process in more detail.
Besides that, I also want to touch on ten important tips for preparing your telefundraising volunteers.
Plan
There are three key components in the planning process:
Definition of goals
Identification of targets
Preparation and volunteer training
As a fundraising professional, you know best how to form the goals and select the right targets. We won't jump into the how-tos of those tasks here.
However, as part of your preparation, you should document these goals and targets for your volunteer fundraisers.
Just throwing them a list of names to call may not be enough to help them connect with the purpose of the calls they are about to make.
In addition to educating your volunteers on your organization and your campaign-specific goals, give them a script to help them make effective calls that stay on point.
Not only will it ensure a consistent message, but it will also make them more confident about what to say and how to represent the organization.
Using a solution like VanillaSoft with logical branch scripting can make it incredibly easy for your volunteers to follow the script, record the details, and work from the comfort of their own home office.
Execute
During the execution phase of your telefundraising campaign, it's important to help your volunteers to stay productive and positive.
You can rely on outbound call campaign software that employs:
Auto Dialing Software with Message Drop to make calls more productive. Progressive and preview auto-dialing ensures your volunteers and donors experience a seamless call experience. For those calls going to voicemail, you can add a tool like VanillaSoft's VOIP Line feature, Message Drop, which is a technology that allows your volunteer agent to move on to the next call while the system drops a pre-recorded voicemail message with your donor.
Listening and Call Recording tools for training and quality assurance. A solution like VanillaSoft can help you "hand hold" your new volunteers. As the fundraising coordinator, you or your senior volunteers can listen in on new volunteers' first calls. This lets you instantly provide help and feedback to those who may not feel as confident with telefundraising activities. And, call recording gives you an additional record of interactions that take place between volunteers and donors.
Email Marketing Software and Social Selling Tools for warming up cold calls. Solutions that give you additional tools to warm up leads will make the "ask" that much easier for volunteers. Email drip and marketing keep your past donors in the loop, and integration with platforms like LinkedIn lets your volunteer get to know a little bit more about the donor before they pick up the phone to make the call.
Measure
Another way to ensure your calling campaign's success is the ability to measure progress at any point in the campaign's life cycle. Select a campaign tool that provides:
A Real-Time Dashboard view of activity. This allows you to see at any instant, in real time, where your team stands with their calls and success rate.
Customized telemarketing reporting to share with the team. It's important to provide feedback to your team so that they know how their hard work is paying off or to reignite their motivation if results are lagging.
Make sure you have a way to touch base with your volunteers at every step in the process.
Educate in the planning phase. Support them in the execution. Inform them of the results through reporting.
Now we can talk about the actual steps you should take in order to prepare your volunteers.
How to Best Prepare Your Telefundraising Volunteers?
In this section of the text, we'll discuss some of the most effective and useful tips that will help you prepare your telefundraising volunteers and get them up to speed with everything they need to know.
Before Your Phonathon Campaign
The best way to organize your prep process is to split it into before, during, and after the Phonathon.
Recruit volunteers
Volunteers are a major piece of the phonathon puzzle.
You should begin your volunteer recruitment efforts at least six weeks before the telefundraising event. Additionally, you should recruit approximately 30% more volunteers than you will actually need.
Why?
Because not all volunteers will show up, and of those who don't show, very few will give you notice that they can't make it.
If you have extra callers on a given night, you can let people partner or tag team.
It may be helpful to think of the volunteers as consumers. Think of ways to motivate them to volunteer just like you would motivate them to buy your product. Identify the positive aspects that your organization has to offer that may be used to draw people into wanting to volunteer for your cause.
Here are some ways that may help you to draw in potential volunteers:
Social Media – Post to various social media outlets that you're looking for volunteers and make it appealing to the audience.
PSA – See if local radio stations will let you broadcast a Public Service Announcement.
Involve Current Volunteers – Ask your current/past volunteers to reach out to their friends about becoming a volunteer.
Local Organizations – Contact local organizations to see if they have anyone that may be interested in volunteering (churches, community centers, volunteer agencies, clubs, honor societies, scout troops, etc…).
Flyers – Ask businesses if they will allow you to post a flyer in their establishment.
Train volunteers
Ensure that your volunteers are trained on three critical components: your organization's mission and values, the phonathon script, and how to use the telefundraising software.
Remind volunteers when to show up
In a perfect world, everyone would put a note on their calendars and show up when and where they are supposed to be.
Since that's not likely to happen, it's up to you to remind your volunteers about training meetings and their assigned calling schedules.
Send a reminder one week before and one day before the event.
During Your Phonathon Campaign
After you've set everything up for the start of your campaign, it's equally important to stay on top of things during the Phonathon itself.
Focus on the mission
It's vitally important that your volunteers understand your organization's mission, goals, and how the donations raised will be used.
Donors will be more receptive to informed and enthusiastic volunteers.
Monitor calls to ensure that the mission is the focus of the calls and that volunteers are staying on task.
Assign rovers
In addition to using call monitor features that come with the right phonathon software, you can assign rovers to walk the room to provide encouragement, answer questions, and give support to your volunteers.
Set weekly individual goals
Work with your volunteers to help them set individual fundraising goals.
Provide rewards or recognition for those individuals who hit their goals.
This gives your people incentive to work even harder and boosts their confidence.
Provide food & drink
Don't let the team lose steam due to hunger or thirst.
Provide pizza or snacks and drinks. It's a great way to show them you recognize and appreciate that they are taking time out of their regular schedules to volunteer.
Take pictures and videos
Photos and videos of your volunteers in action adds a personal touch to your fundraising elements.
Create a volunteer appreciation Pinterest board.
Share your video on YouTube.
Get volunteers to post their own photos to Instagram, Twitter, Facebook, and LinkedIn.
Ask for matching gifts
Be sure that your volunteers are remembering to ask donors about matching gifts.
Many employers will match their employees' gifts to charitable organizations.
After Your Phonathon Campaign
After wrapping up your Phonathon, there's another step you shouldn't miss.
10. Thank your volunteers
After you have compiled the data and analyzed the success of your event, be sure to send a brief overview of highlights and successes and a thank-you note to each volunteer.
Let them see how their efforts paid off and underscore that their continued support is appreciated.
Remember, great volunteers and great systems will improve your telefundraising productivity. Get a live VanillaSoft demo and be ready to train your volunteers for your Phonathon!